Archive for 'Personal Chaos'
We had a lot to celebrate this year… Mike and I celebrated our 15th wedding anniversary on June 25th!  (Wahoo!), my brother and his wife celebrated their 10th… My mom celebrated her 60th birthday, and Mike will be celebrating his 40th in August.  In a last minute decision, we all decided to celebrate together.  (So sad my sister and her family couldn't join us… apparently babies under 6 month old can't cruise… we sure missed having them with us and can't wait to do it again when Hannah is a bit older!)
So, here's a re-cap from our week…  Mike and I weren't so sure about doing a Carnival Cruise – we have been spoiled in the past, but read amazing reviews about their family-friendly ship, Carnival Magic.  I will have to say, we were pleasantly surprised about our experience.  We all had an amazing time.  They were great with the kids, had plenty of activities to keep everyone happy, and the food, of course, was great and plentiful!  I was so proud of my Ryan for trying the DIDJA (as in "did you ever want the chance to try something different?") everynight.  We had escargot (he loved it), frogs legs (his favorite), alligator (2nd favorite), shark (not a huge fan), mussels, and some interesting seafood medleys.  Parker's favorite was the all you could eat self serve soft ice cream, and Kate loved being served 3-course fancy meals every day.
We had a blast on the ship with their waterslides and giant splash pad, pools, basketball, mini-golf, and of course the terrifyingly high rope course.  The kids loved the family-friendly comedy shows at night and the kids club.  We explored Hondorus, Belize, and Cozumel.  The kids each took one country and did a report to the rest of us on the country, so they were extra excited to go visit "their countries".
It was amazing to take a full week of being completely unconnected and spending time with my family.  I can't wait to do it again sometime!
Family Cruise 2014 from Marnee Marriott on Vimeo.
We've been home for just about 2 months now, but life got busy with summer, kids, and now back to school.  More for my own record keeping than anything else, I wanted to finish documenting our trip to Japan.
These next series of pictures are just some of our experiences around the various cities…  I said it before, but once again, I'm amazed at how much I truly did enjoy this country.  I would definitely go back.  I know the kids would LOVE it – ONE DAY…  🙂
Wherever we would go, students would come up to practice their English with us.  We had a great time trying to communicate with them!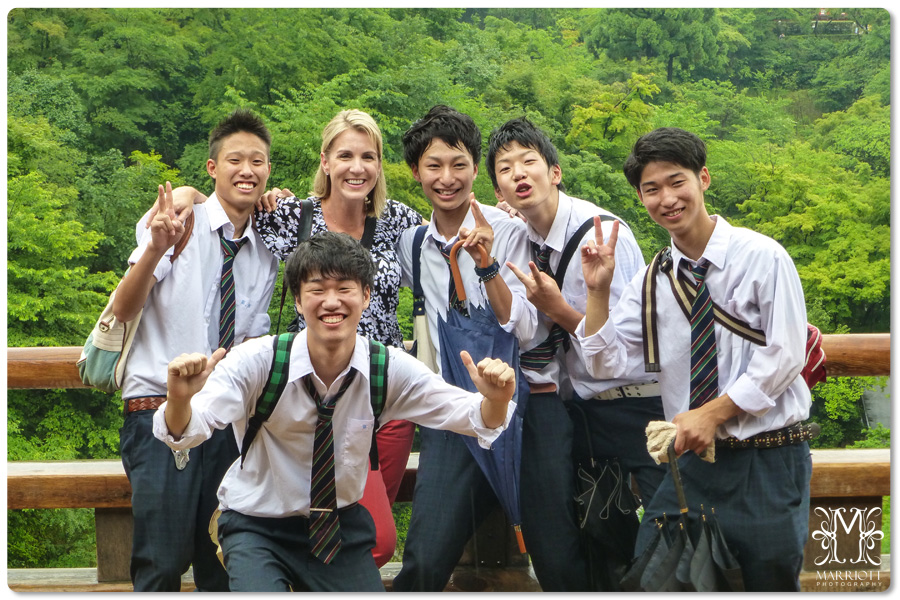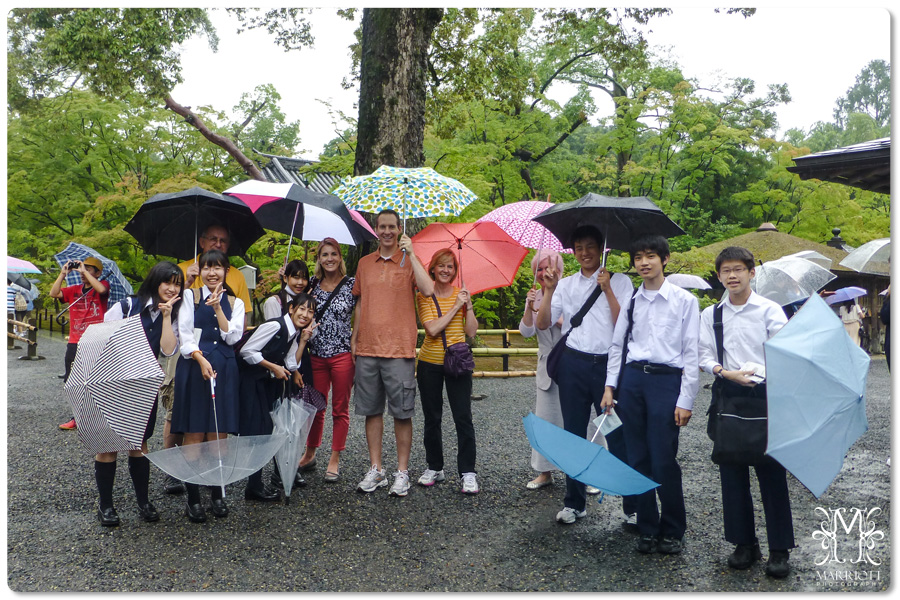 Yummy Yaki Niku restaurant in Kobe, Japan.  It was quite the experience and definitely not up to American codes.  I was quite surprised that the restaurant didn't go up in flames.  I think the roof was cardboard and trash bags.  They even had bottles of Fabreeze by the front door to get the smell off of you as you left!  LOL!  The food was good and the experience was even better!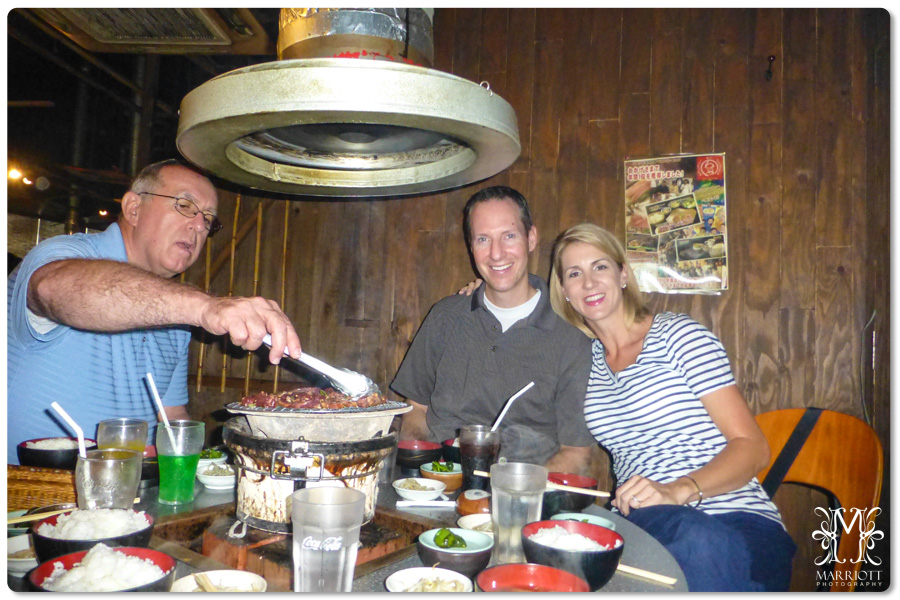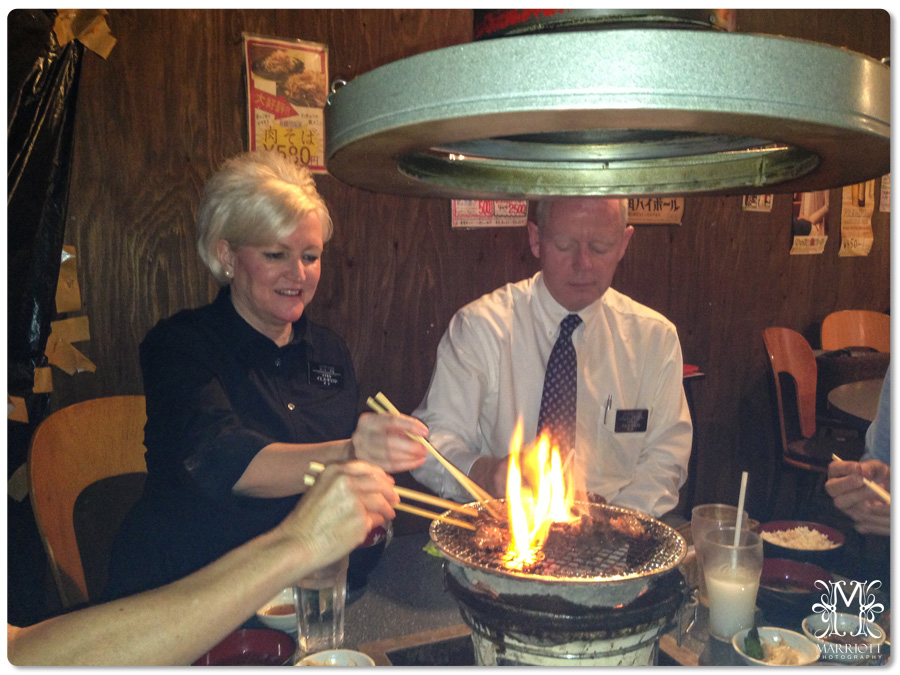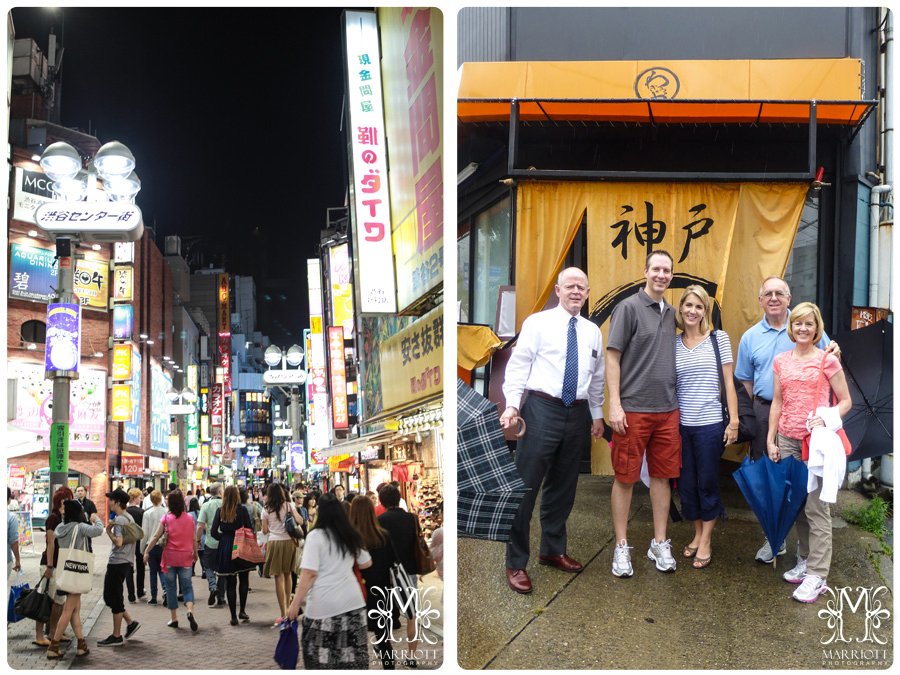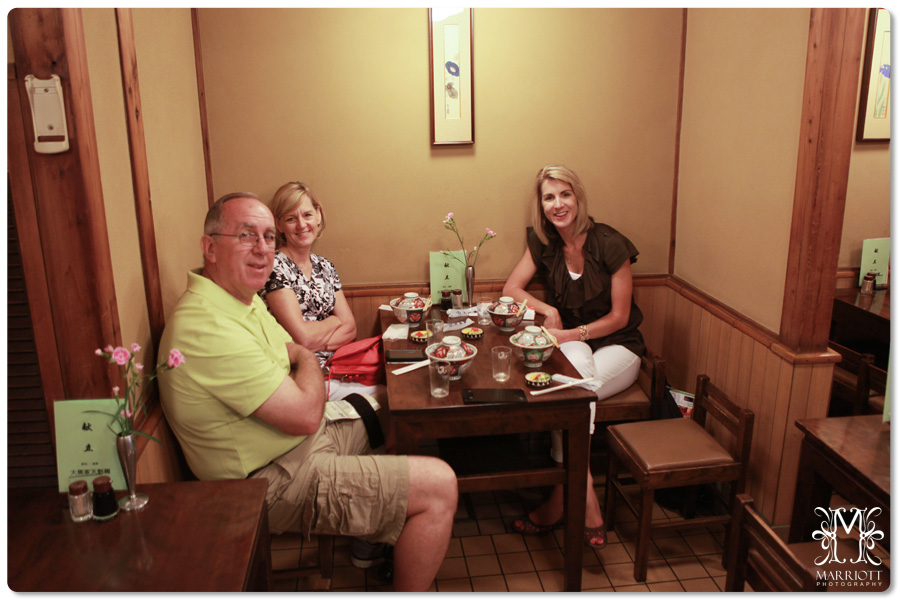 I actually enjoyed the food a lot more than I thought I would.  In fact, for the most part, I thought it was actually really good.  Of course, there were a lot of very odd options and I, admittedly, wasn't very daring about trying anything unrecognizable or with heads still attached.
I did miss ICE and large glasses. I don't know how the Japanese survive.  They really do not drink very much water at all.  It was so hard to find and get more than a sip!  Thank goodness for McDonalds.  100yen (just over $1) for any size drink – just like US.  We stopped a few times for a nice fountain soda even though their LARGES are actually our small cups in the states.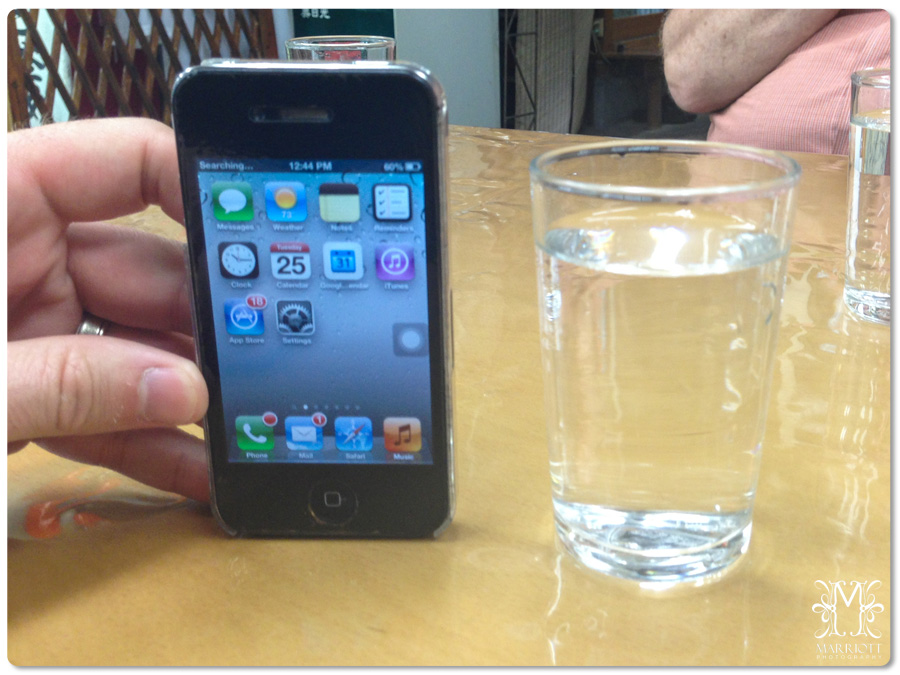 I definitely liked the country better than the city.  Both Tokyo and Osaka were huge concrete jungles and for the most part very ugly, crowded cities.  There were some pretty neighborhoods for sure, but I had never seen anything so big, industrial, and crowded in my life!  We found the maze of roads intriguing.  Roads built on top of roads, on top of railways – stacked as high as the skyscrapers.  It was very interesting.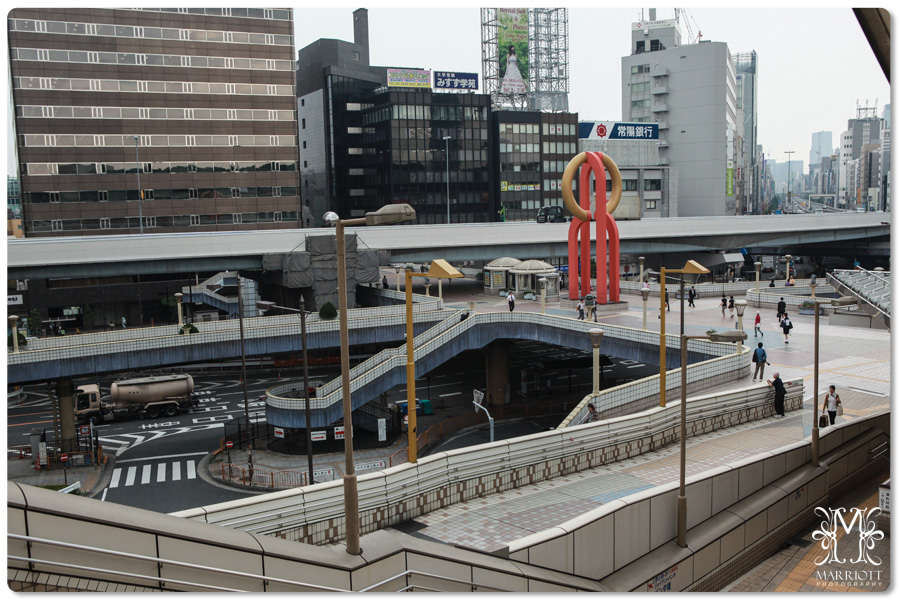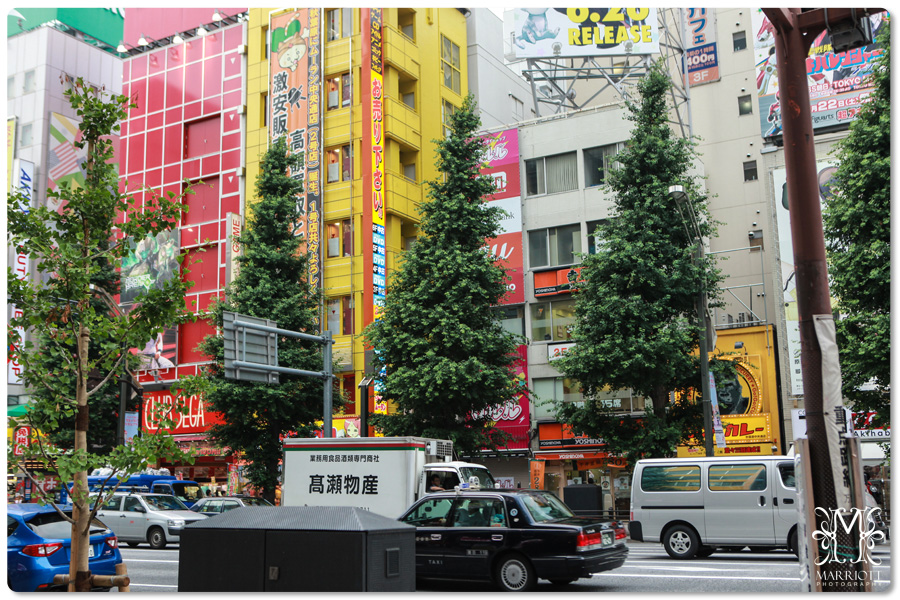 Love the parking lots…  So funny to see these parking structures outside apartments.  And the maze of telephone and power lines with every balcony covered in clothes hanging from the lines.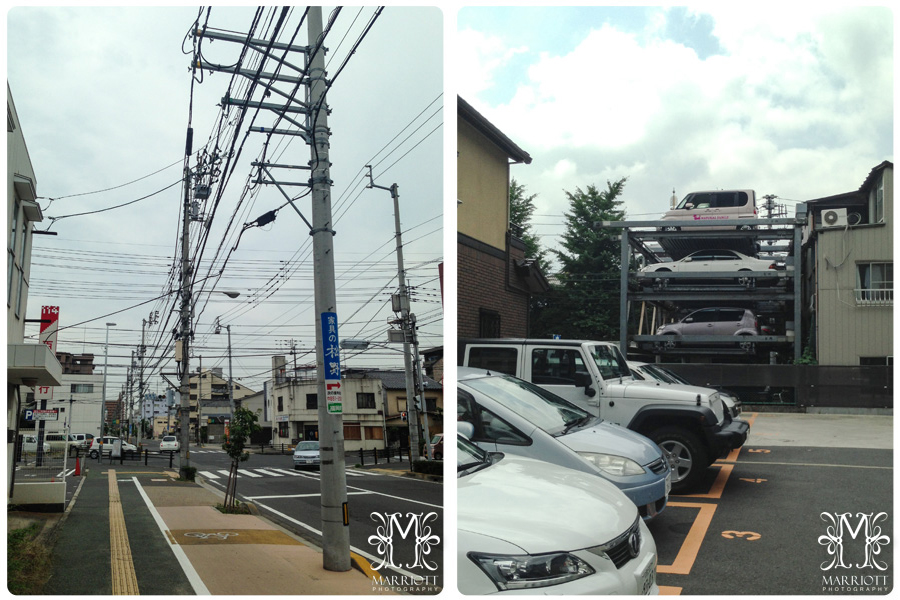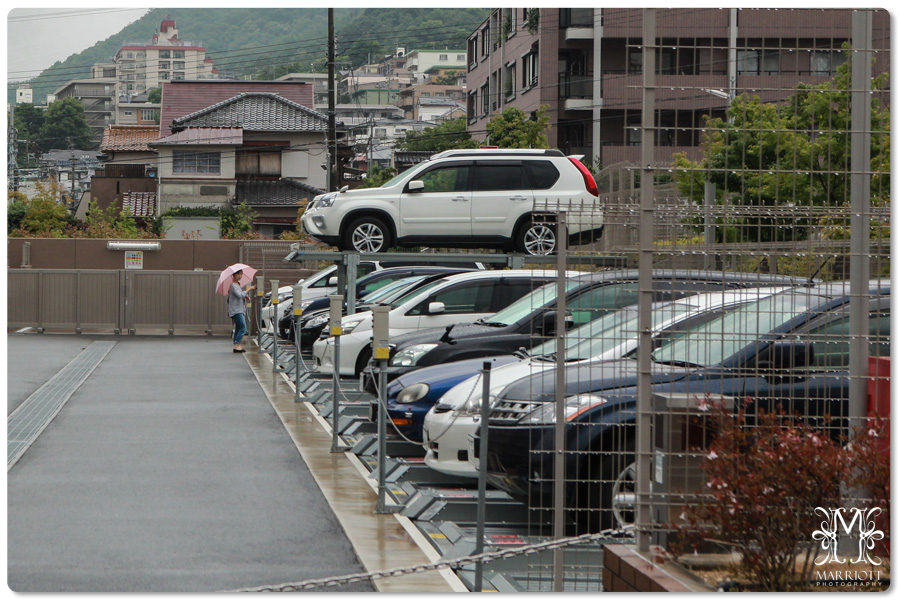 Every.single.city. had these yellow tiles down every sidewalk, path, subway, etc.  It is designed to help the blind navigate through the city.  It was quite interesting.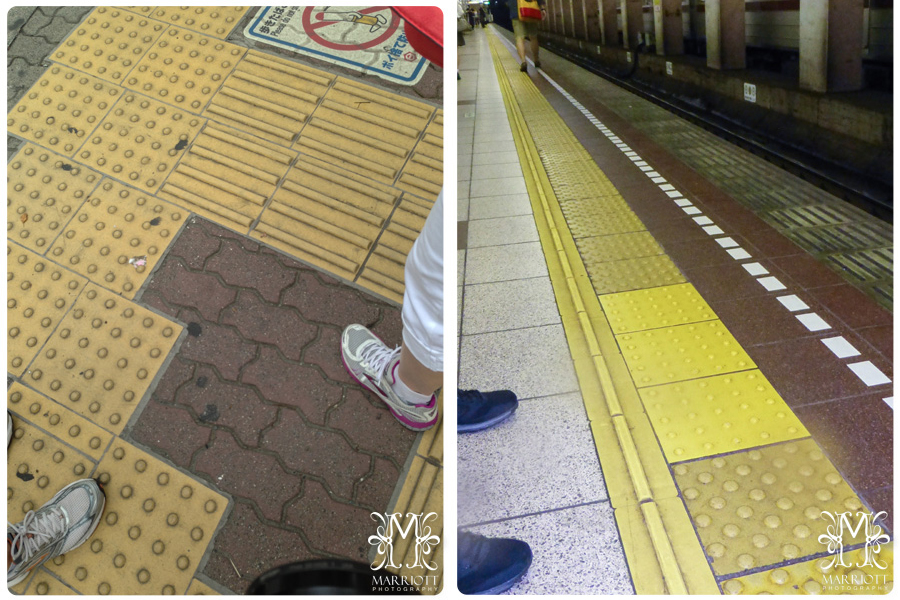 This is where we stayed for the first 1/2 of our trip:  The LDS Kobe, Japan Mission Home.  My aunt and uncle are the mission presidents.  It was fun to be able to visit them and see the service that they have been doing for the last 2 years here in Japan.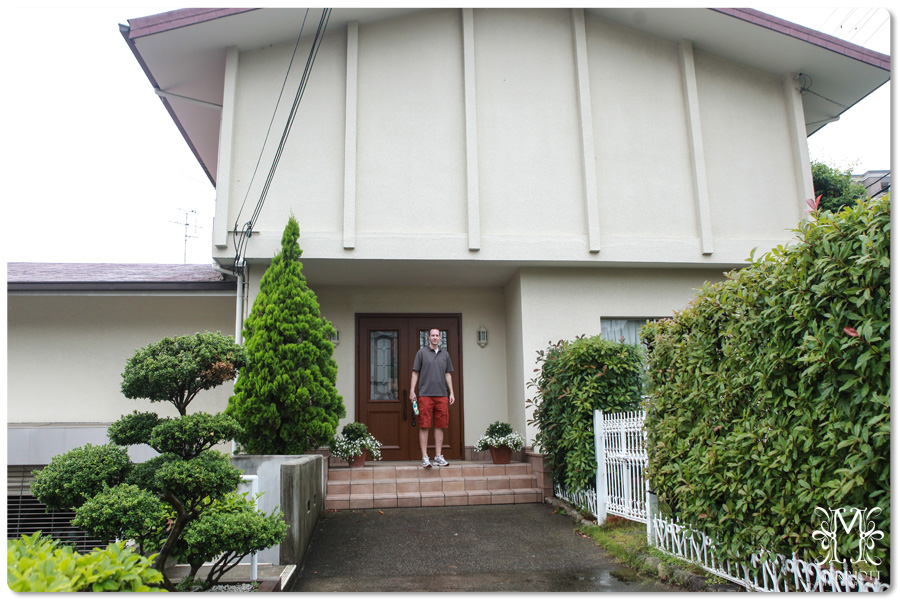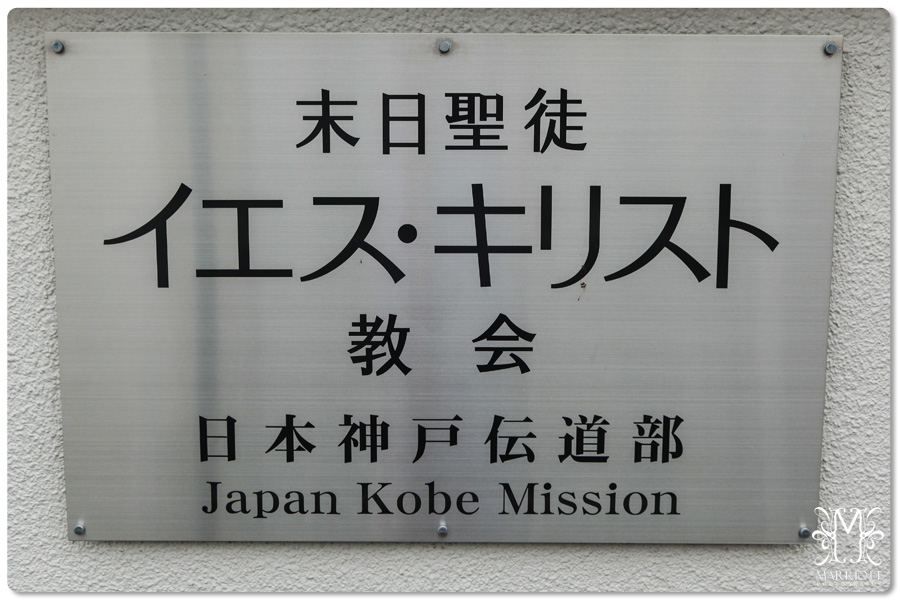 More church sites… a church we visited a few hours (via car) from my aunt and uncle's, and the Tokyo Temple.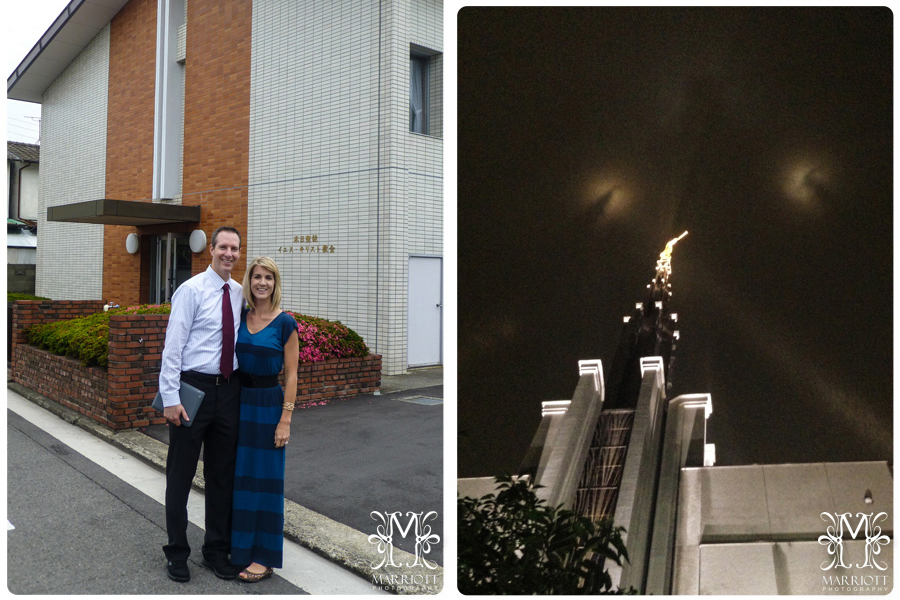 Canal that runs through the middle of Kobe, Japan by my Aunt and Uncle's.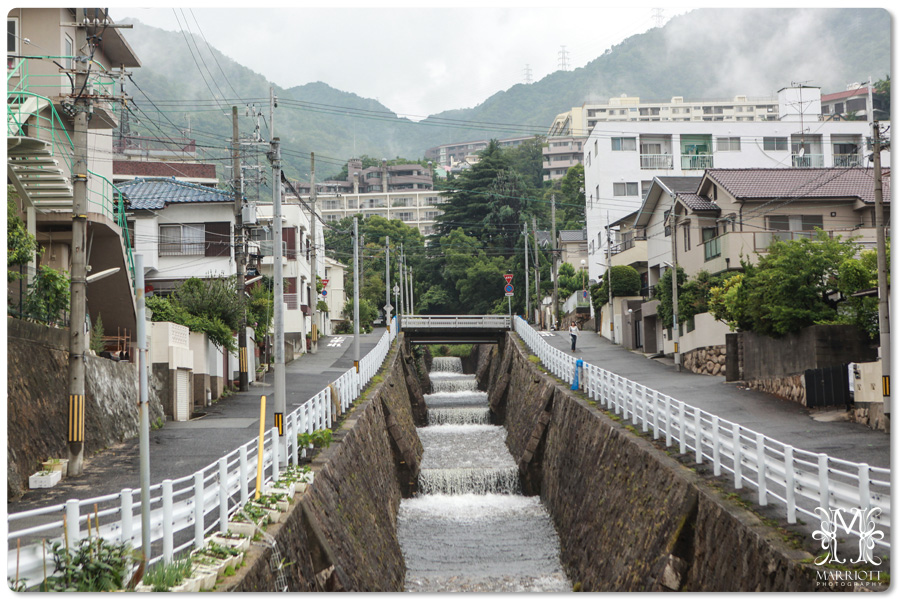 Downtown Osaka: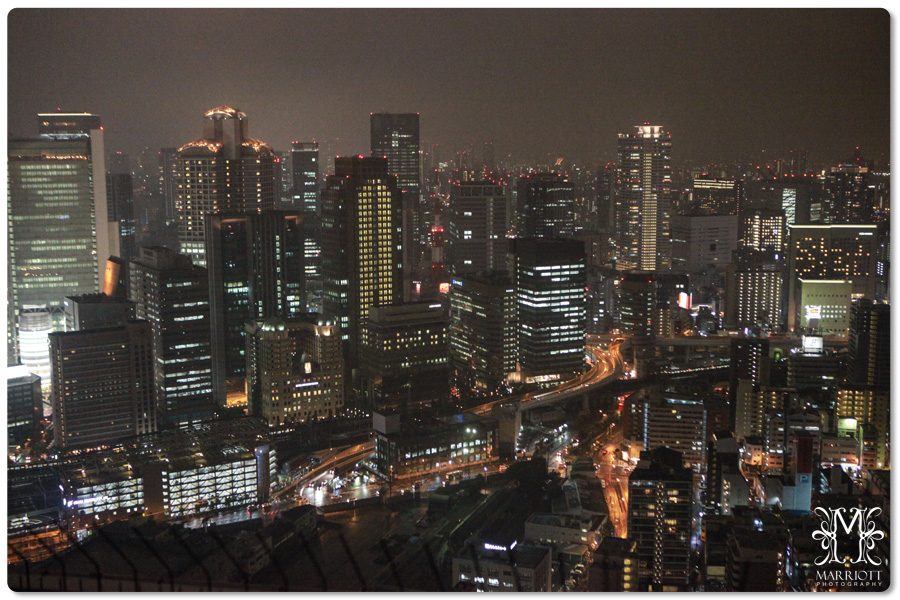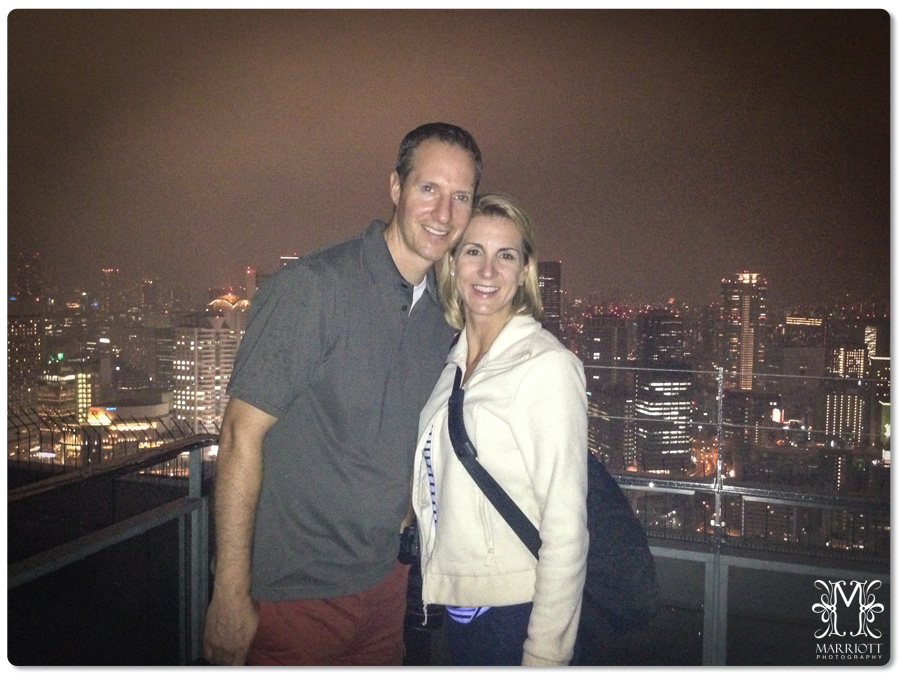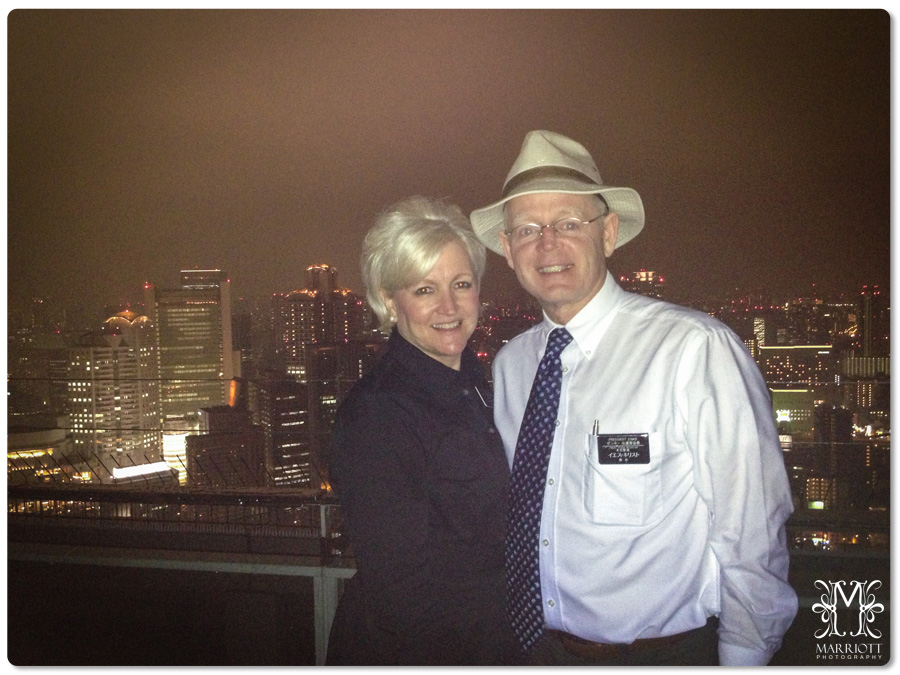 Shopping in Yodobashi Akiba…. A 9-story mega-complex electronic store.  I think anything ever made with a battery or plug, including every conceivable accessory could be found in one of these stores.  You literally could get lost in here for hours.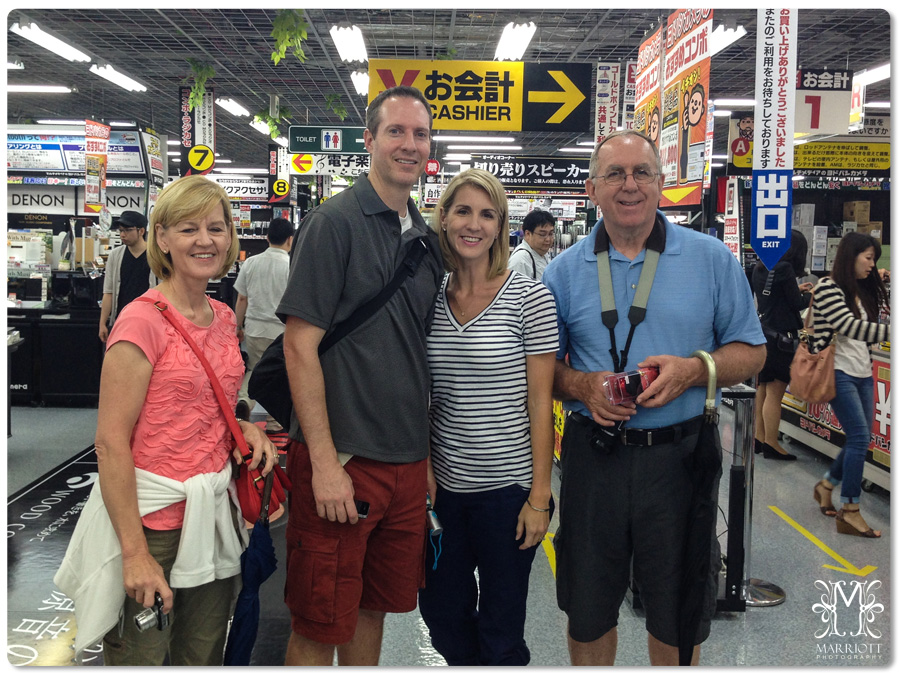 We did a lot of traveling on the bullet trains, or shinkansens, subway, and feet.  This was so fun to see these two come into the station like this.

Here's Mike waiting to get off a ferry.  Yeah, even I felt REALLY tall in Japan.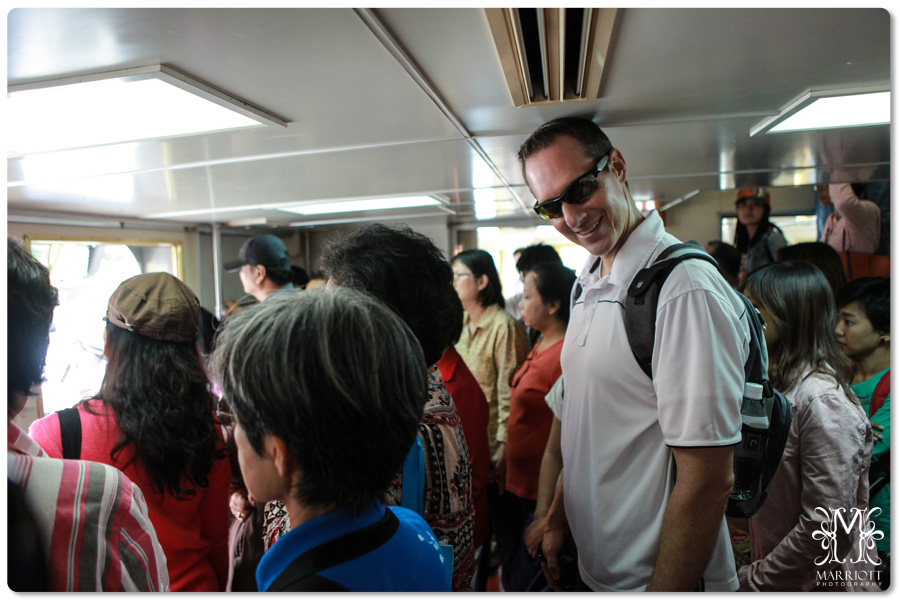 This was one of the tour boats we went on in Hakone (by Mount Fuji).  We saw little doors like this everywhere in Japan.  Crazy!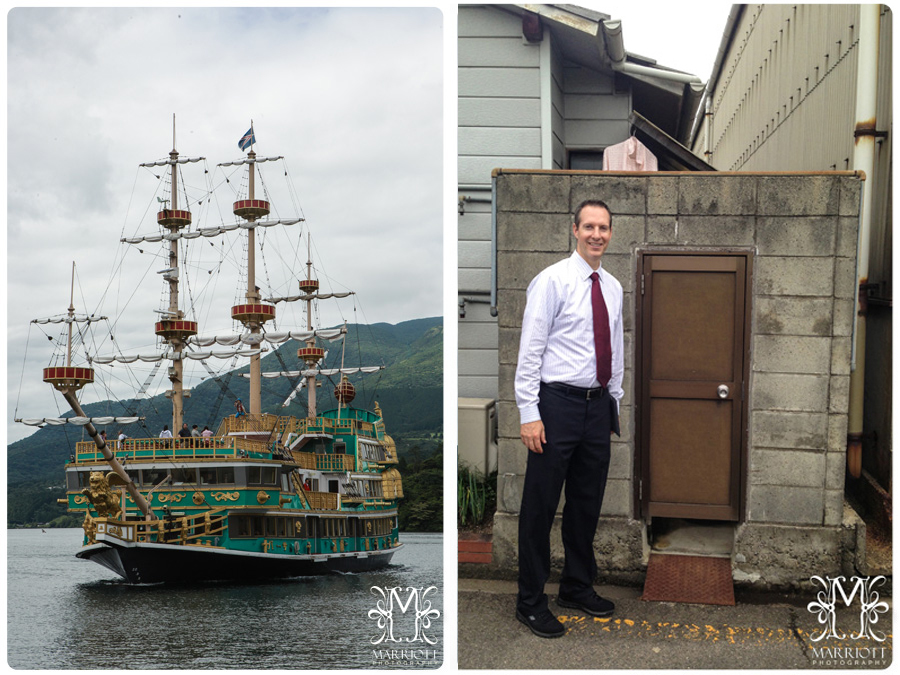 This was one of my favorite spots, Nara, Japan.  I absolutely loved how these wild deer would come up to greet you and walk besides you down the shops.  It was a gorgeous little town and an amazing experience.  DEFINITELY a must see spot for anyone visiting Japan. Well worth the day trip out there.  I think my kids would have loved this!  I loved it!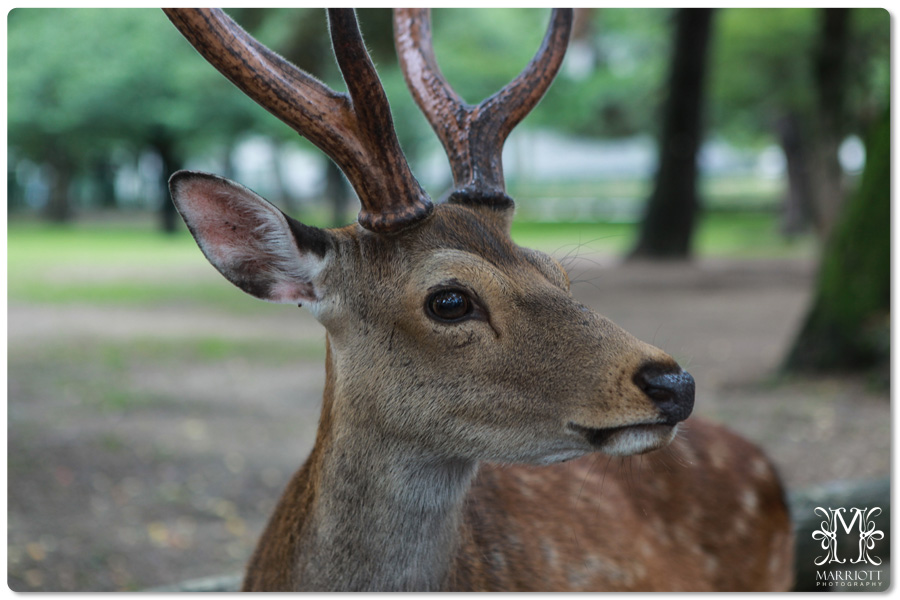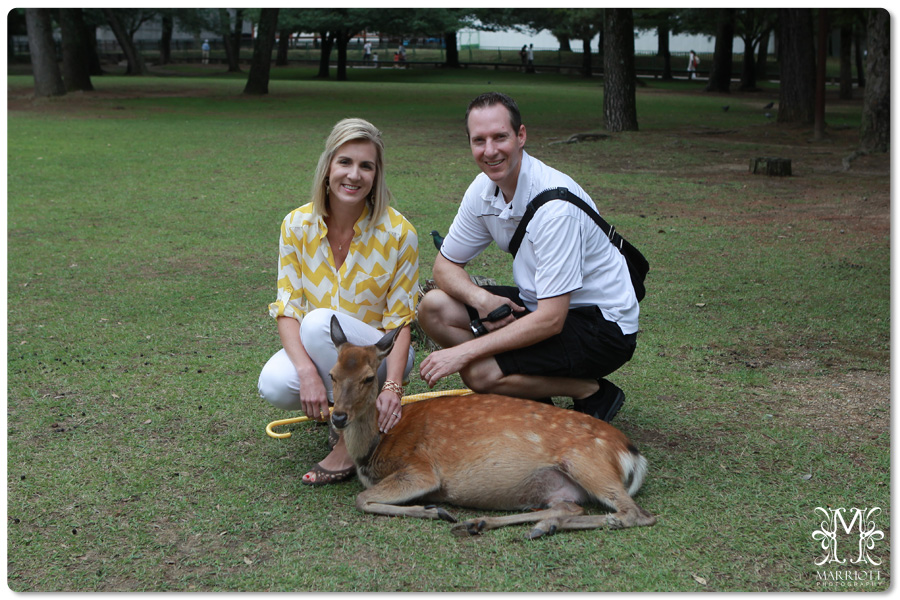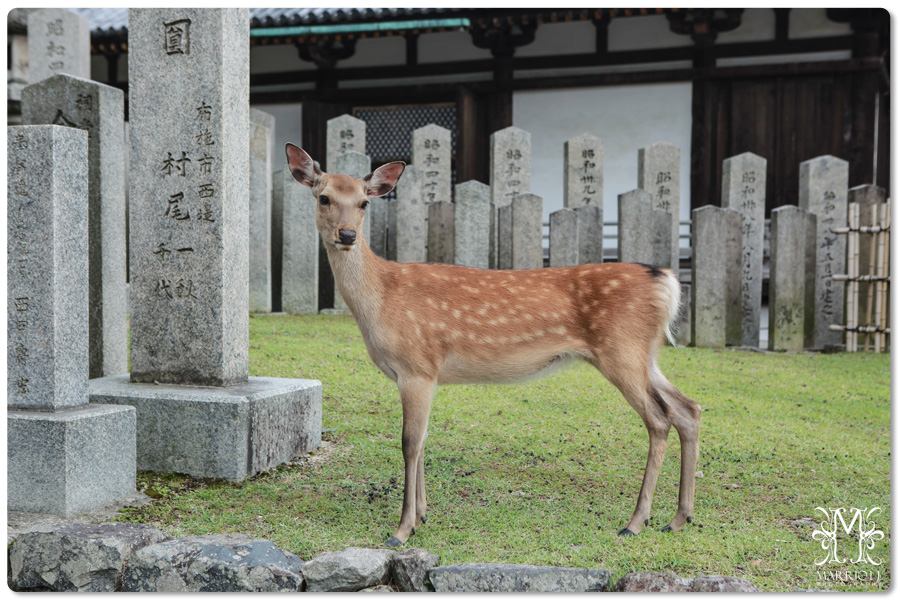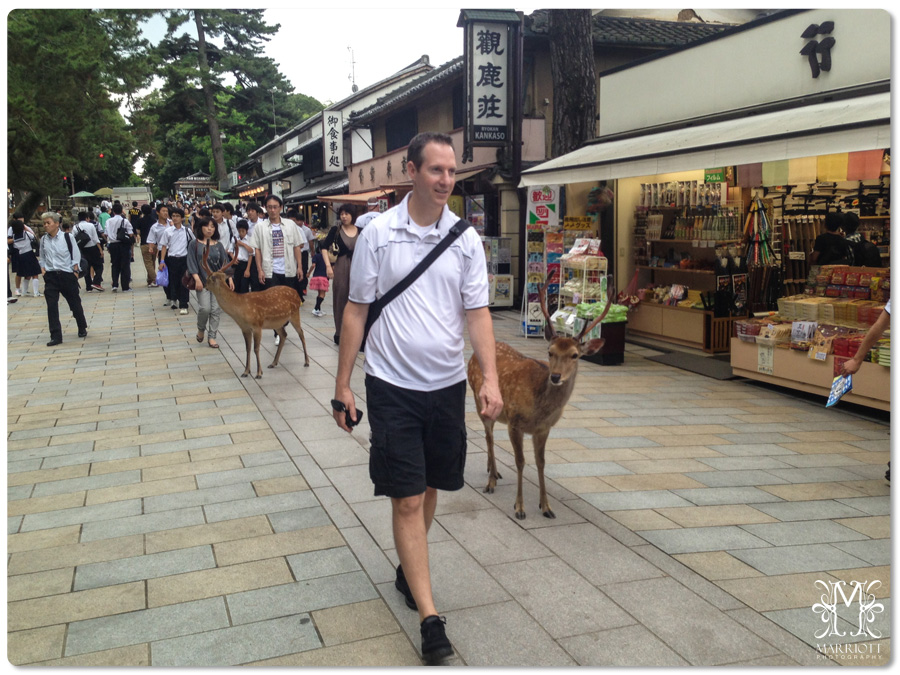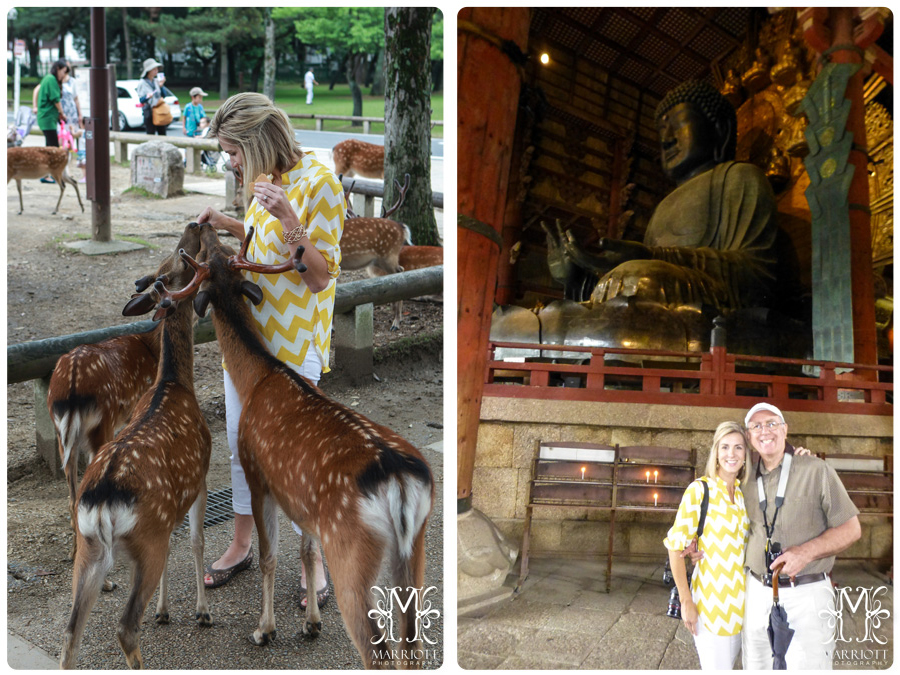 Supposedly, if you could fit through this large tree, you have good luck, a lifetime of happiness, or maybe just a blackmail video.  It was quite tight, but I made it.  And vowed to diet (someday).  But, it was more fun to watch everyone laugh when Mike got down to try.  Needless to say, he got his head in and that's about it.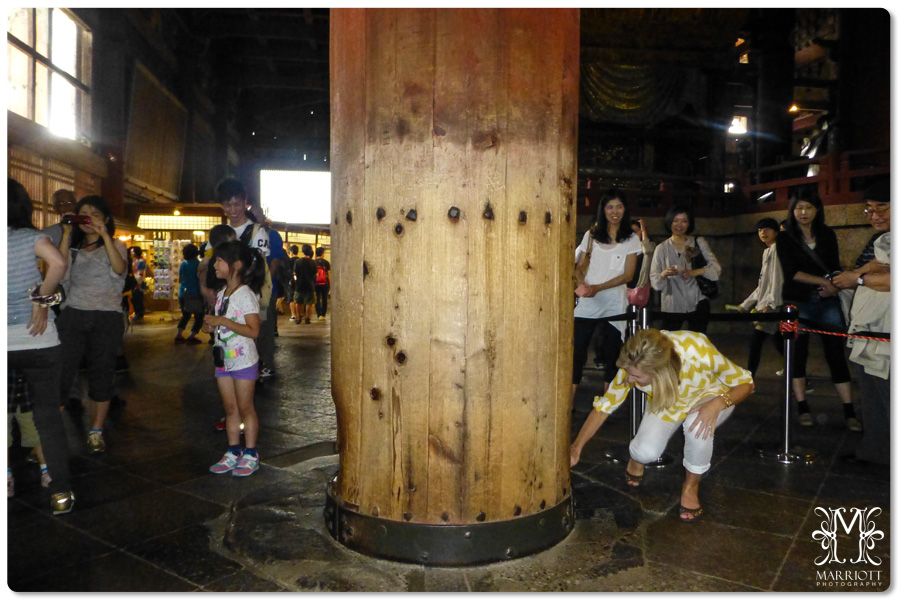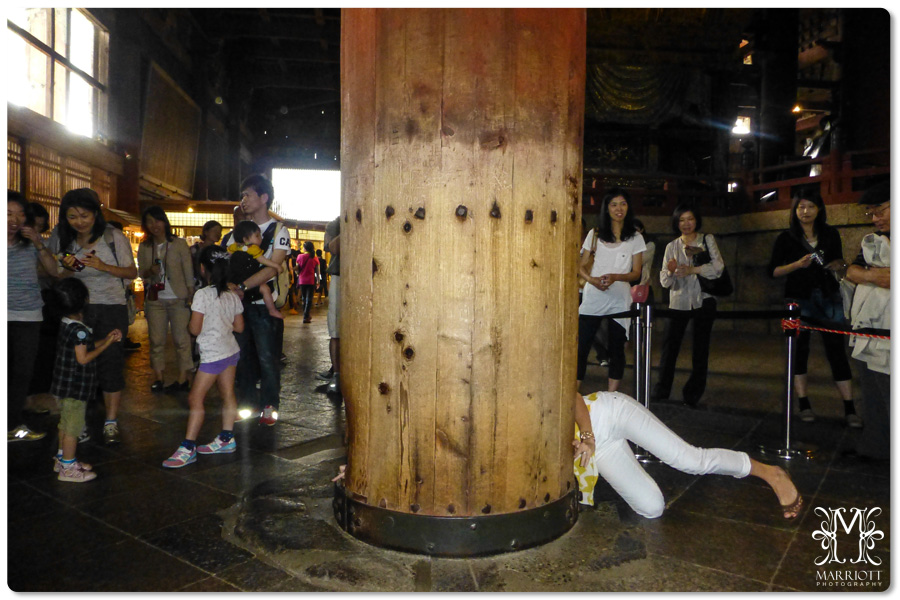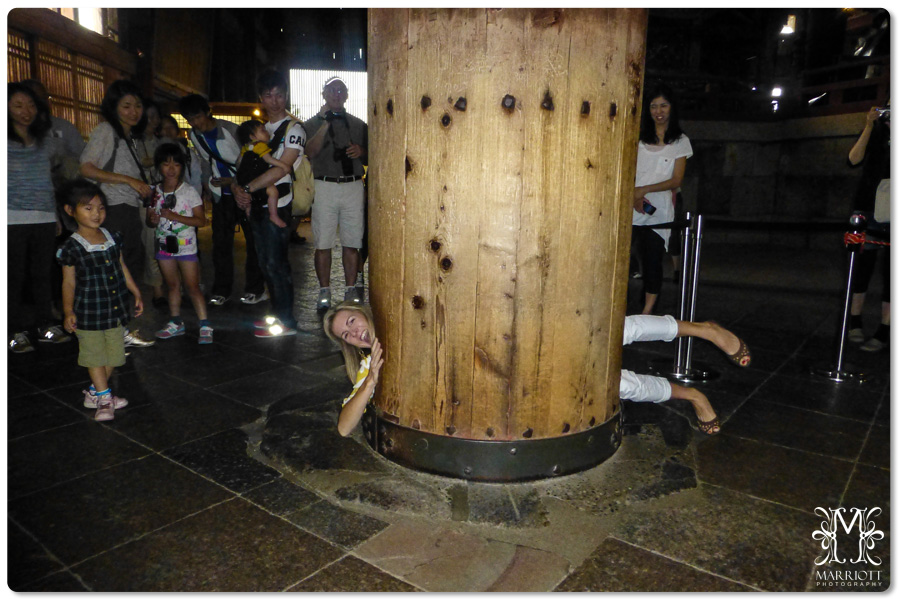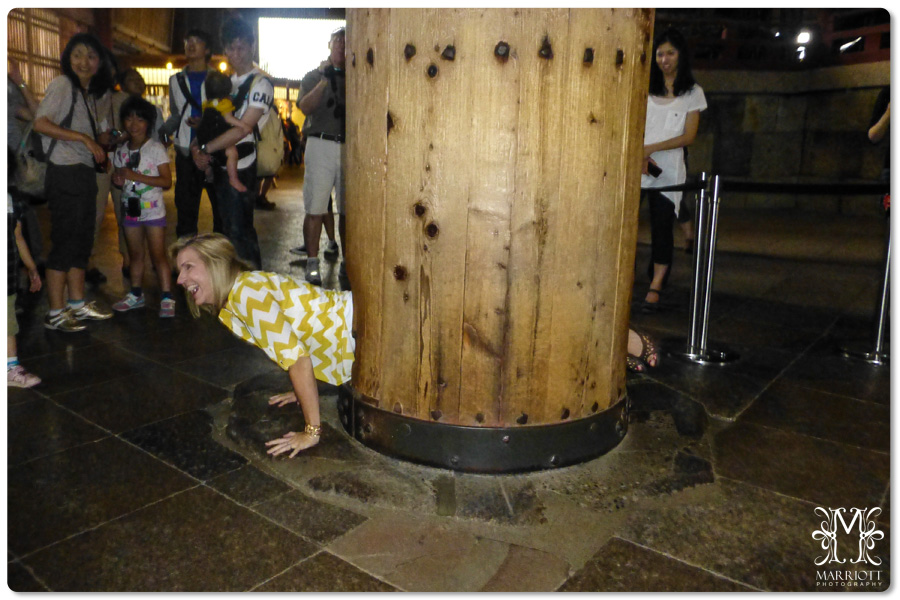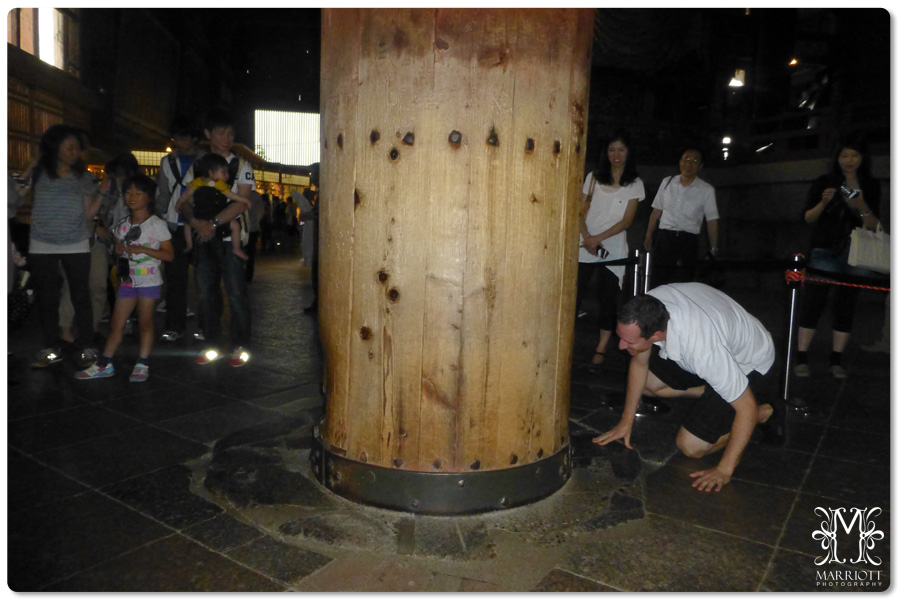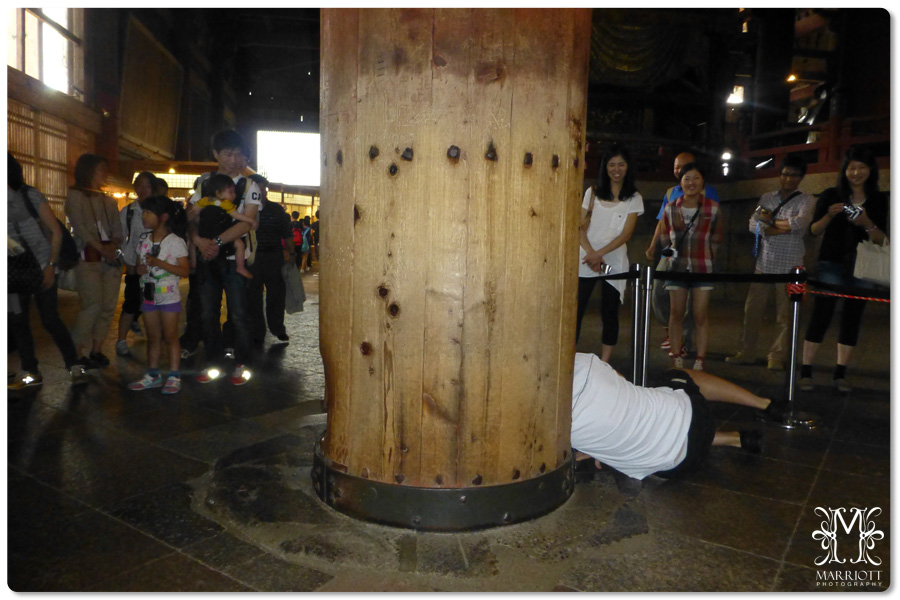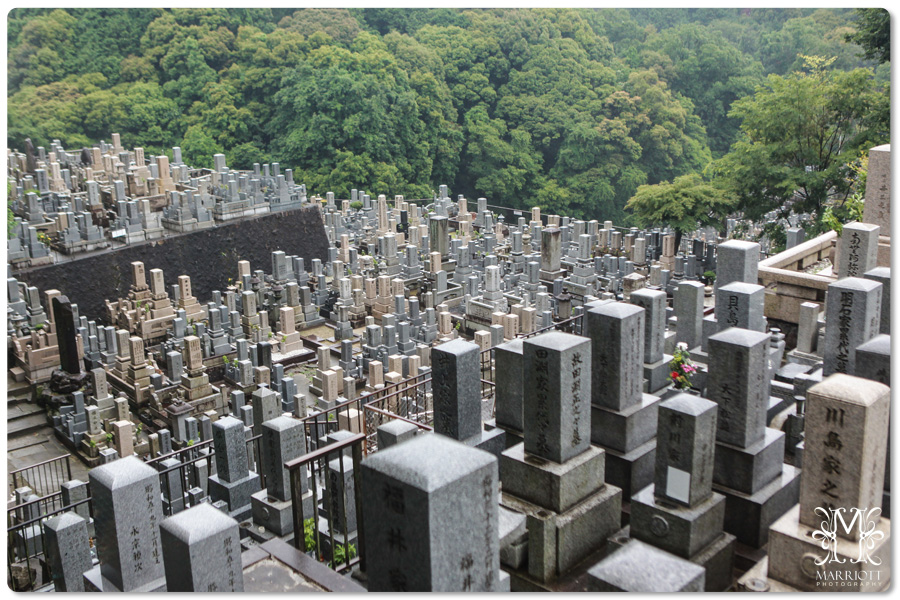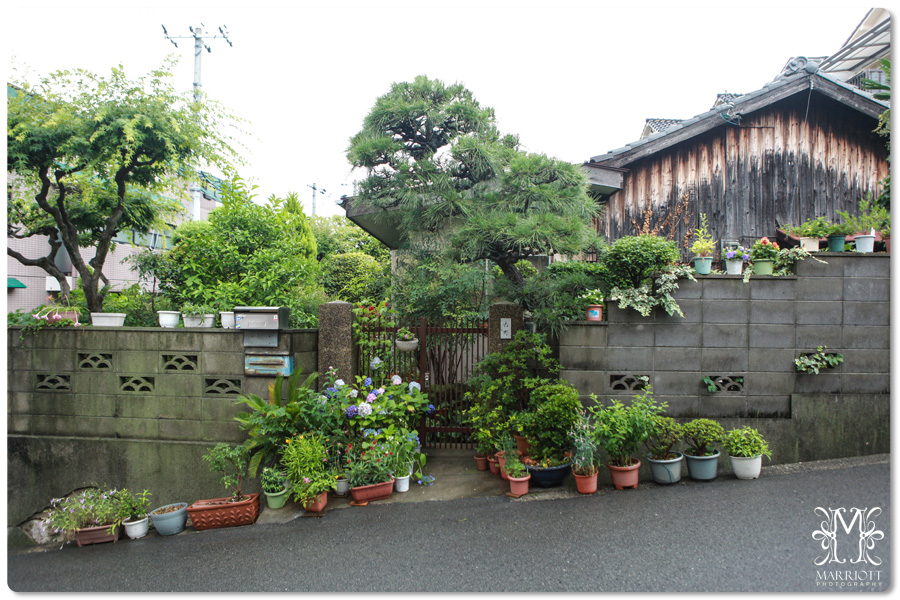 In Hakone, we took a little trolley car through the town – one of the most gorgeous railways ever.  It was lined with Hydrangea – huge, wild bushes.  Absolutely beautiful!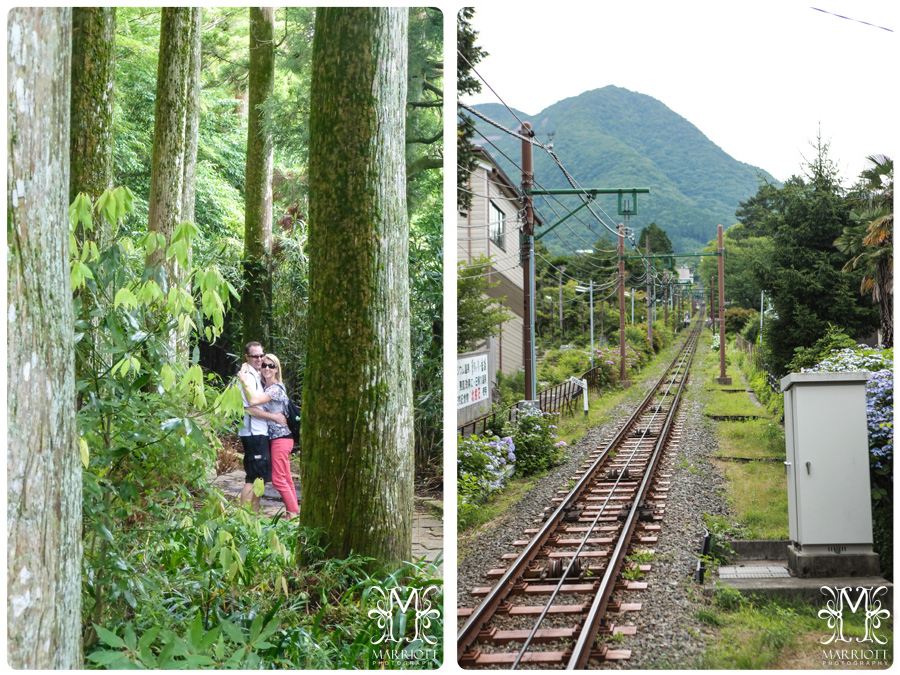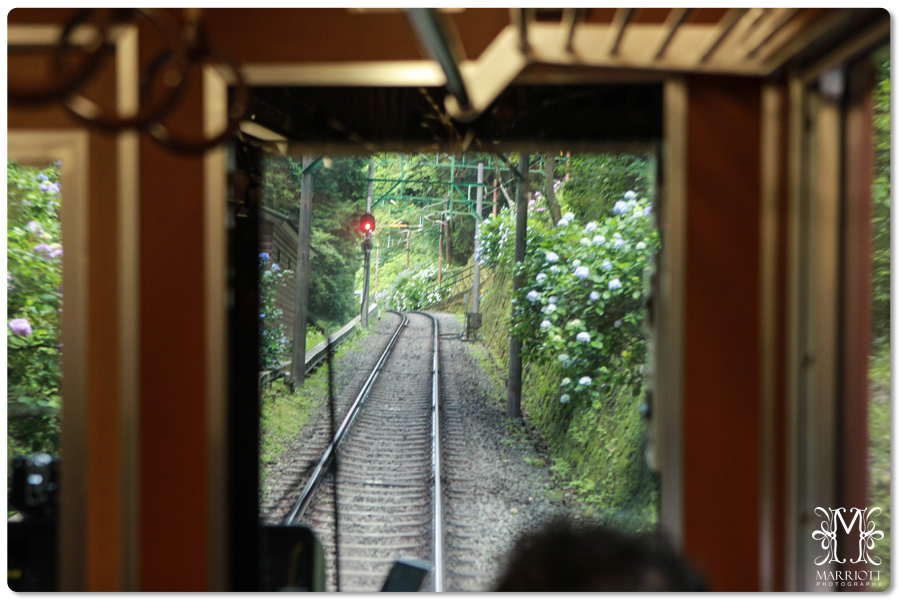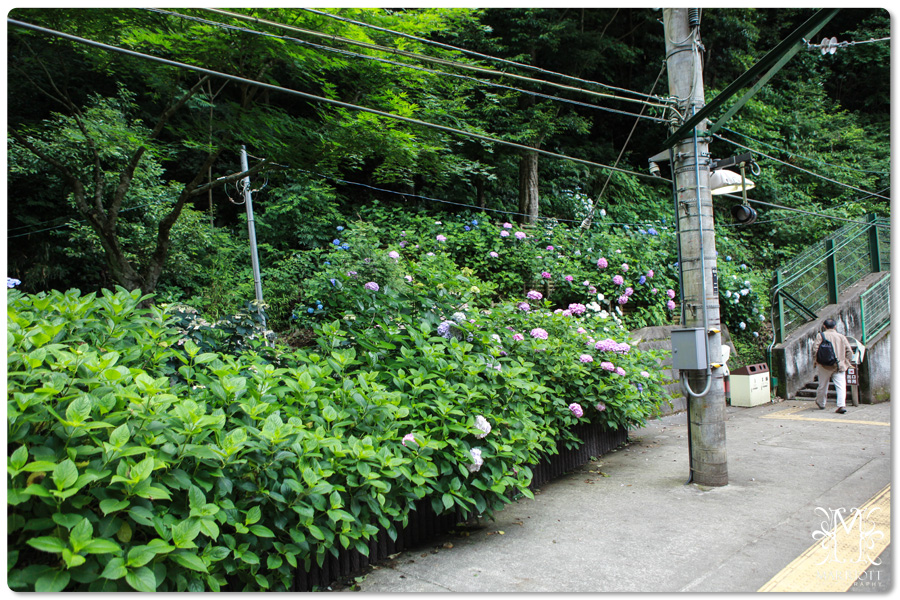 We did a lot of walking and sightseeing in Hakone, and got a little lost when we got on the wrong bus.  But our mistake was such a blessing, on the way back to the train station, we came across this cute little cafe on the side of the mountain with a natural hot spring.  Sure, why not sit down, soak your feet and order a drink… Absolutely loved this!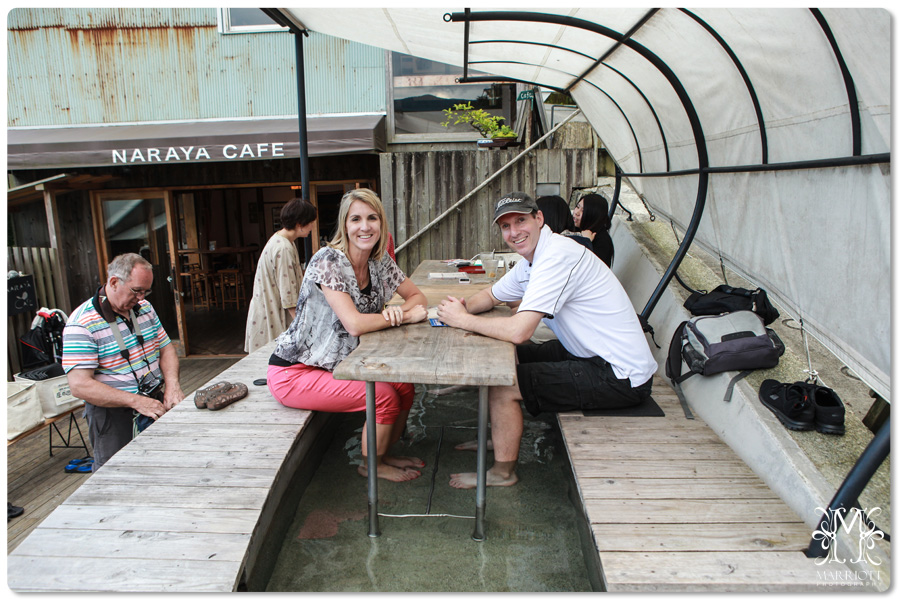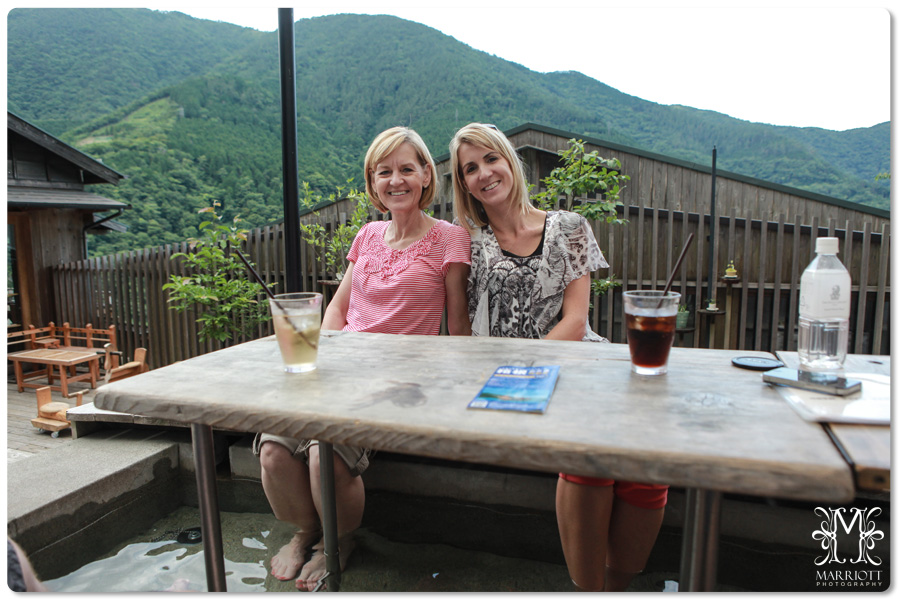 We also took a gondola up to the top of one of the sulfur springs in Hakone.  Apparently for every black egg you eat, it will add seven years to your life.  The eggs are boiled on site in the sulfur springs.  Mmmm… They were actually quite good (just like a regular hard boiled egg), cost 500 yen, and now we will all live 7 years longer!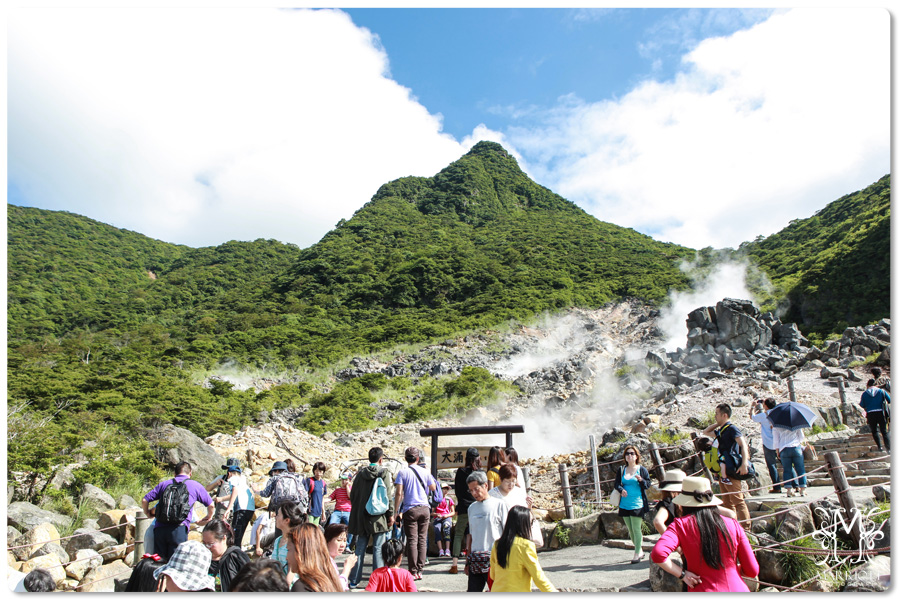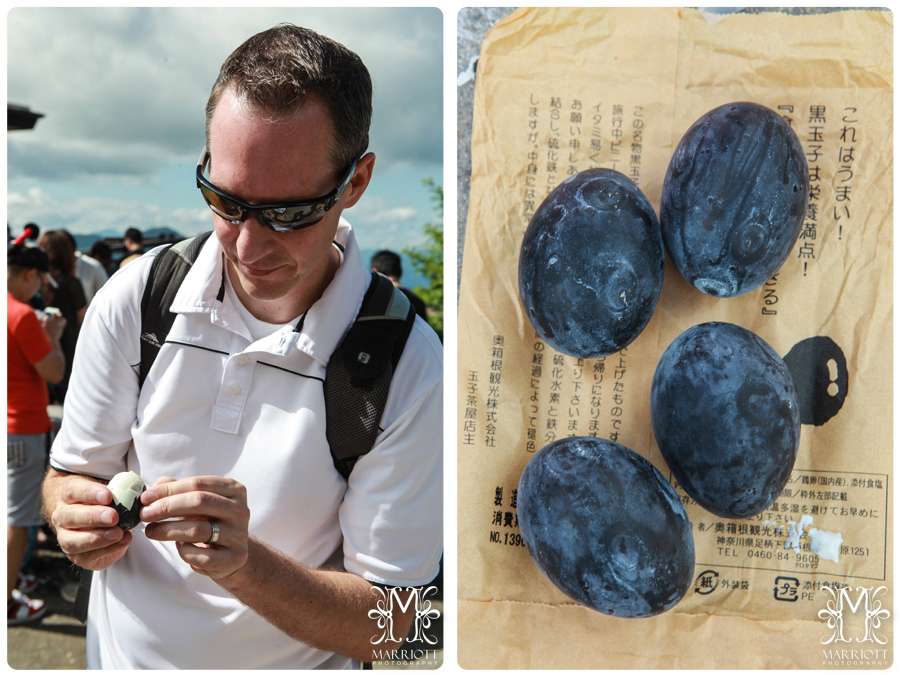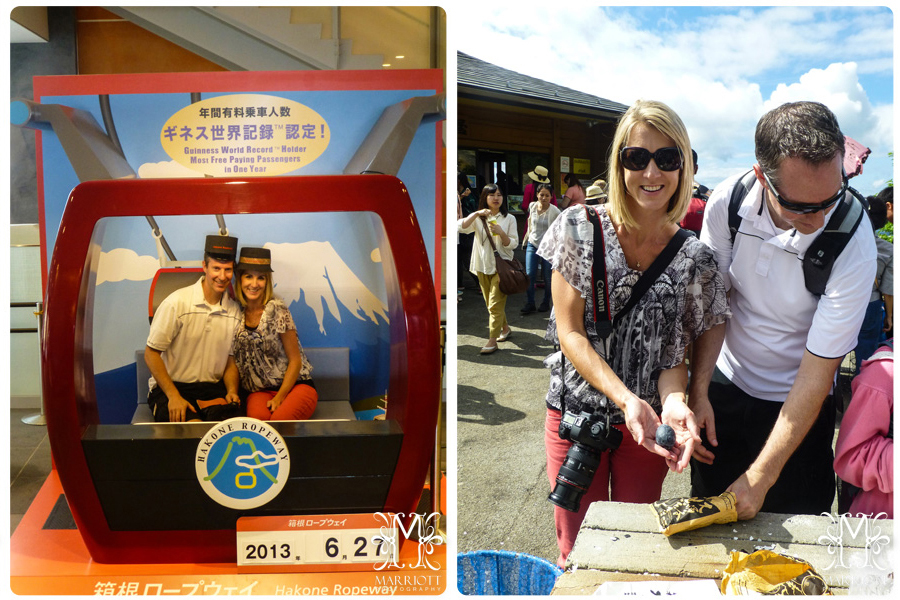 '
And finally, our view from our amazing room at the Ritz, in Tokyo.  Apparently we were in the tallest building in Tokyo and had incredible views of the city.  IF it were clear enough while we were there, we would have seen Fuji from our window, but every day we had a very welcomed cloud cover.  Our weather was just perfect!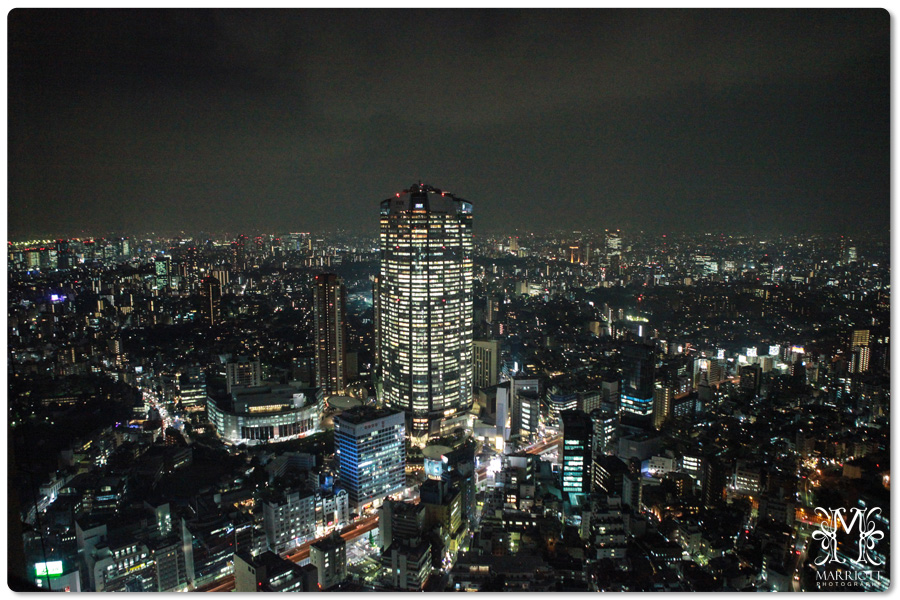 We had such a great trip – many wonderful memories and experiences, and I am so grateful that Mike pushed me to go!  A big thanks to my parents (especially my dad) for being a great tour guide and helping with the language and knowledge of the country, and my aunt and uncle for doing the same and taking time out to show us around the Kobe area and surrounding cities.  We sure had a blast and are forever grateful for this experience.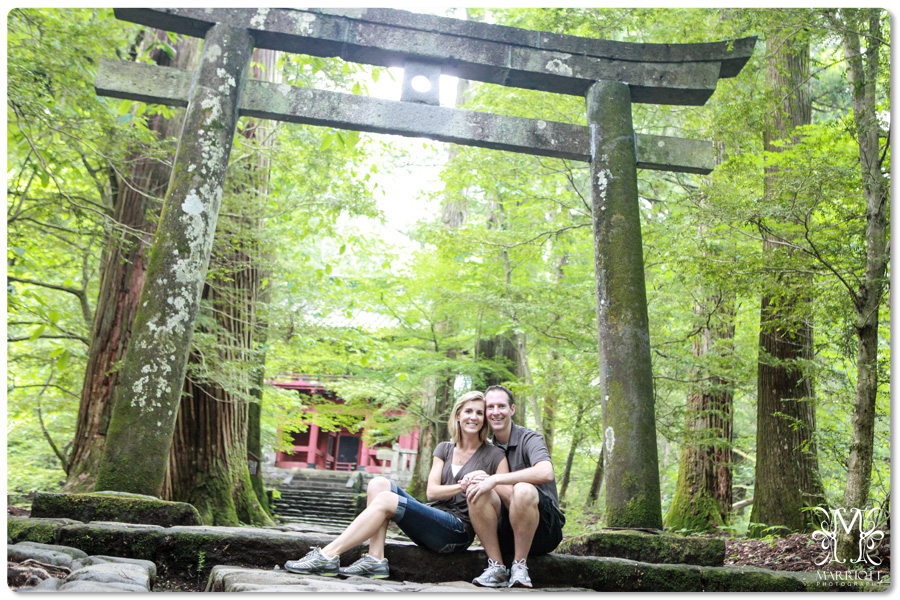 Post about Temples and Shrines, click here.
Post about Japan Country and Scenery, click here.
We quickly learned that Japan is full of little shriny things.  Yes, that is the technical term. It seems like every corner and hillside has a little shriny thing.  Lots of symbolism and not too many people that know what it all means!  LOL!
We loved visiting many of the large temples and shrines, and I hope I can remember all of the names.
We started in Kyoto at Kiyomizu Dera.  I'm probably going to do a terrible job with the history lesson here, but Kiyomizu has to do something with the pure water or holy water from the waterfall the temple is built around.  Apparently the water has wish-granting powers.  The line was quite long, so we just watched everyone else get their wishes granted!  This large wooden structure was built without a single nail.  I'm still not sure how that happens, but it was beautiful.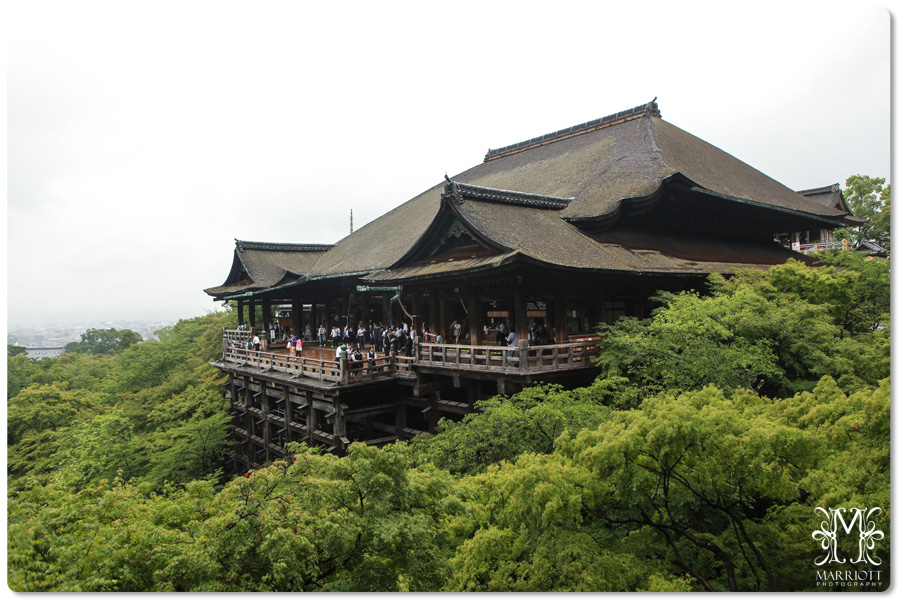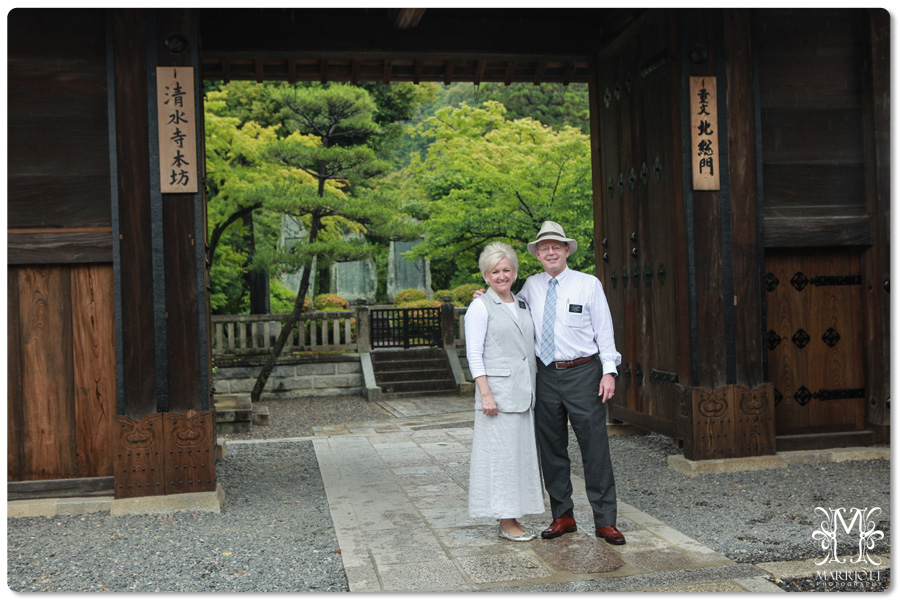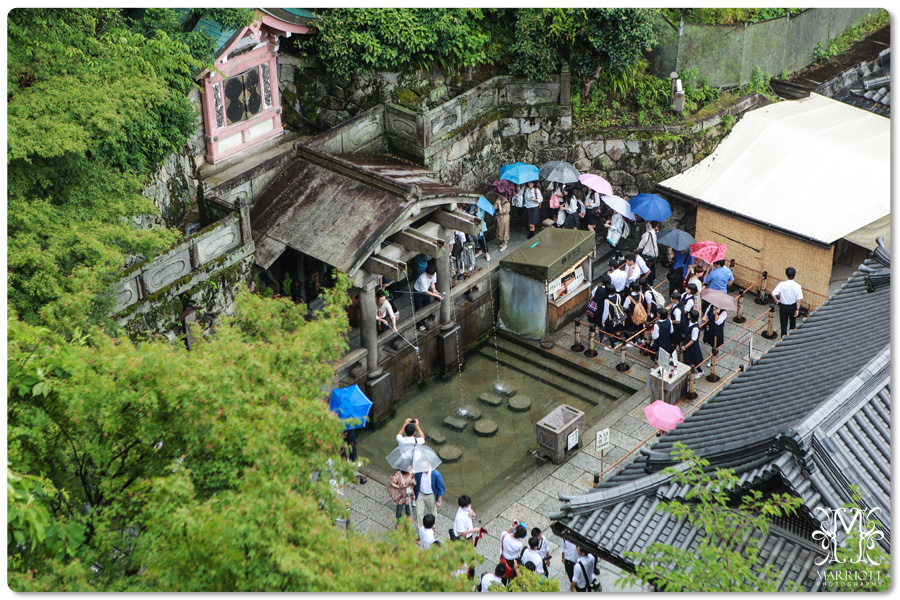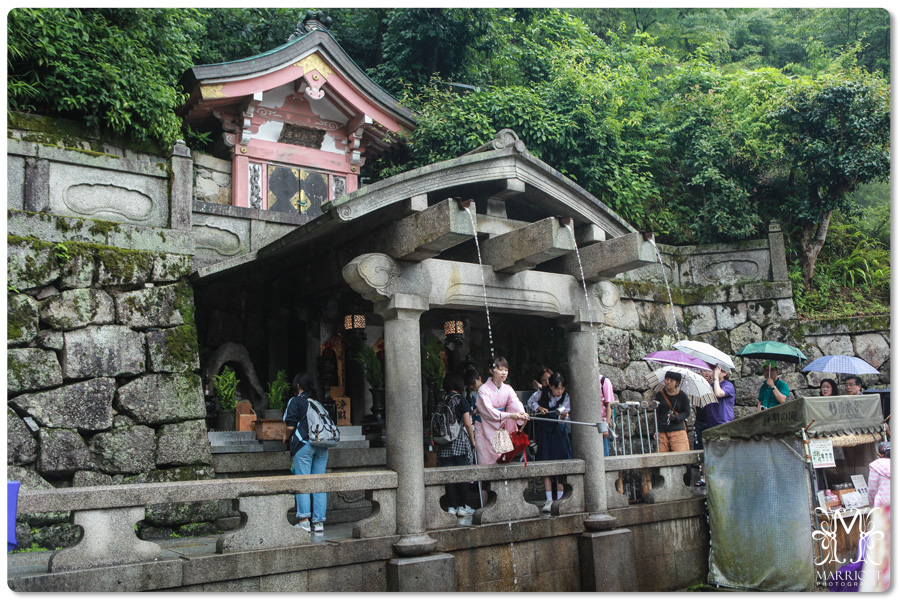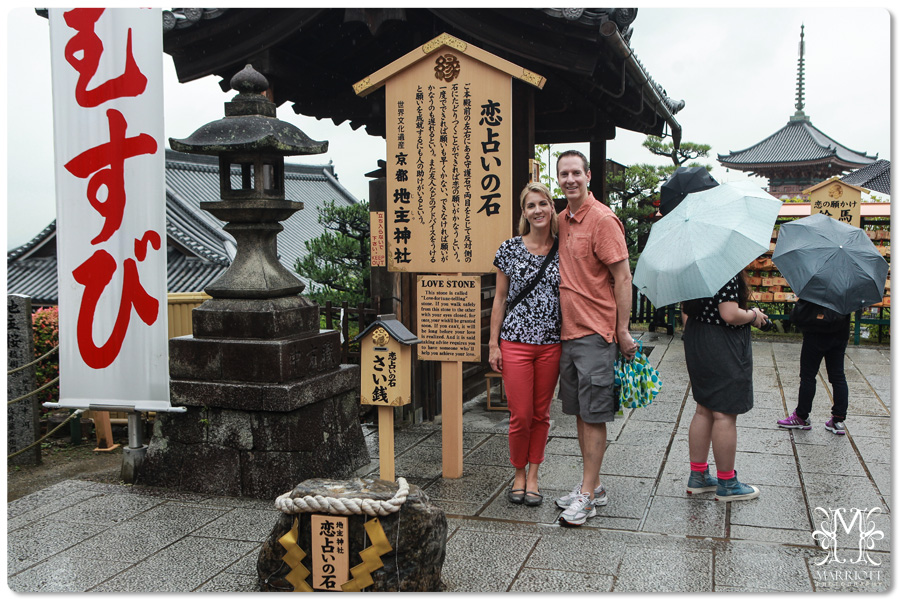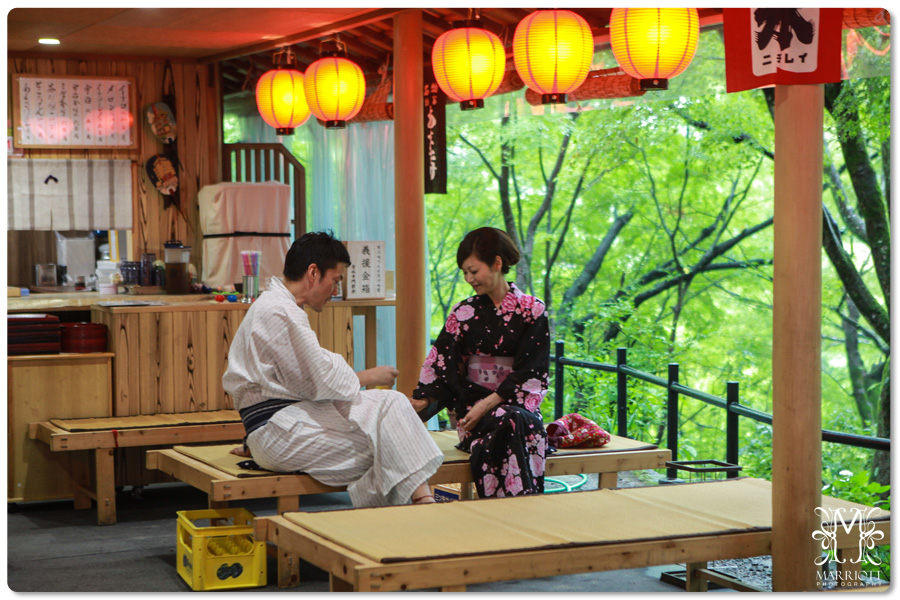 And then we moved on to the Golden Pavilion, Kinkaku-ji.  This place was gorgeous but was raining a bit, so hard to hold an umbrella and take pictures. It was too bad as it is a gorgeous Japanese garden.  Mike tried to calculate how much gold was used in the finishing of this, but we just decided a LOT.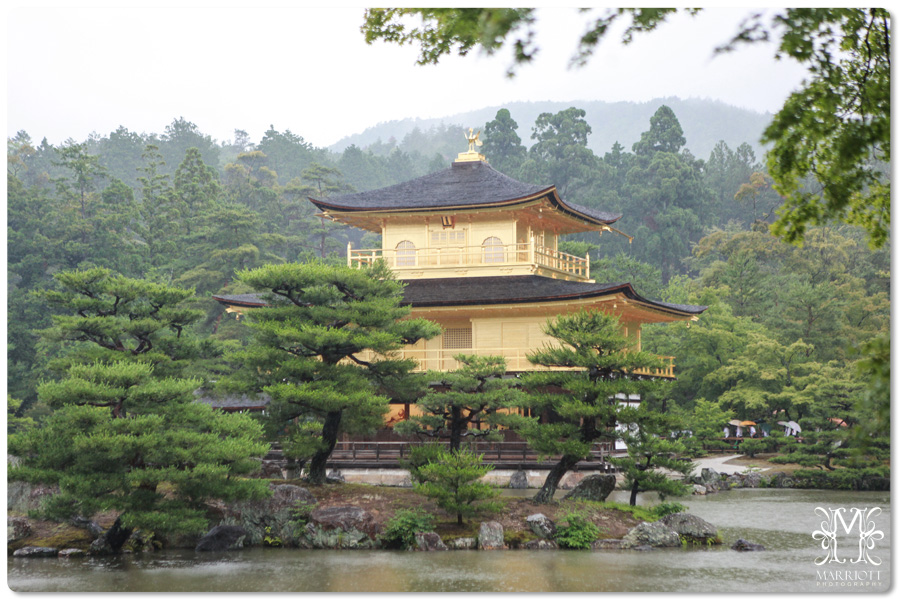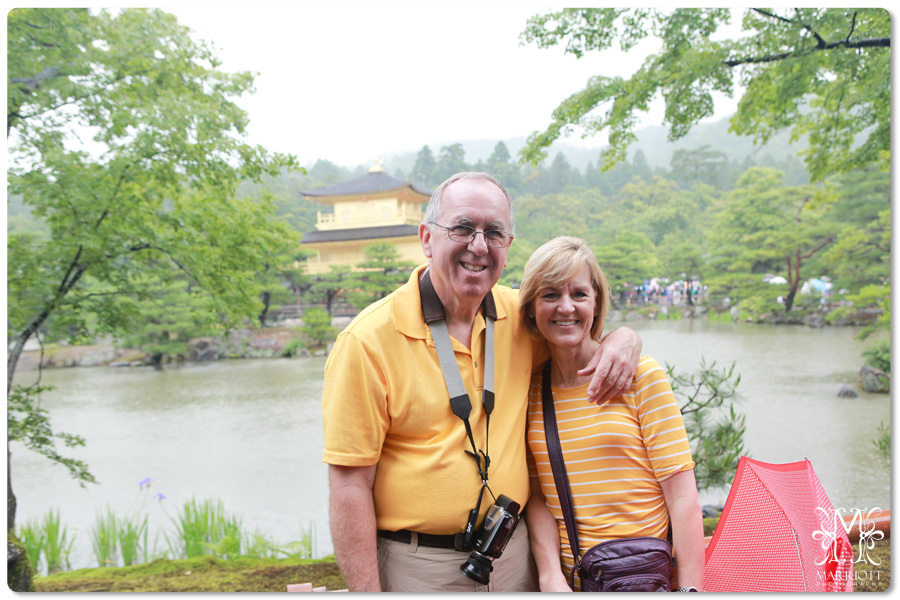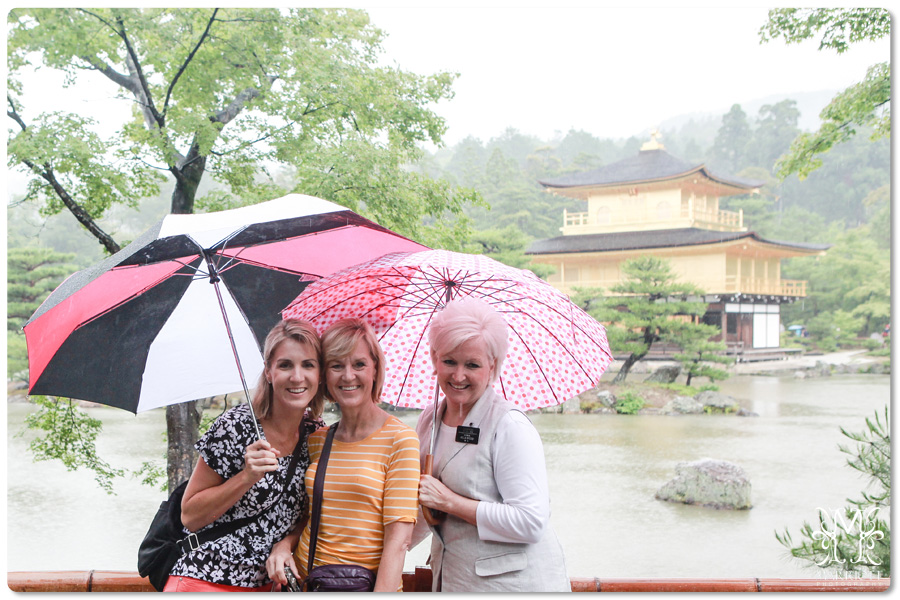 And finally in Kyoto, we went to visit the Thousand Gates.  There is a path from the main gate to the top of the mountain to an inner shrine that is lined with tens of thousands of torii (gates).  It was raining so hard by the time we got here that we only walked part of the way through the gates… it was incredible to see!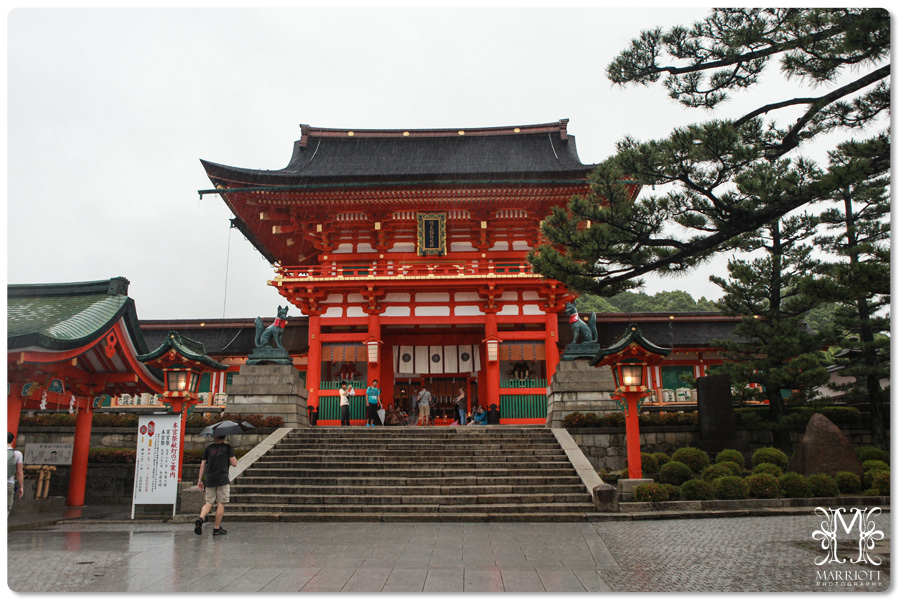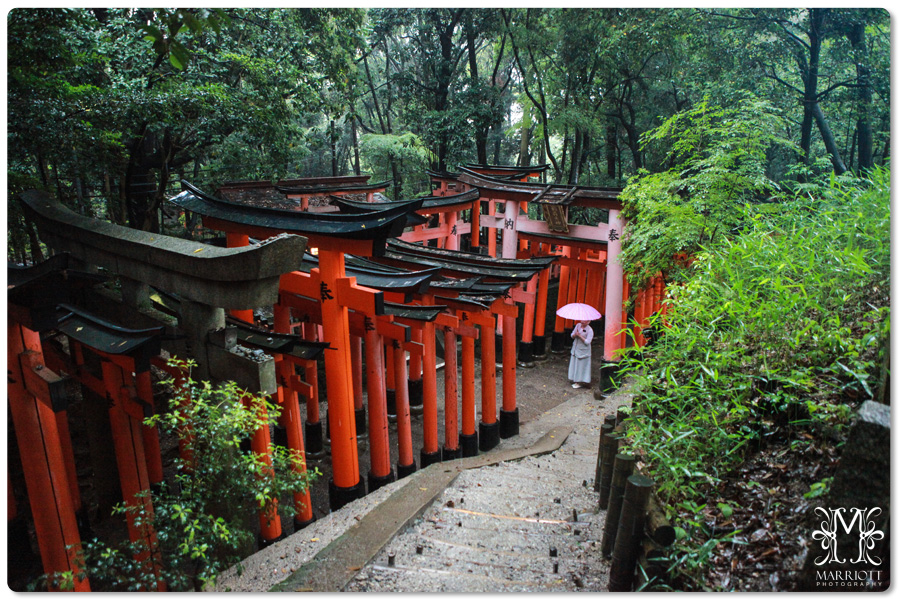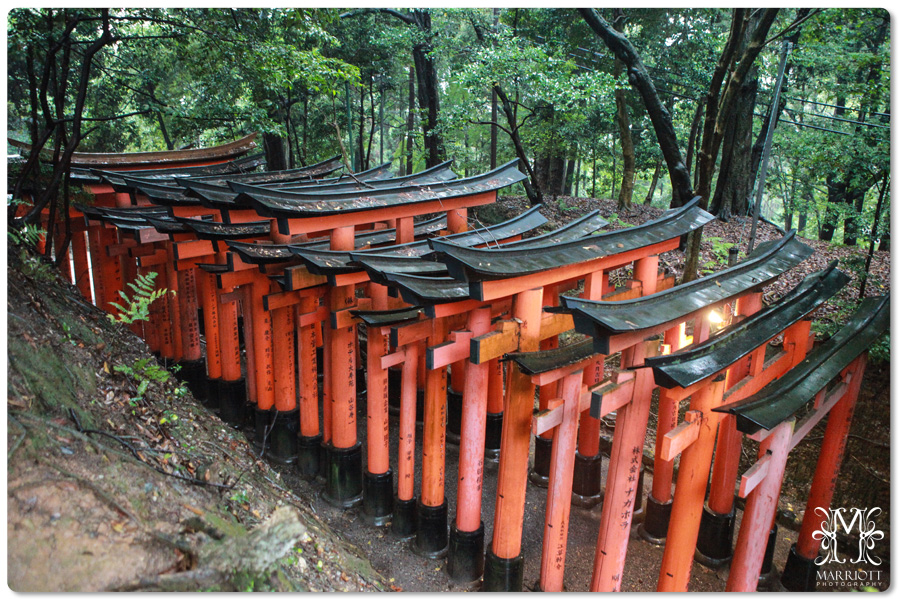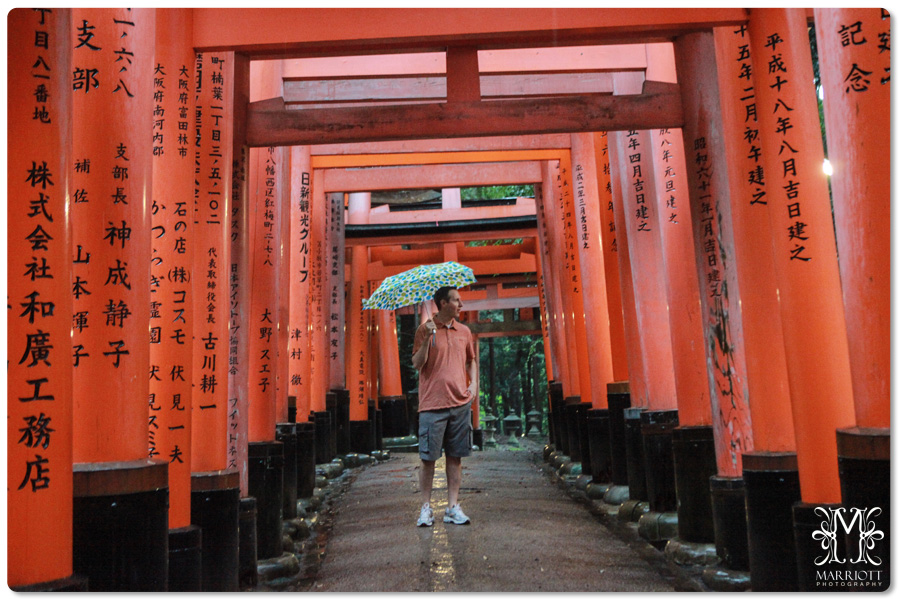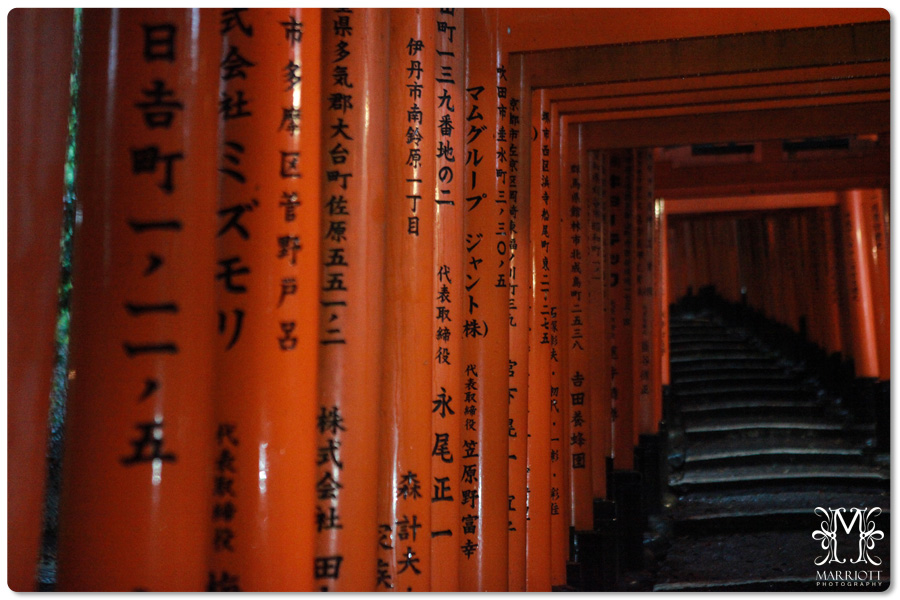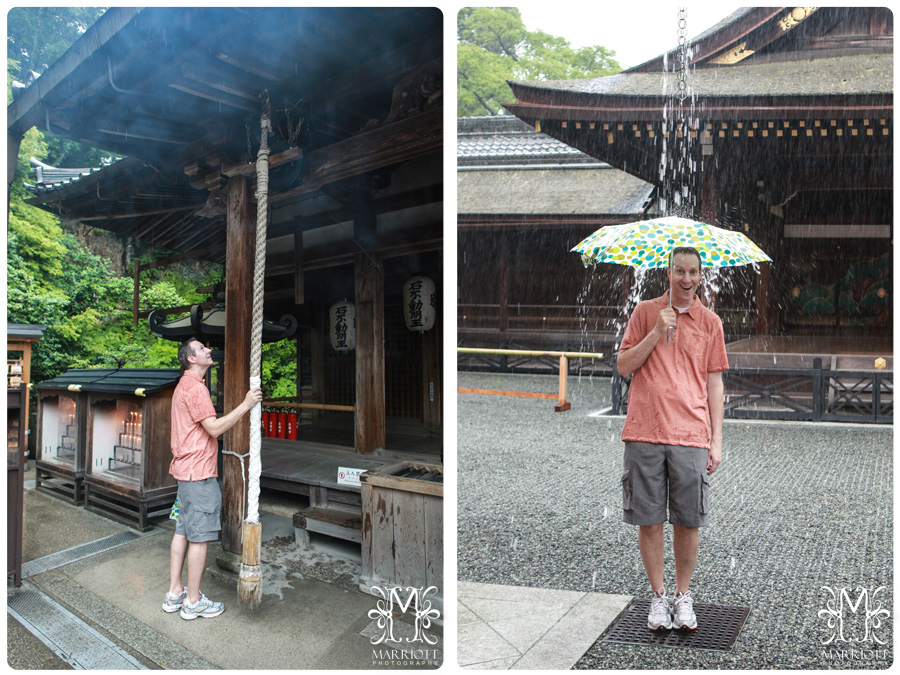 Next up, Osaka-jo or the Osaka Castle.  This beautiful castle is right down in the middle of the busy and crowded city of Osaka.  The huge stone walls around the double moat and large walls around the castle are absolutely incredible.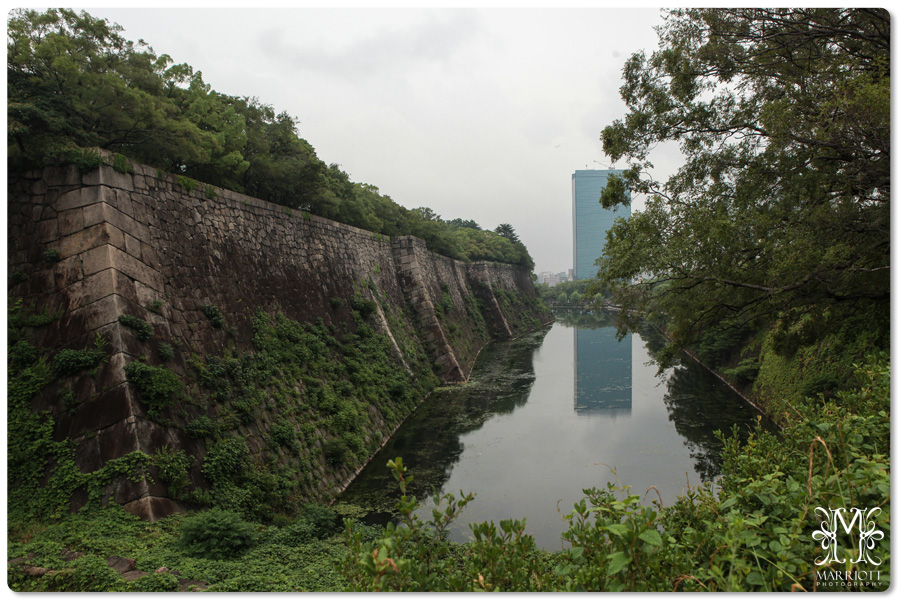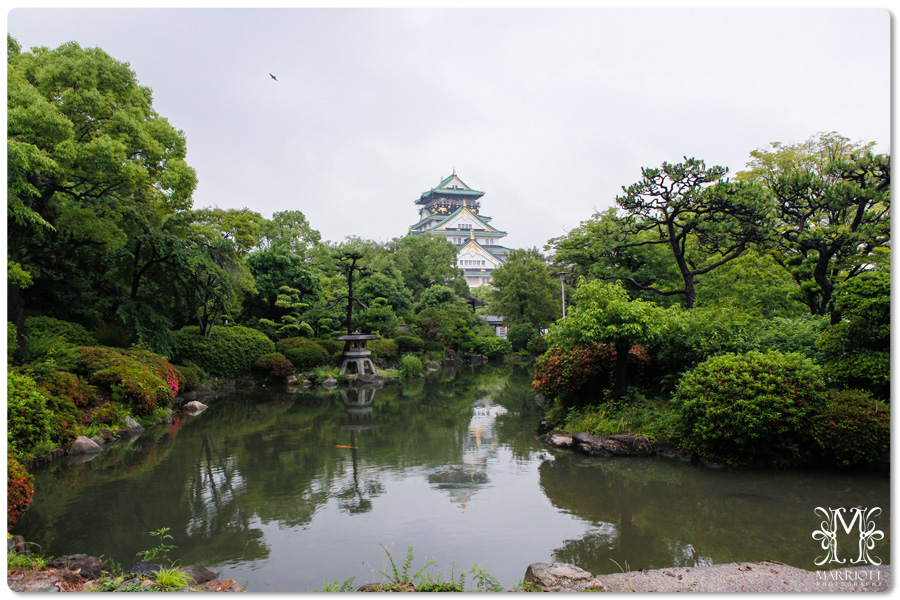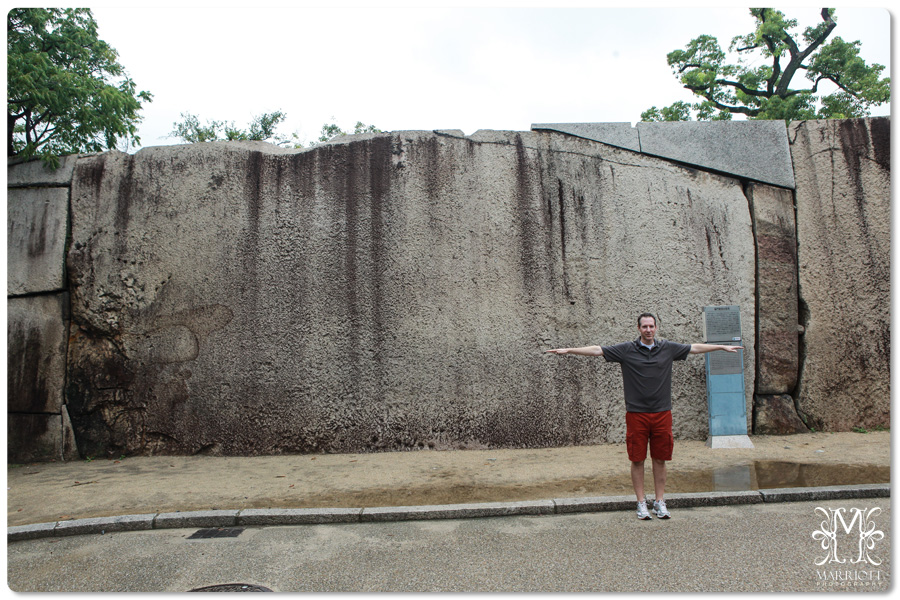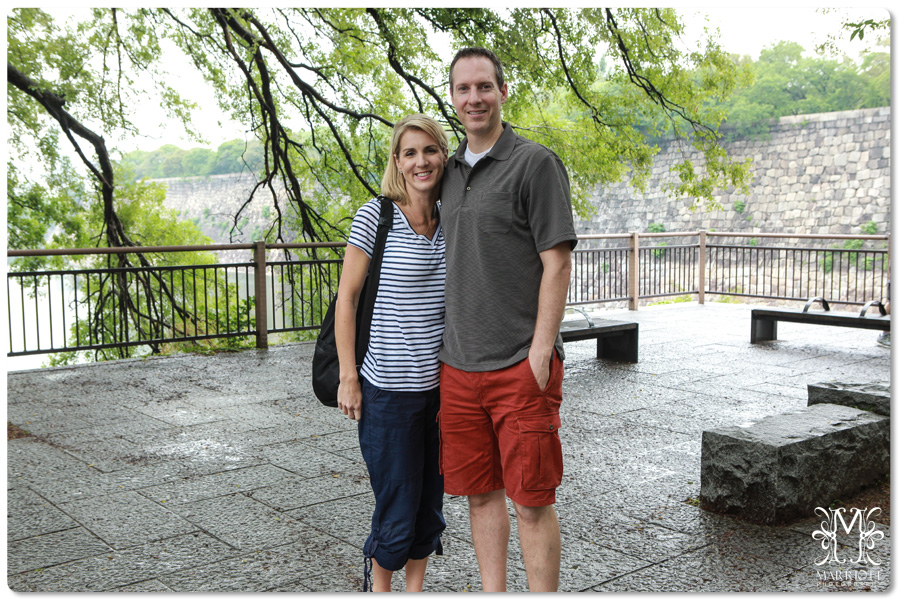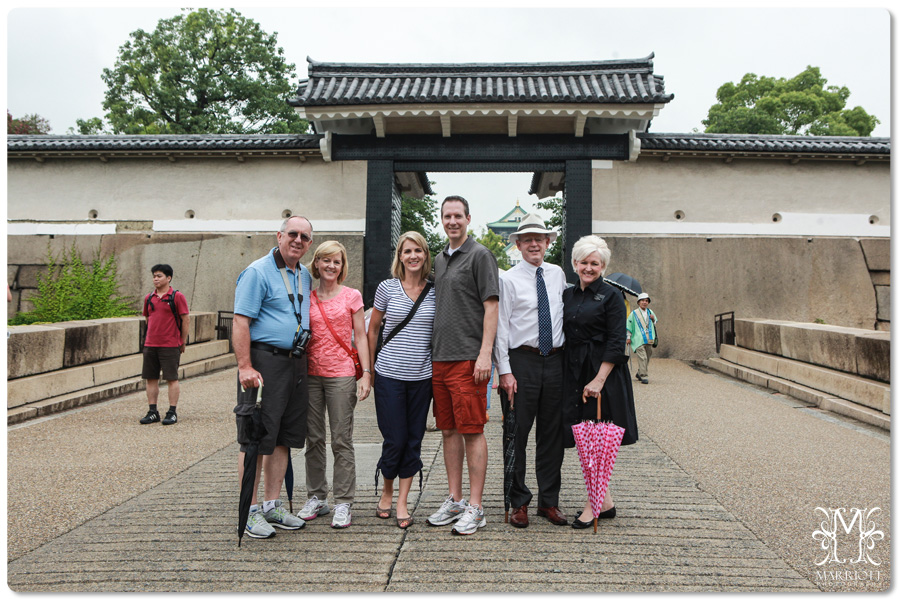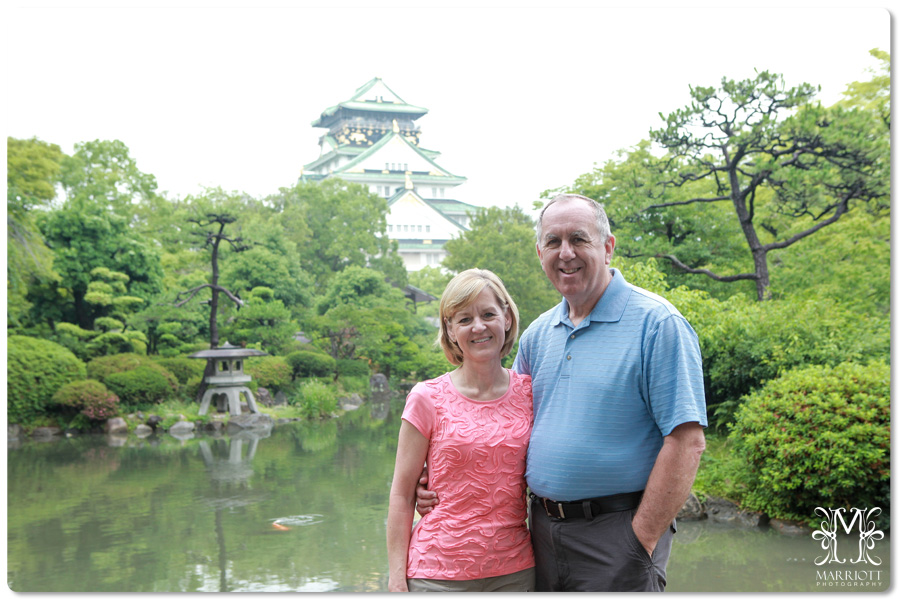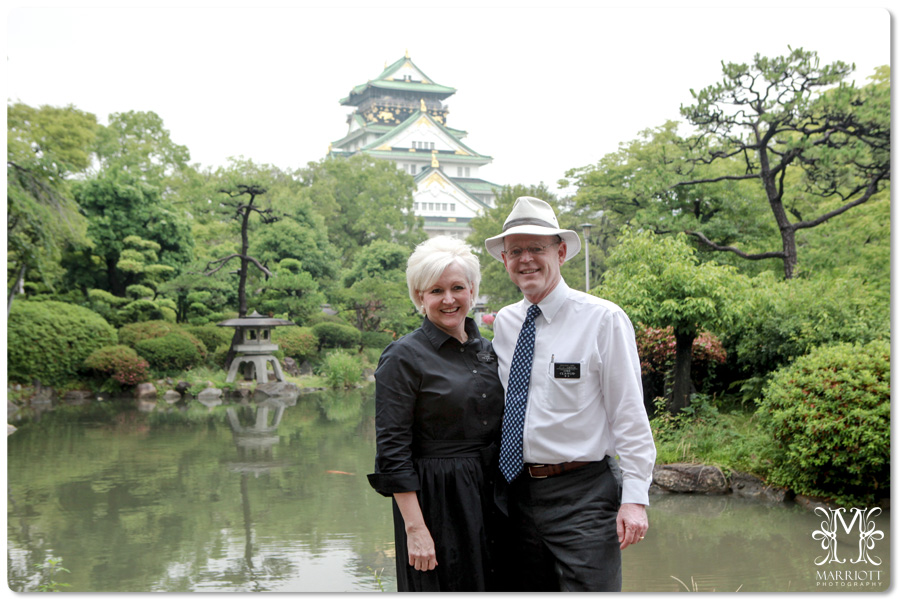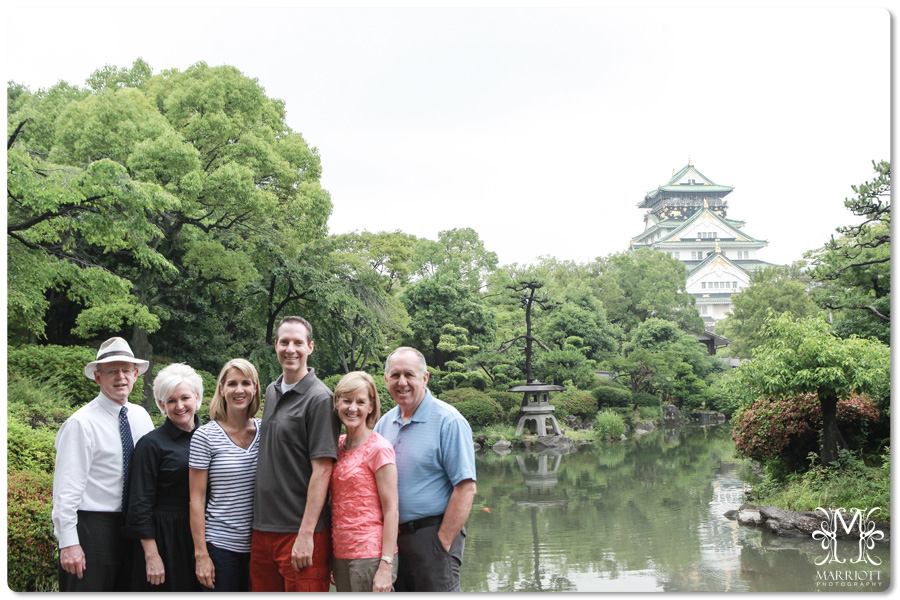 One of the most unique and interesting cities, Nara, had this beautiful temple.  The Todaiji Temple is the world's largest wooden building.  It houses the country's largest bronze Budha.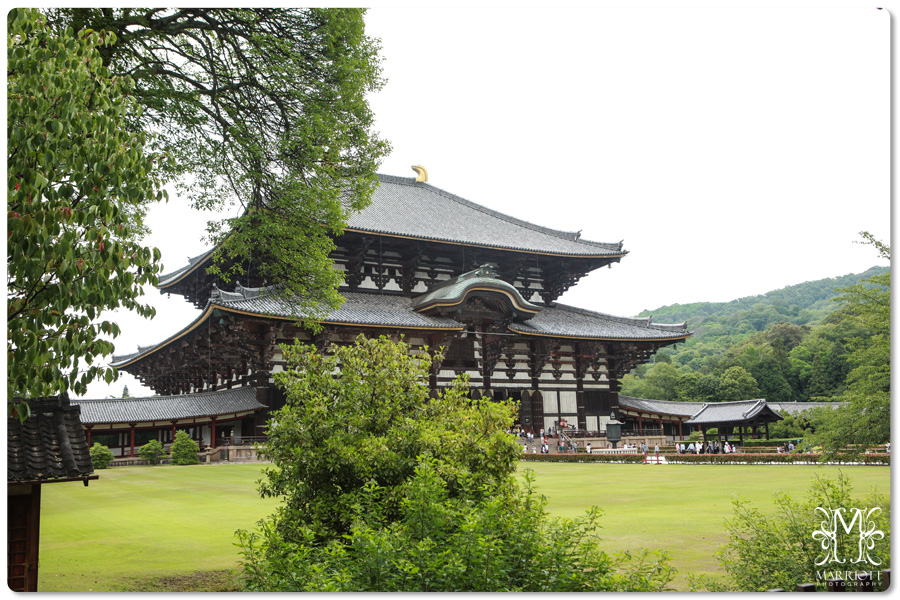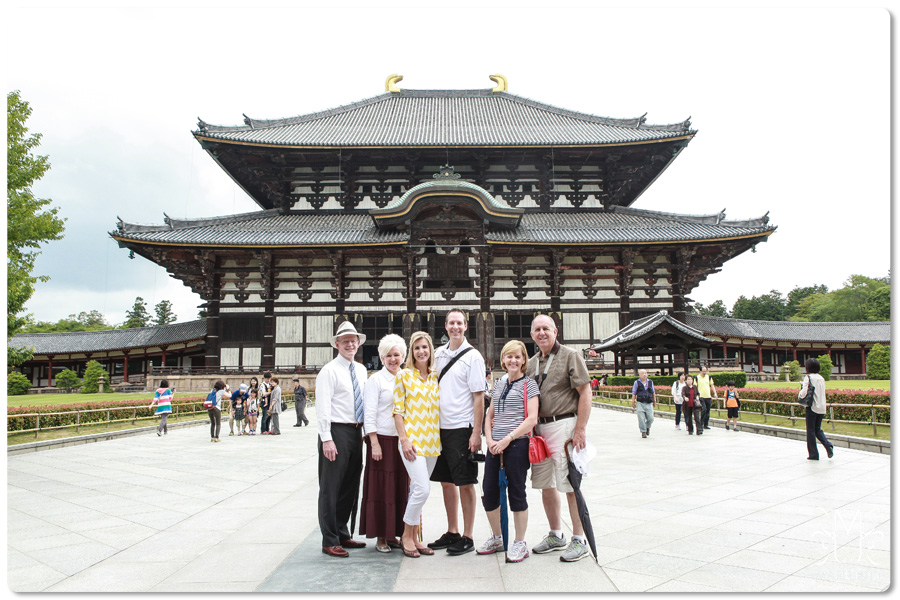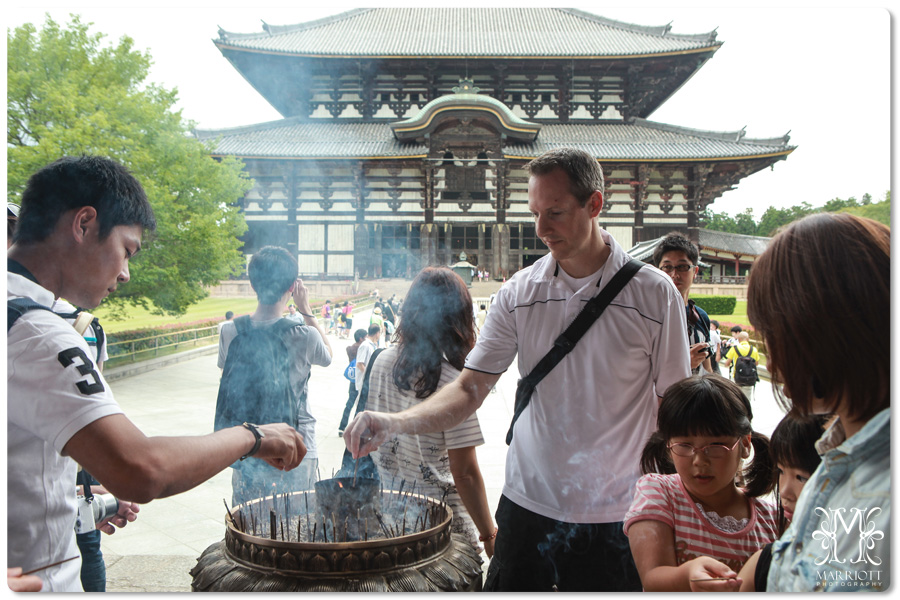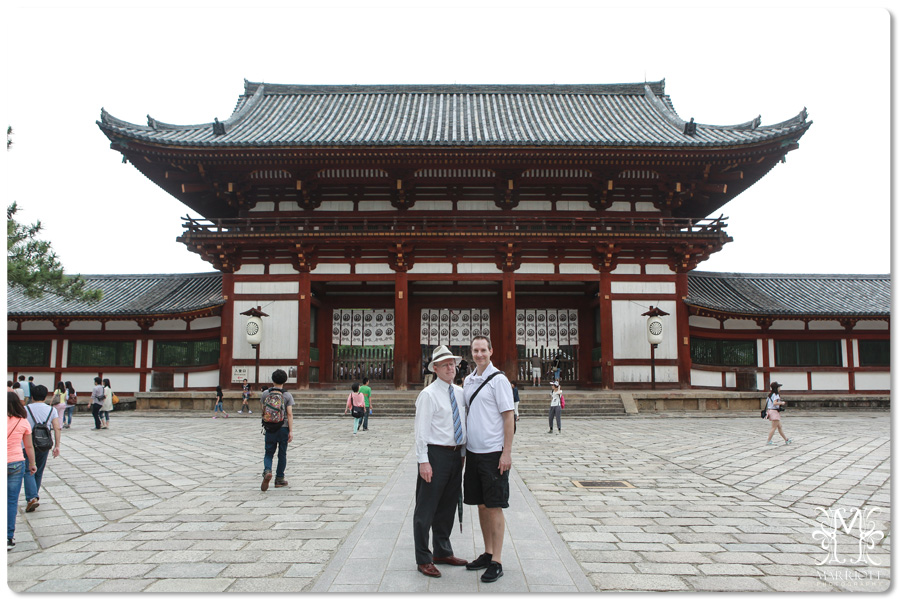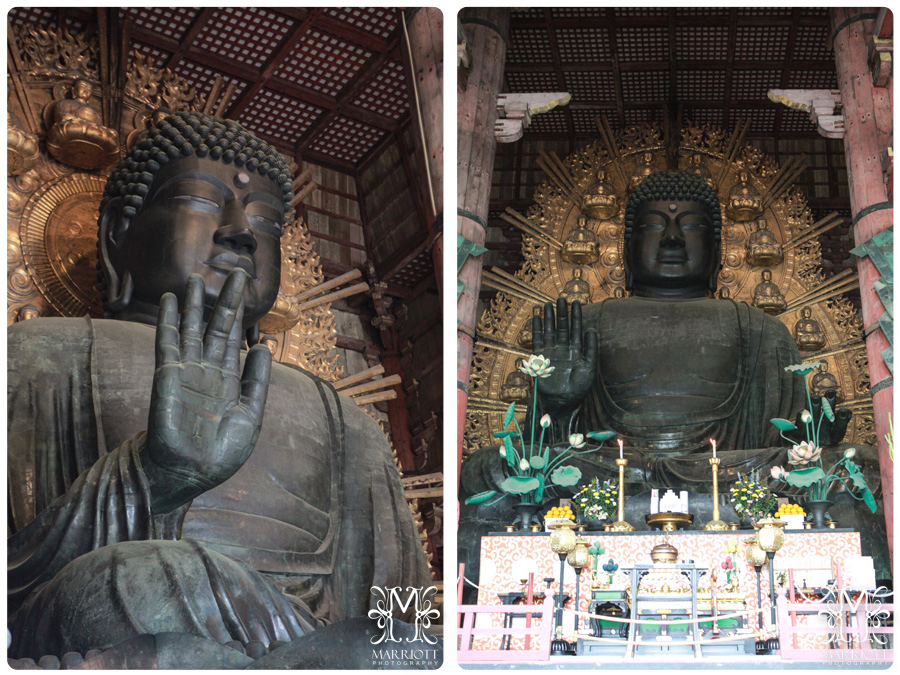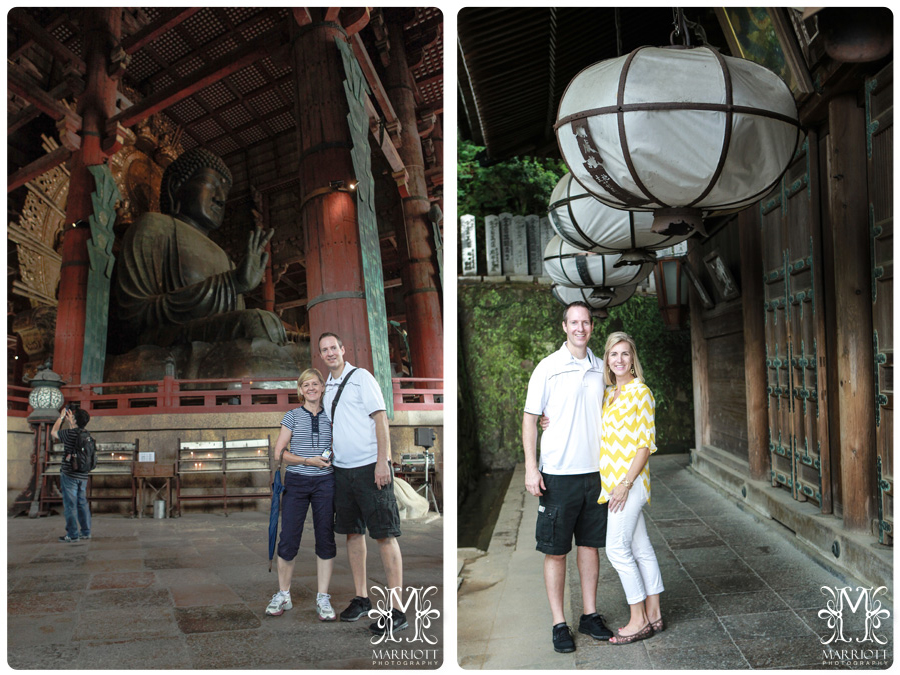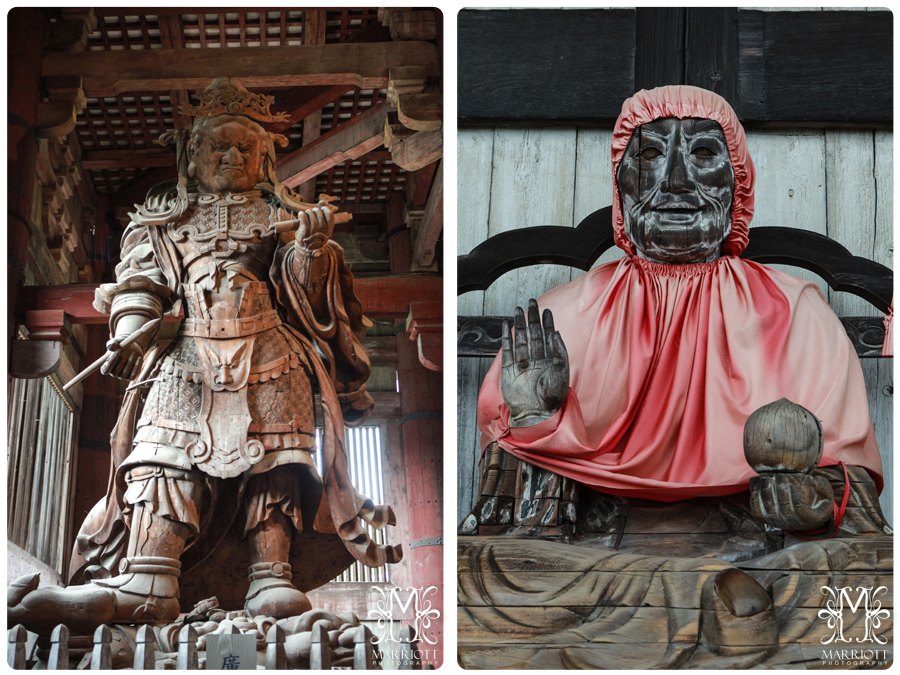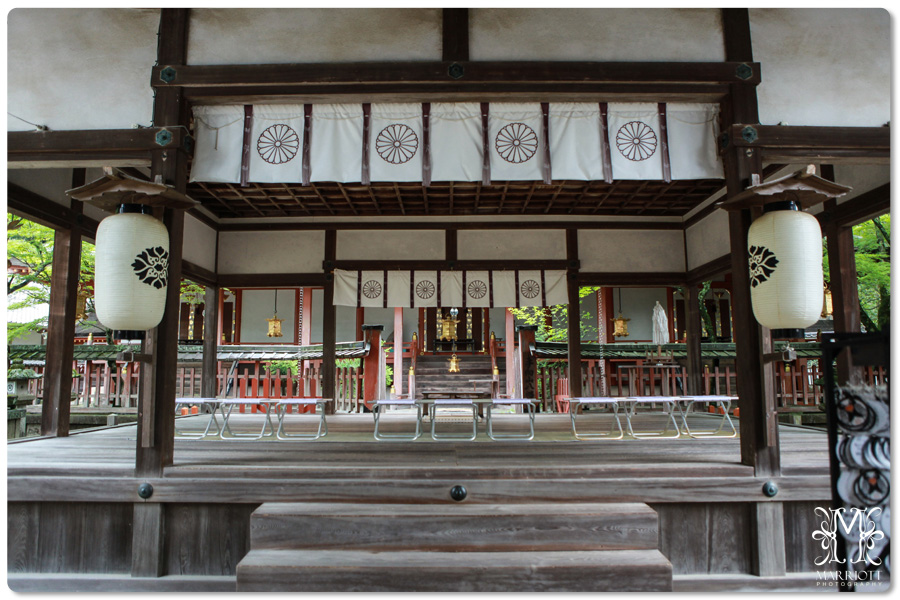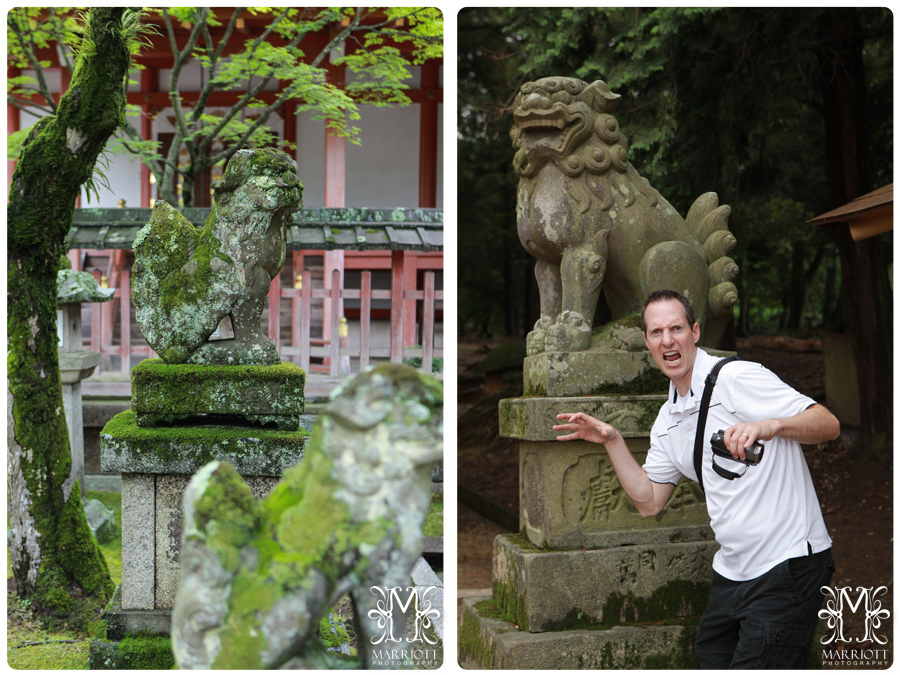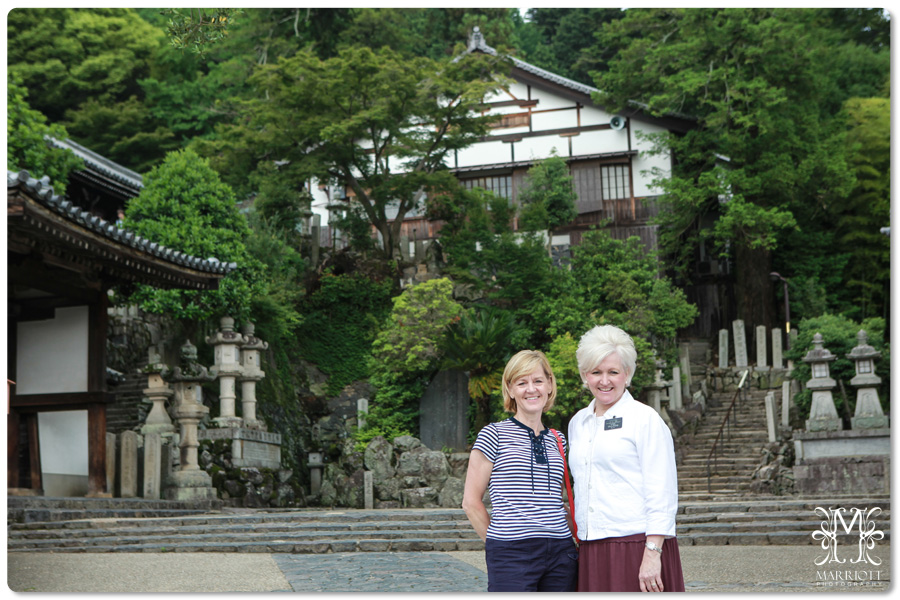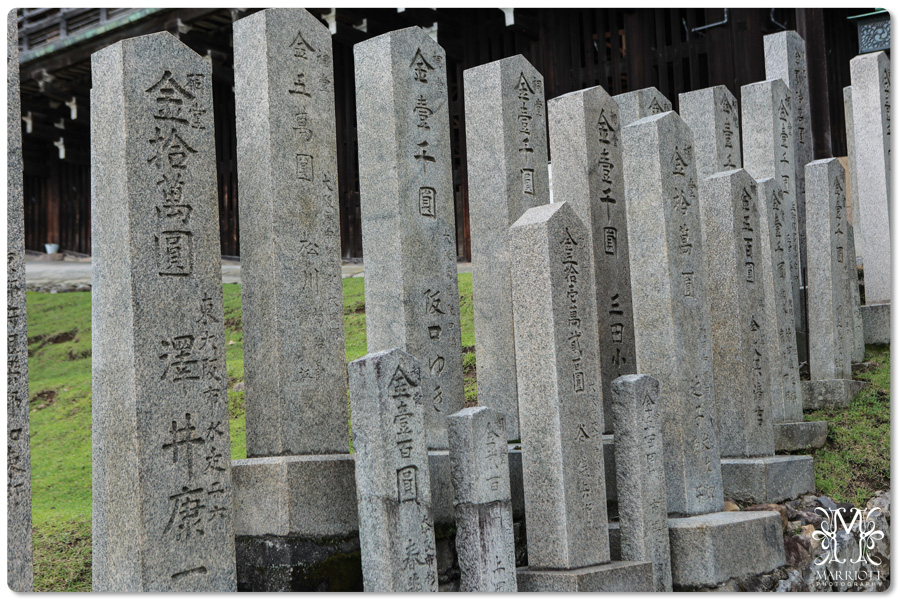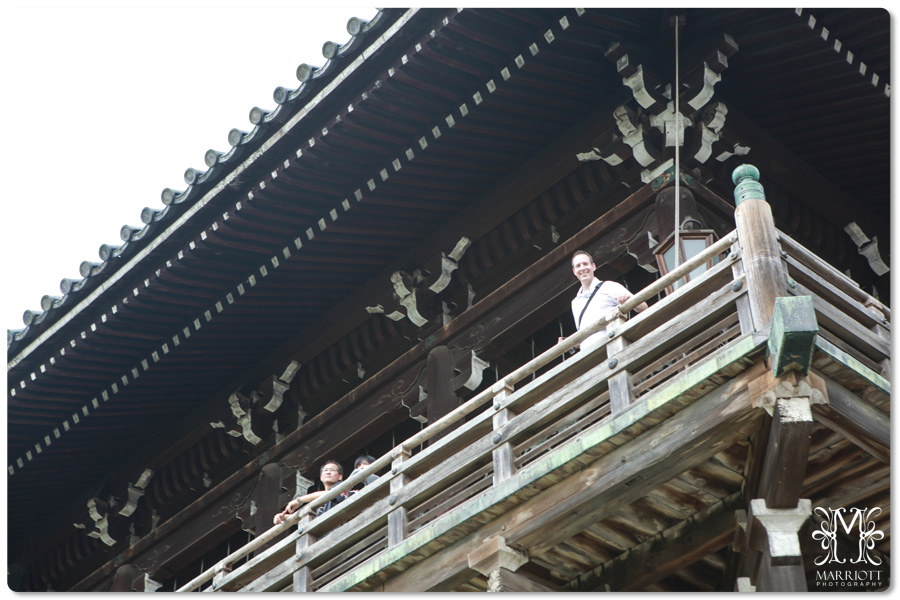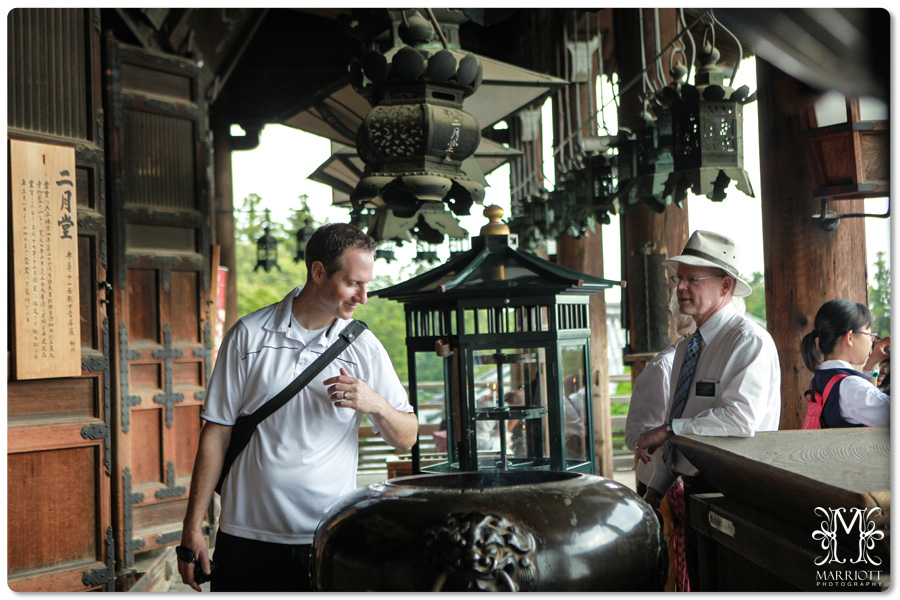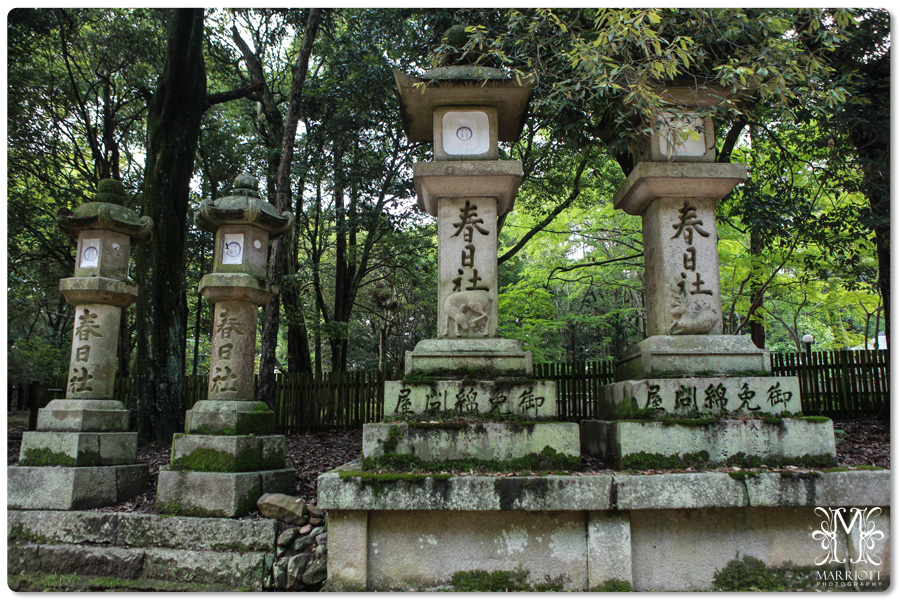 And now on to Tokyo.  We spent the second half of our time in Japan based out of Tokyo, taking a few day trips to nearby cities.  The first stop was the large, famous, and very commercialized Senso-ji Temple.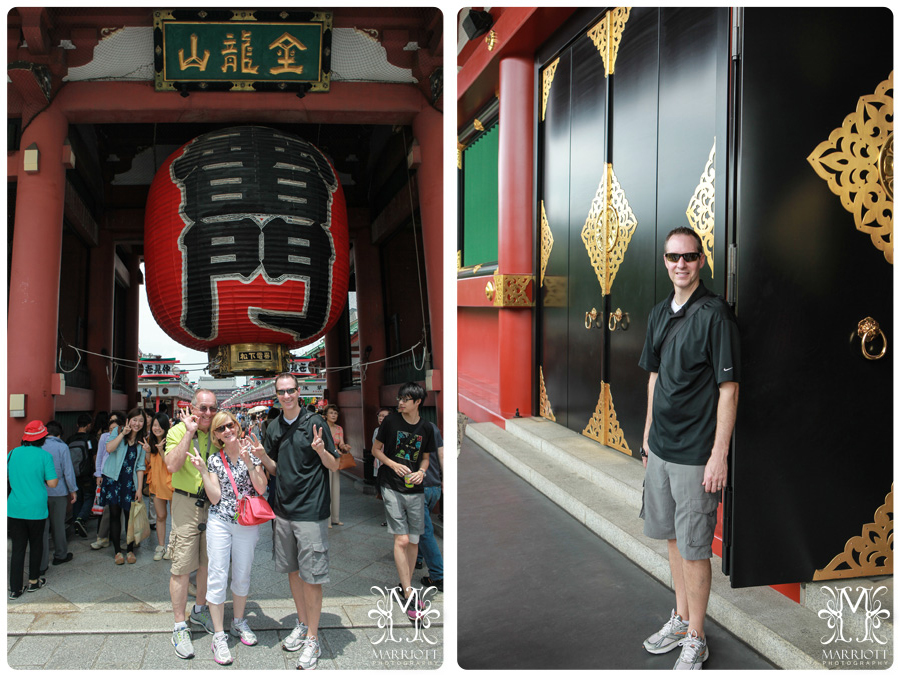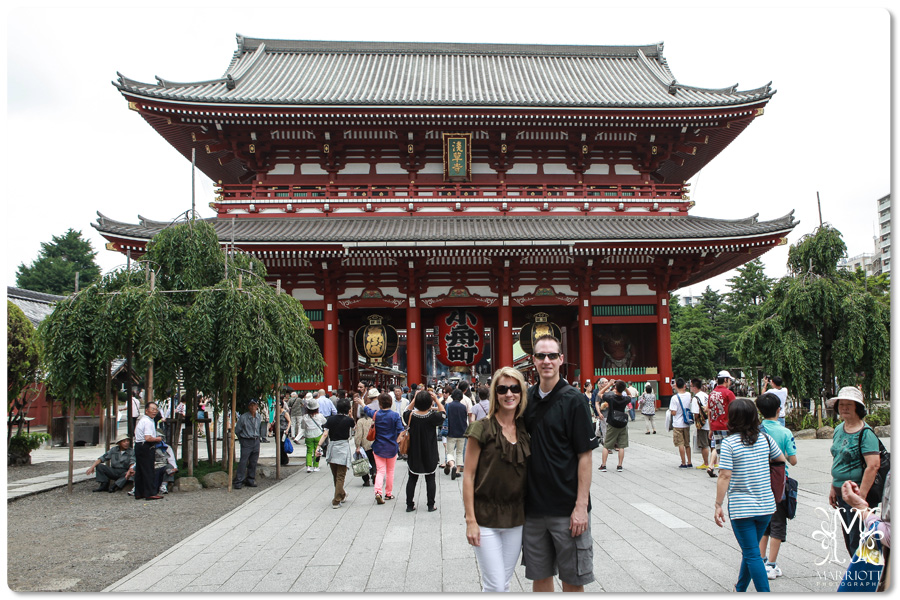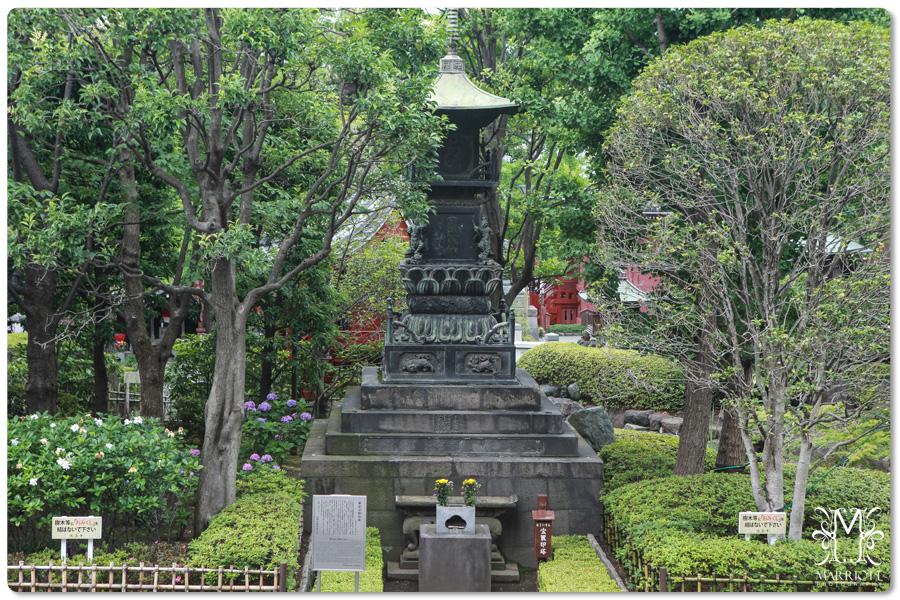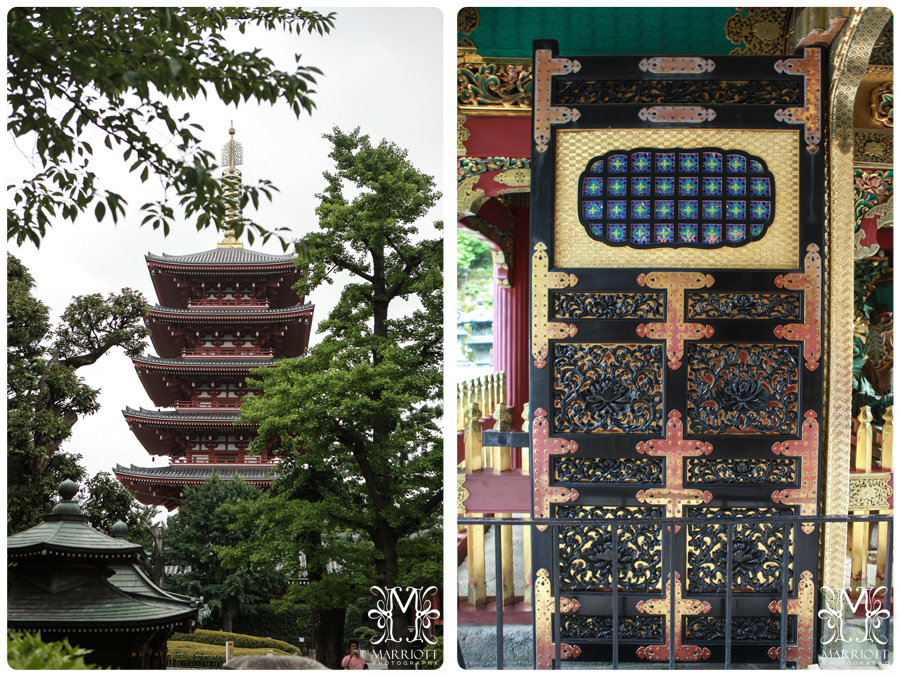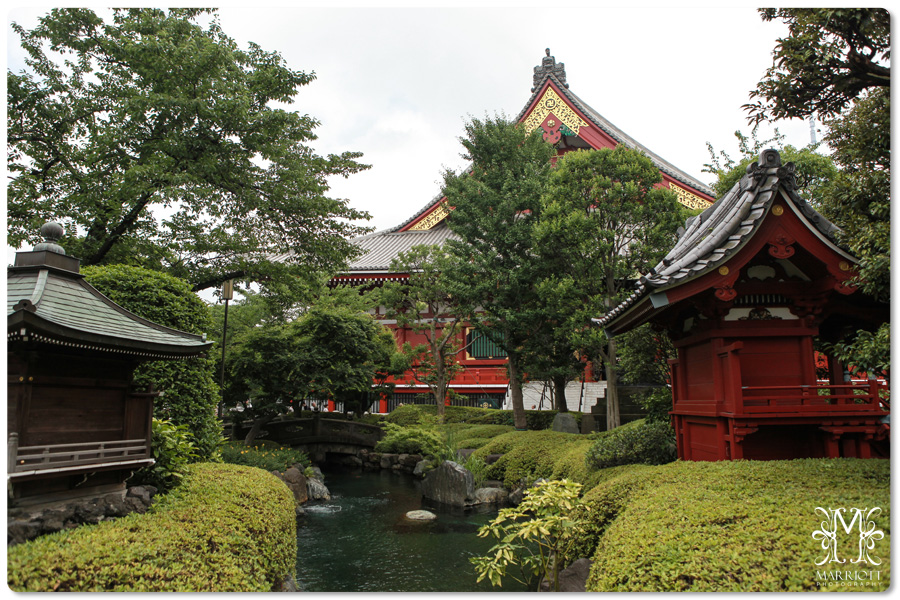 And now onto my favorite city, Nikko, for the gorgeous countryside, beautiful shrines and temples, and great hiking.  Nikko is about 2 hours north of Tokyo on the Shinkansen and was a fabulous day trip.  In fact, I definitely could have spent a second day there hiking around and enjoy the peaceful country.
I honestly can't remember all of these temple names and which is which, but they were the most ornate, gorgeous, detailed buildings I have ever seen.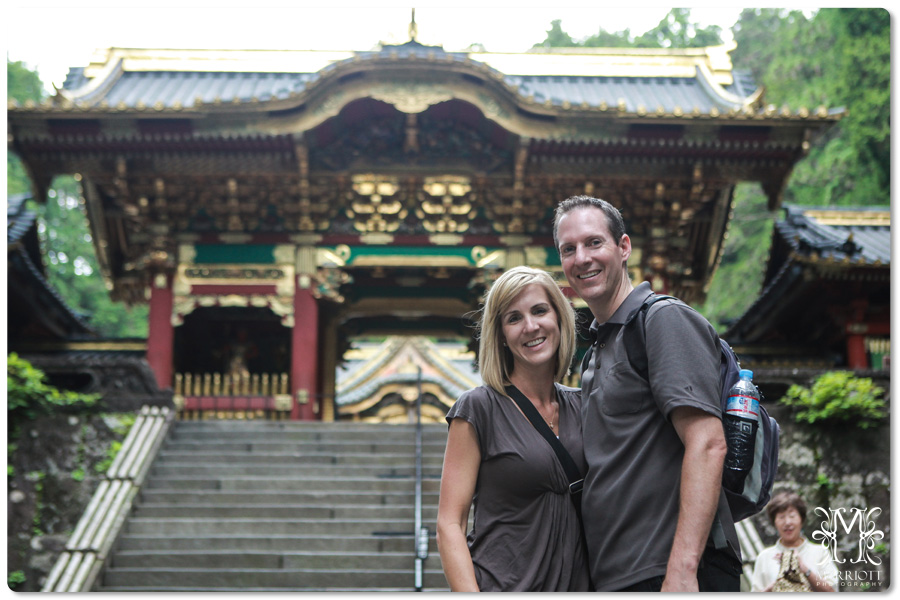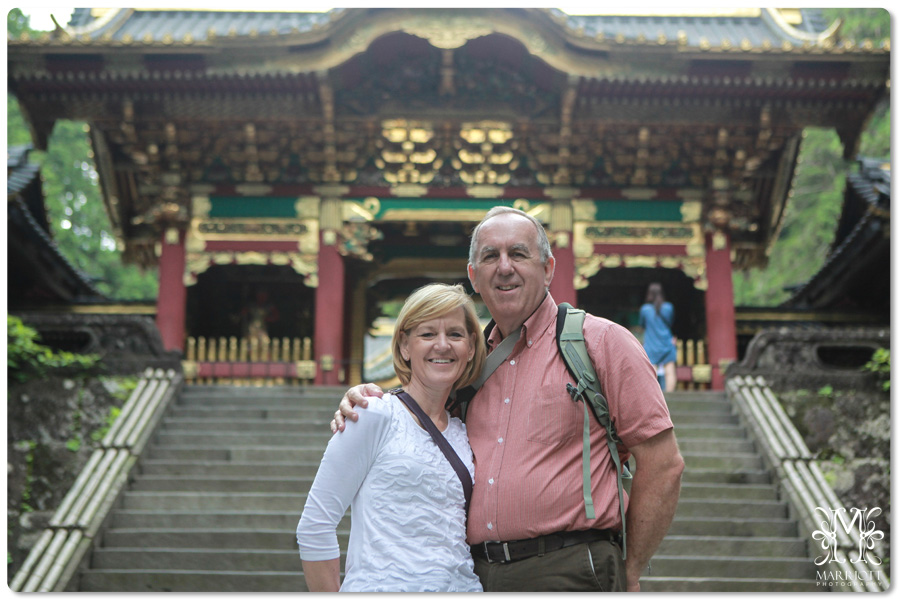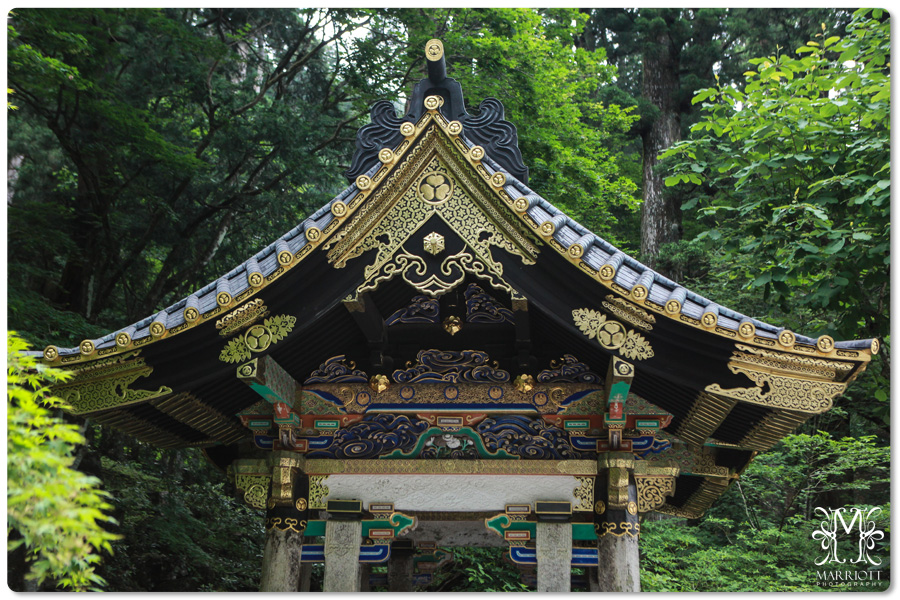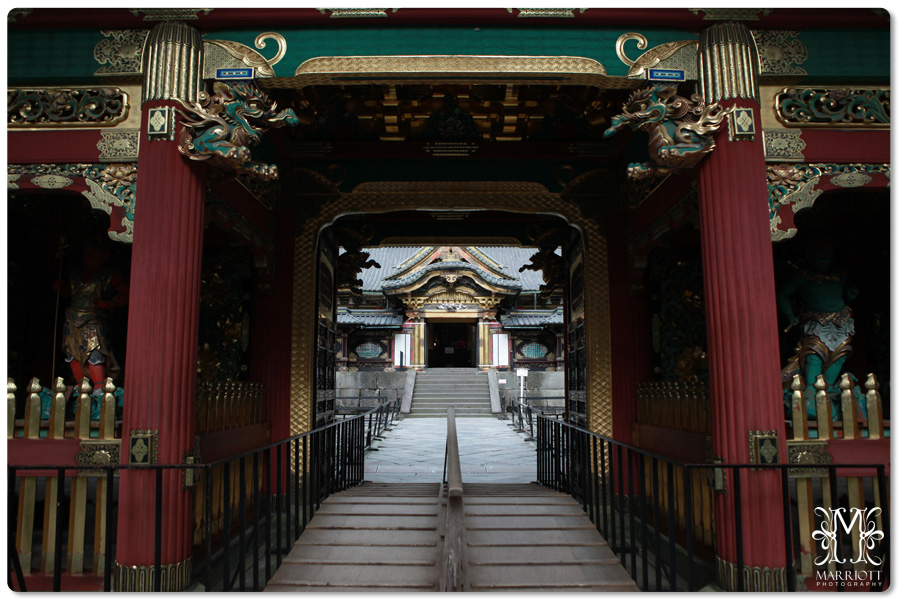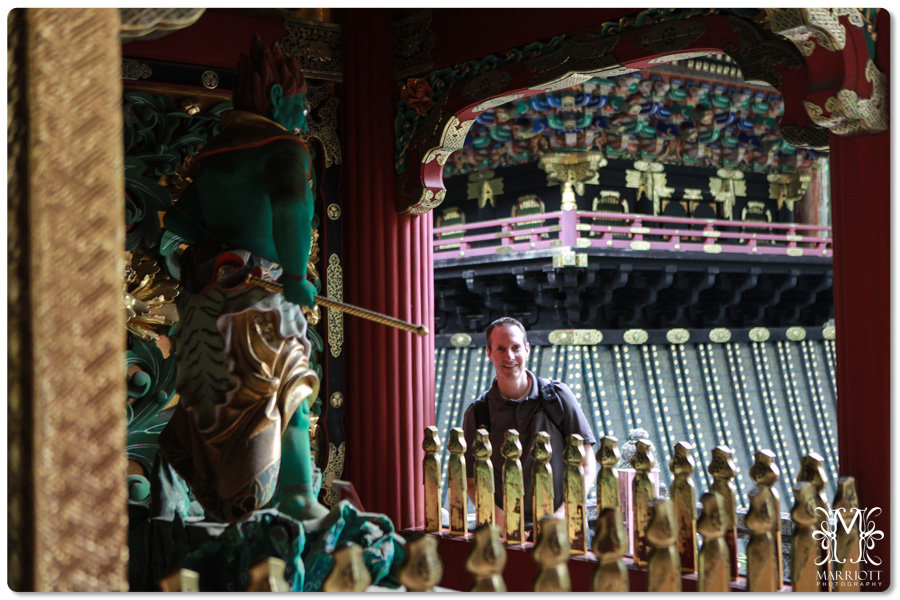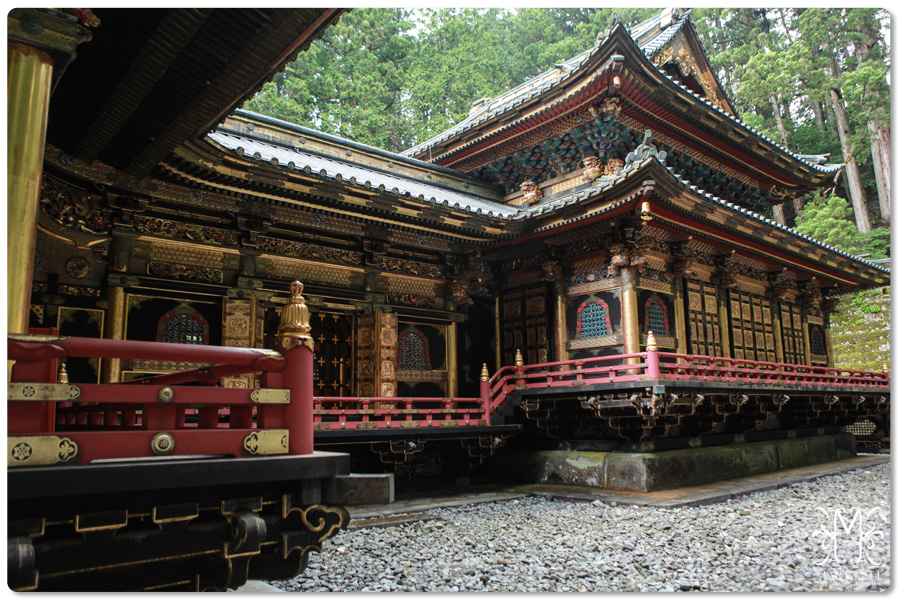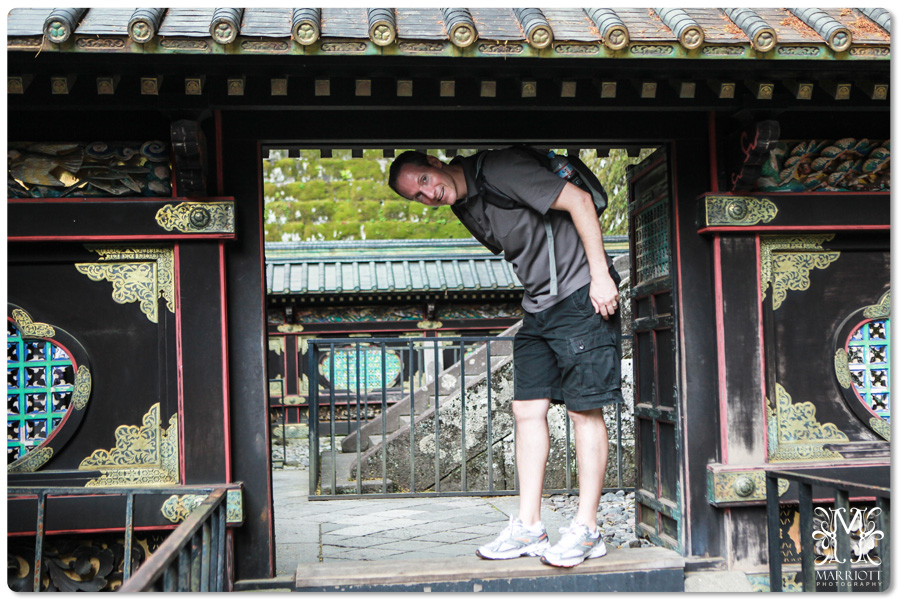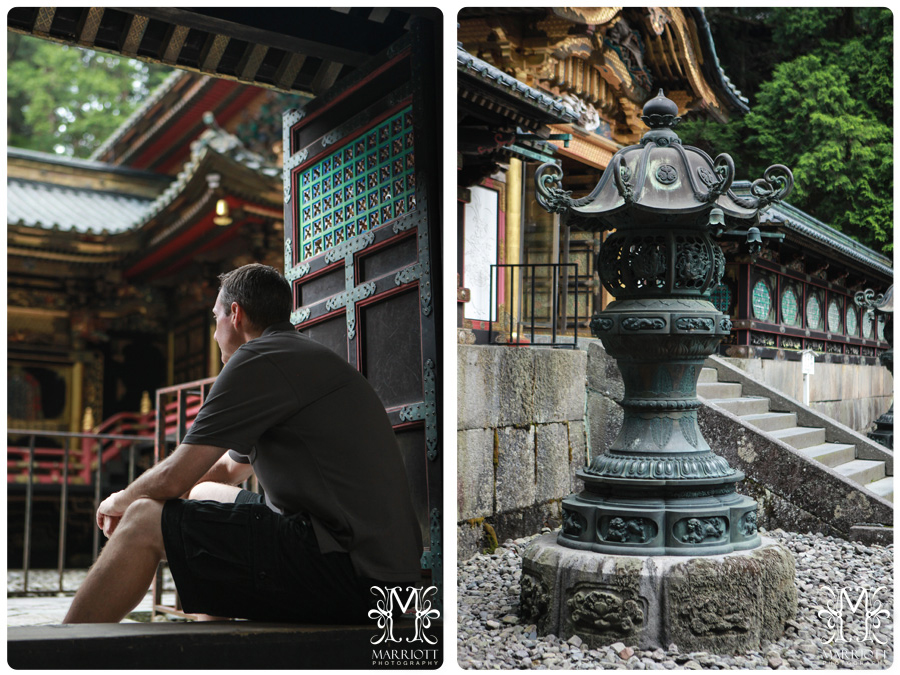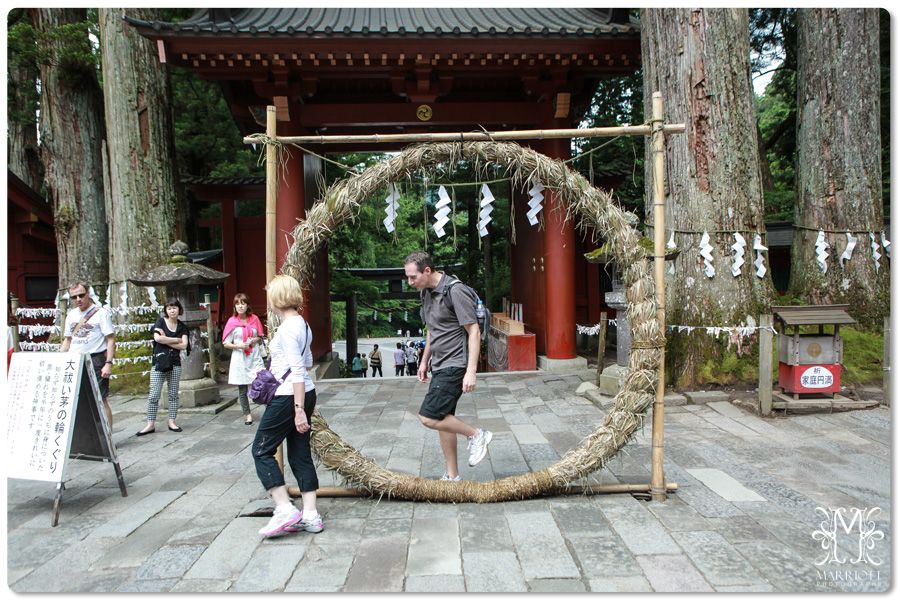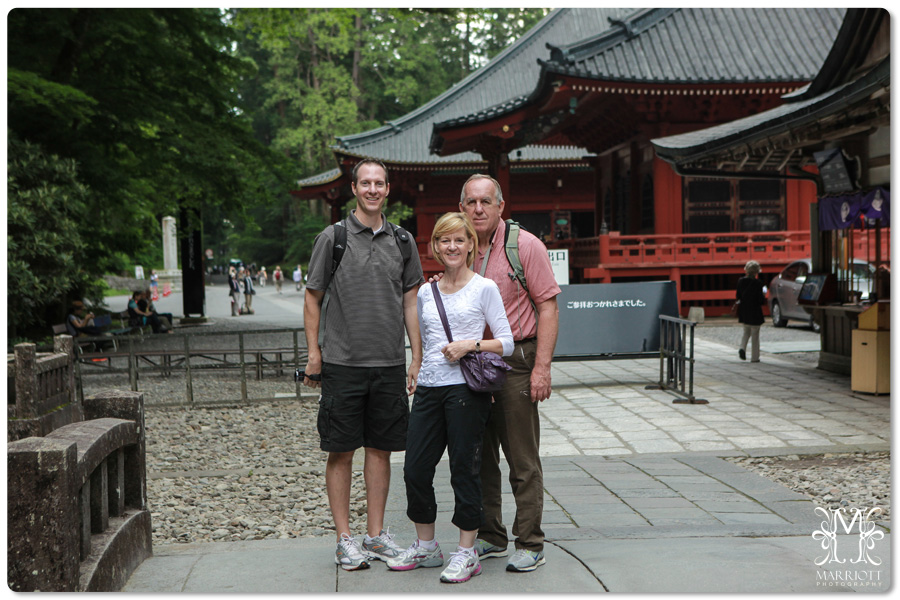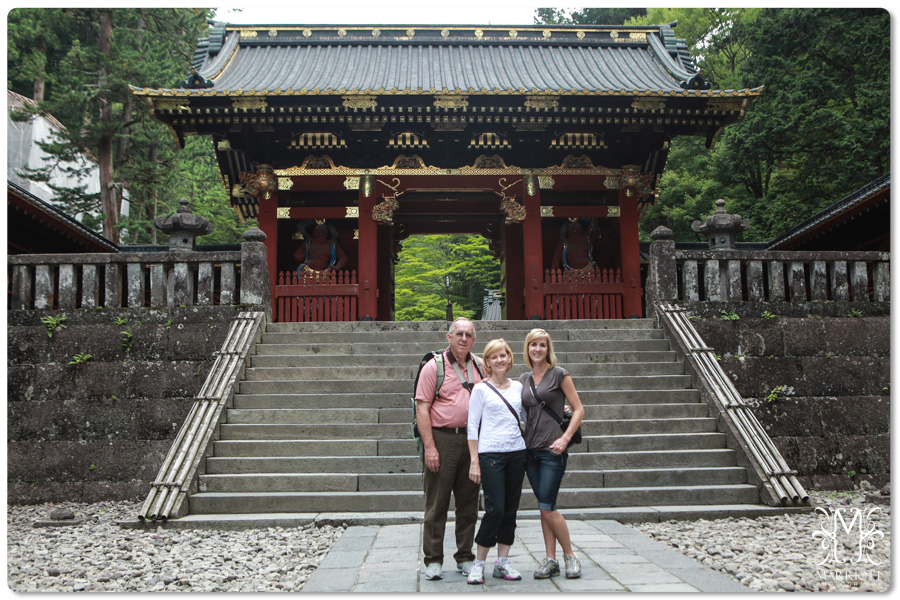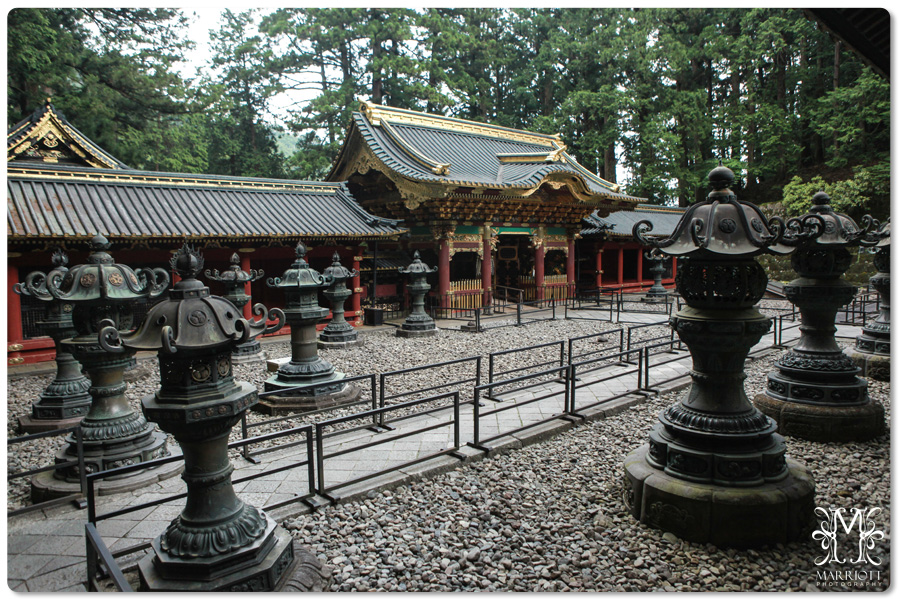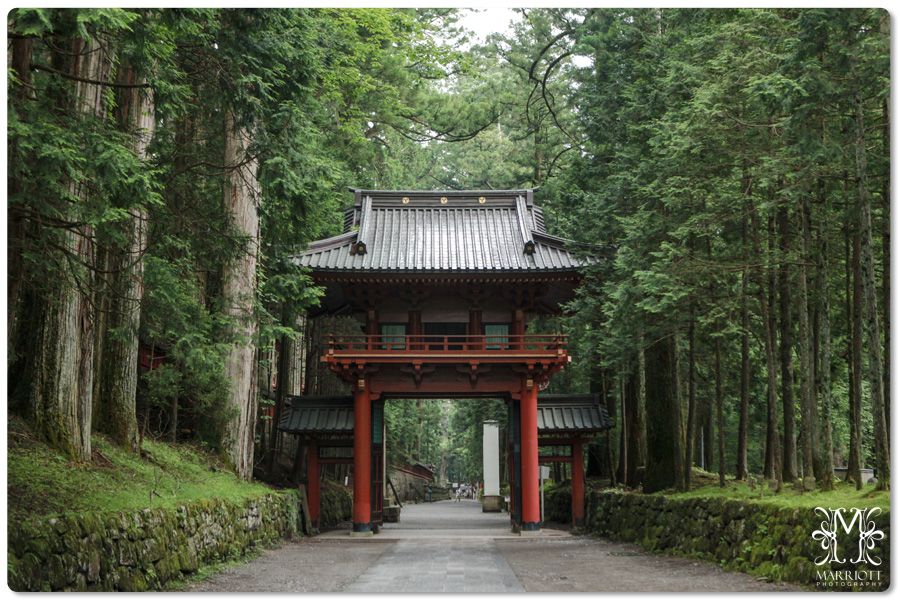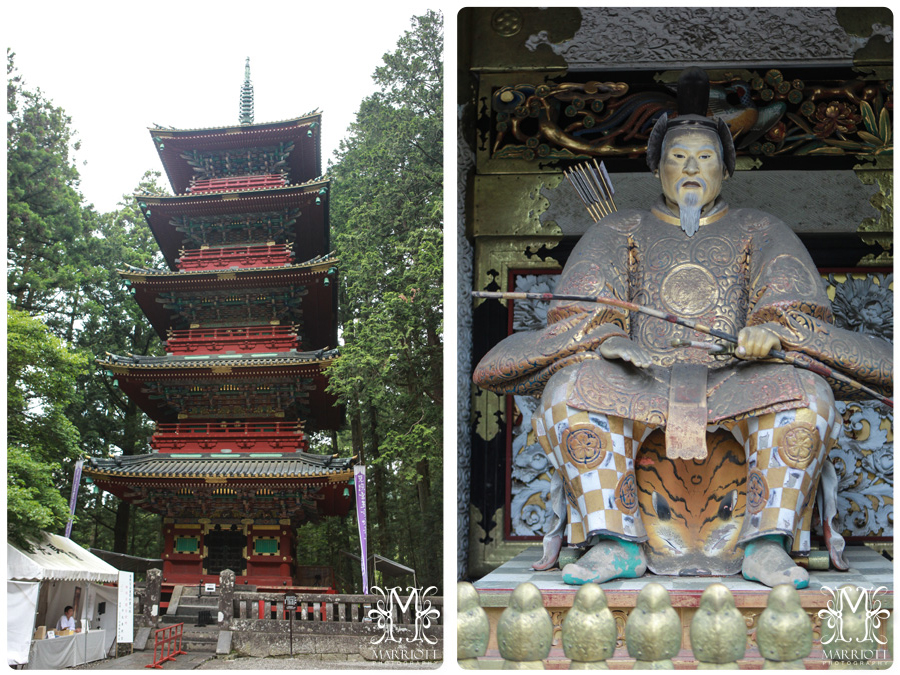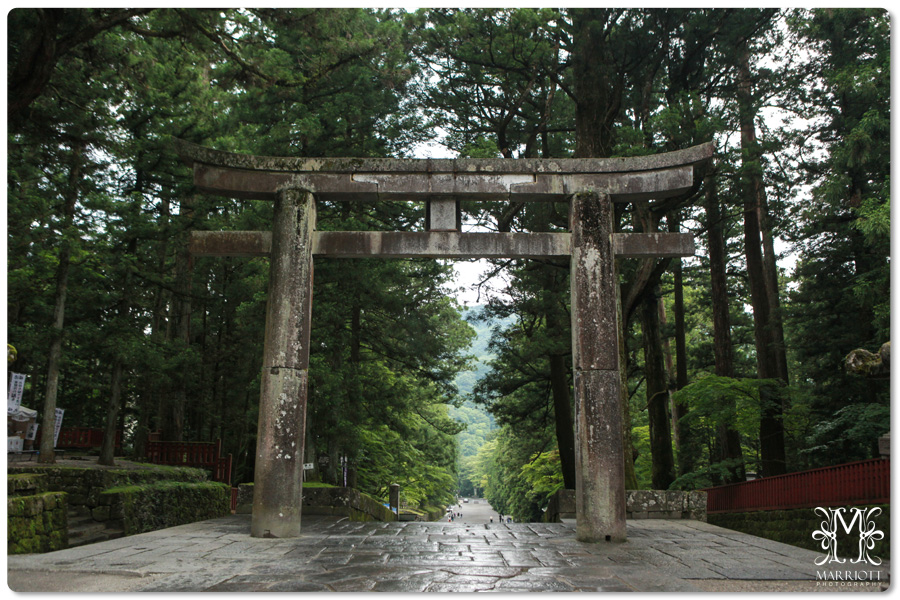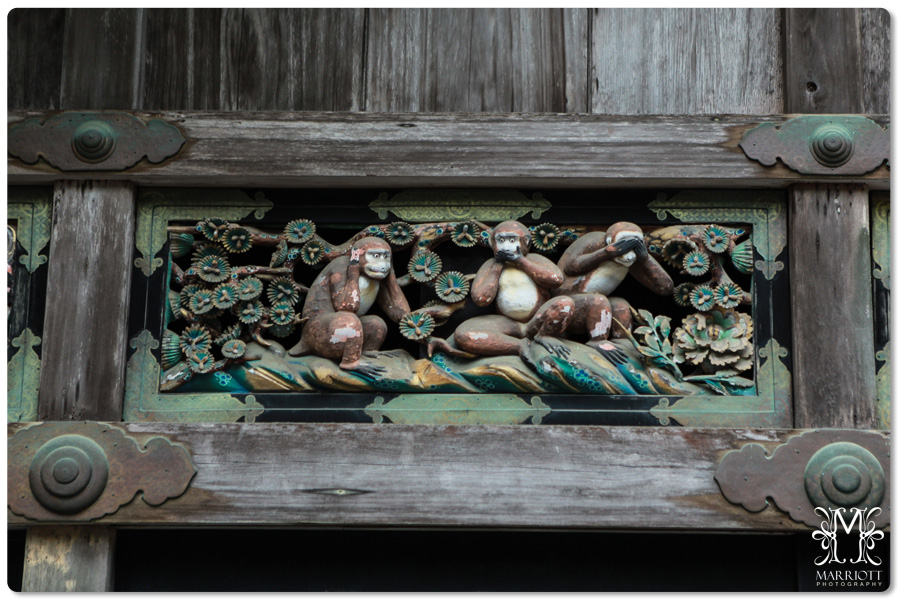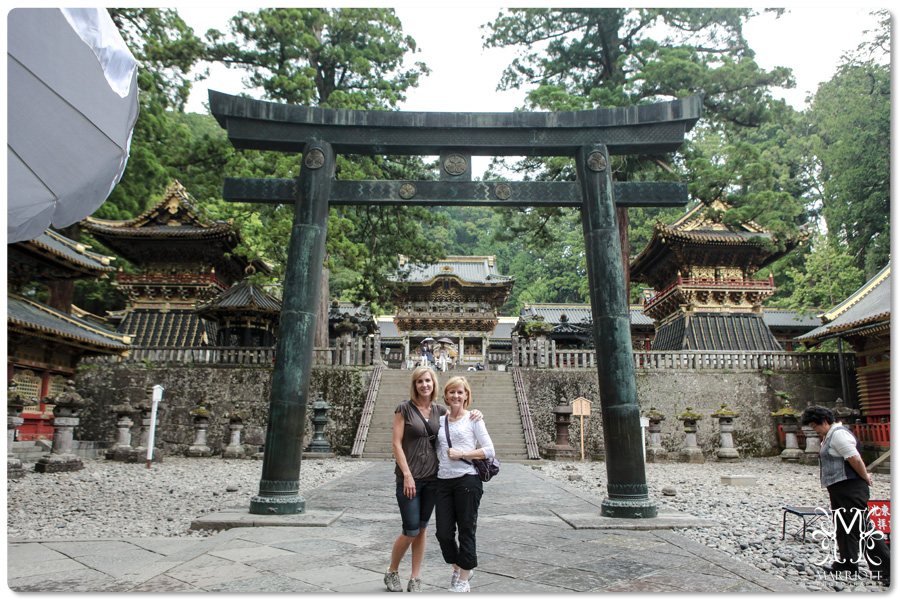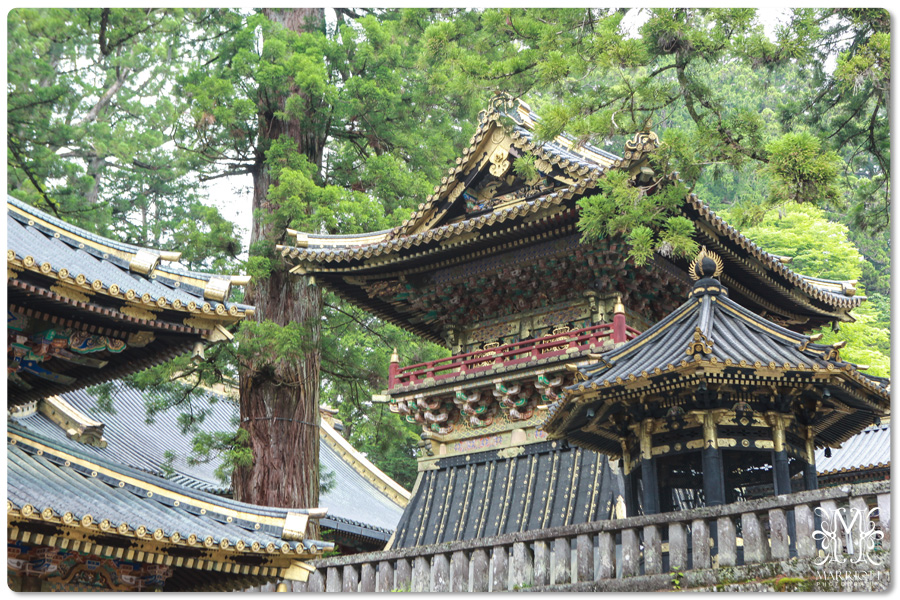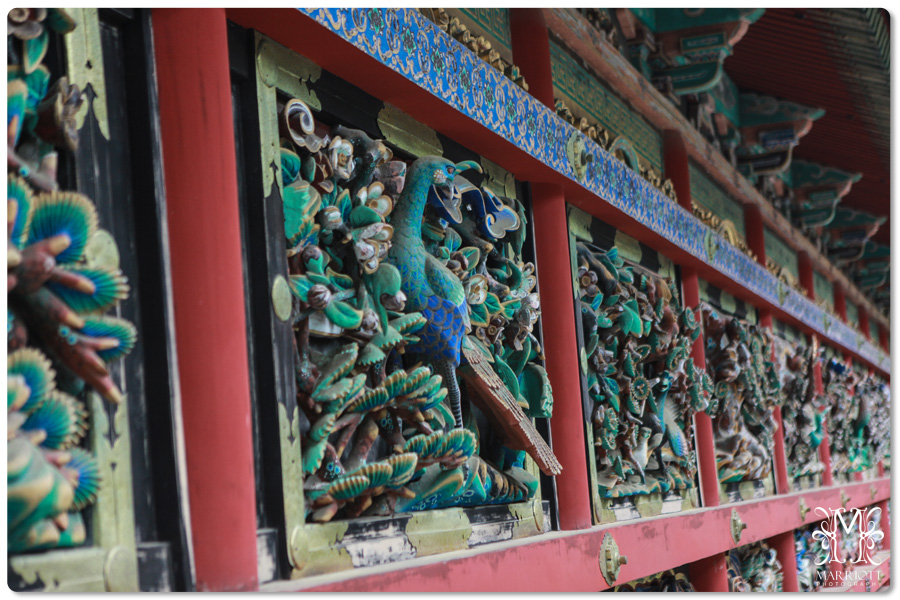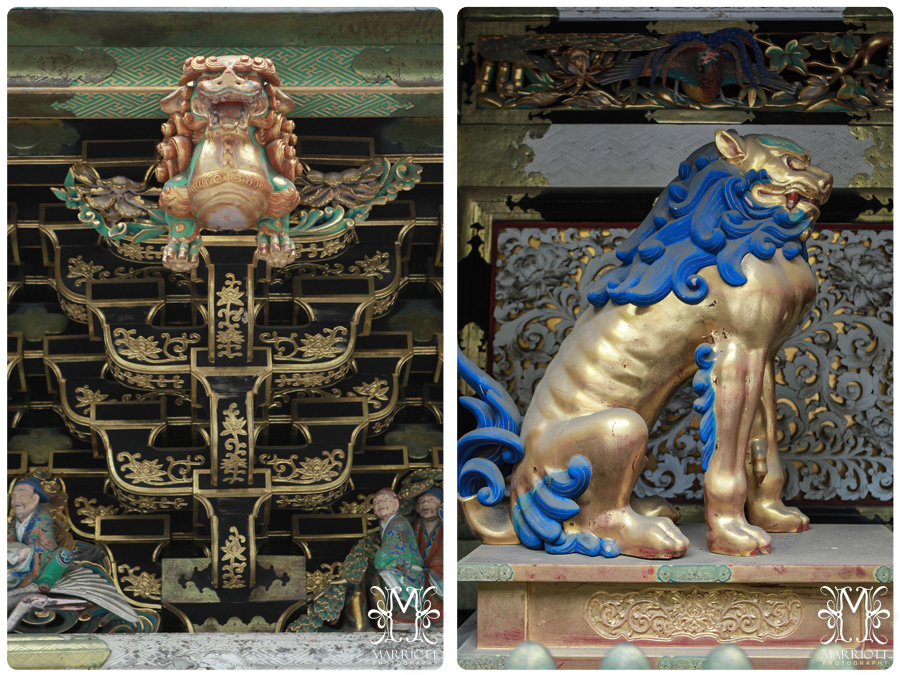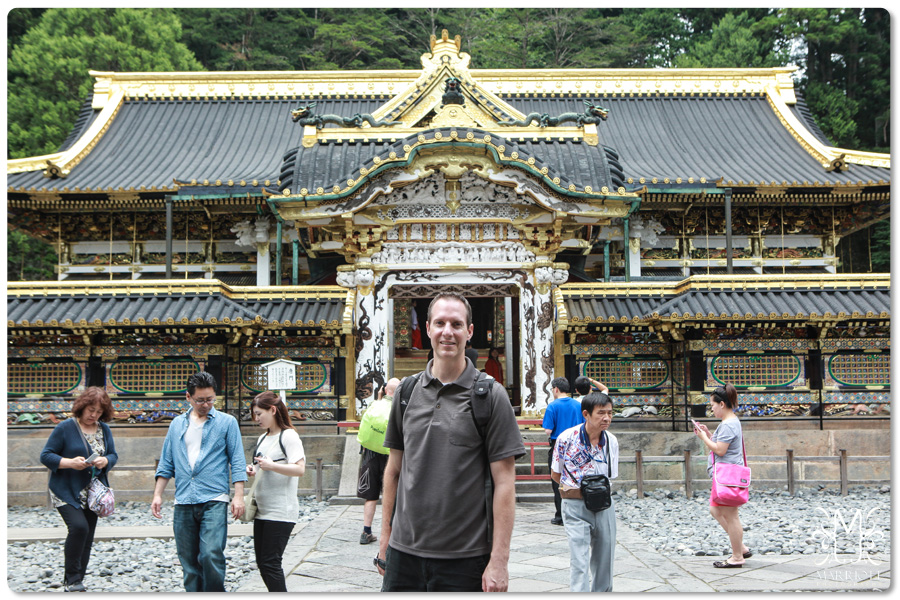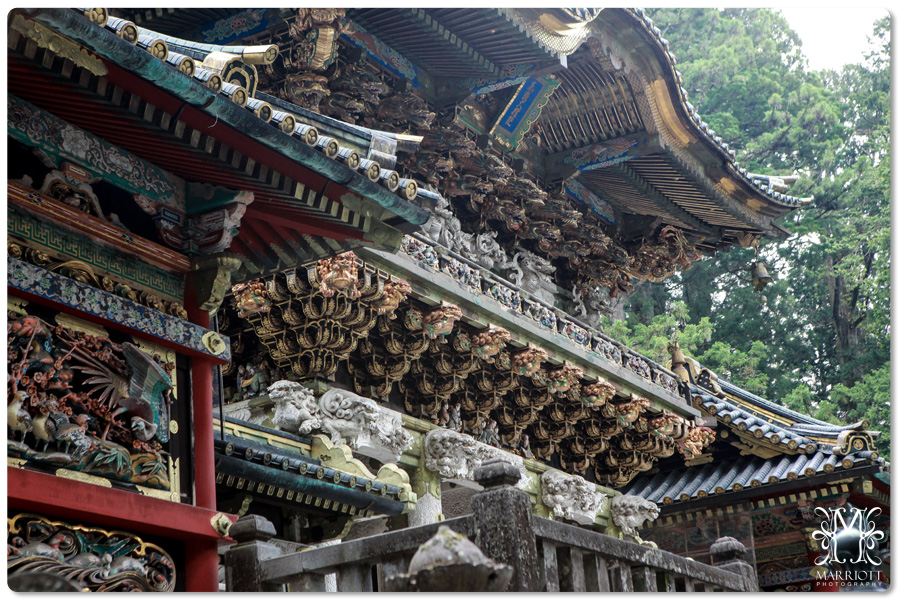 It was amazing that not only did we make it to Nikko after making many mistakes (buying the wrong train tickets, walking the long way to catch connections, etc), but also made it home!  After visiting several of the temples and shrines in the area, Mike and I decided to go visit one more.  The map we had was a bit confusing.  It wasn't grouped close to the others, and asking people they said it was about an hour's walk to get there, and that you could not drive to it.  The weather was gorgeous, the scenery nice, so we decided to go for it.  We had about 2.5 hours until we needed to catch our train back to Tokyo, so we figured that we could do the walk faster than the average person.
We walked up this road for quite 5-10 minutes: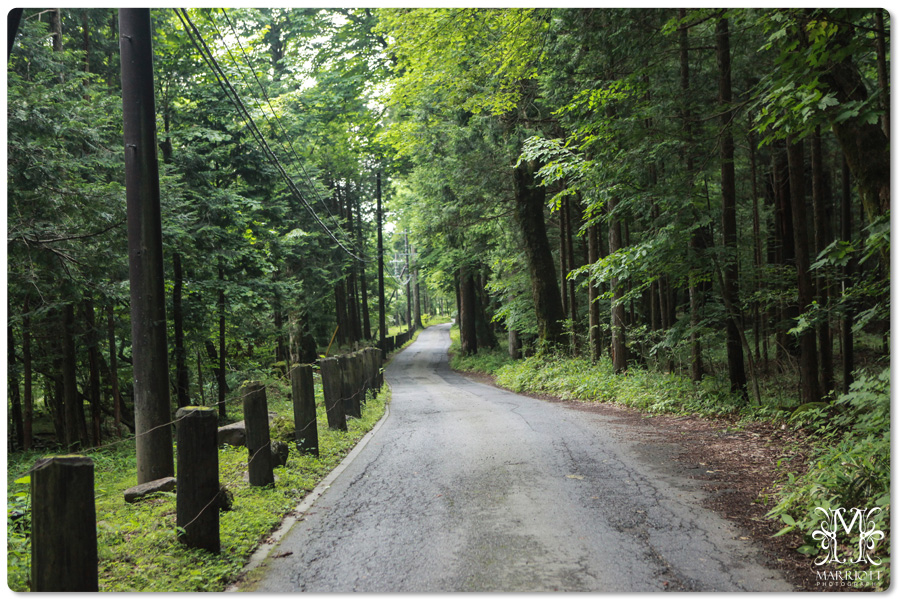 When some cars started coming down, we jumped over to this great little sidewalk just off the road: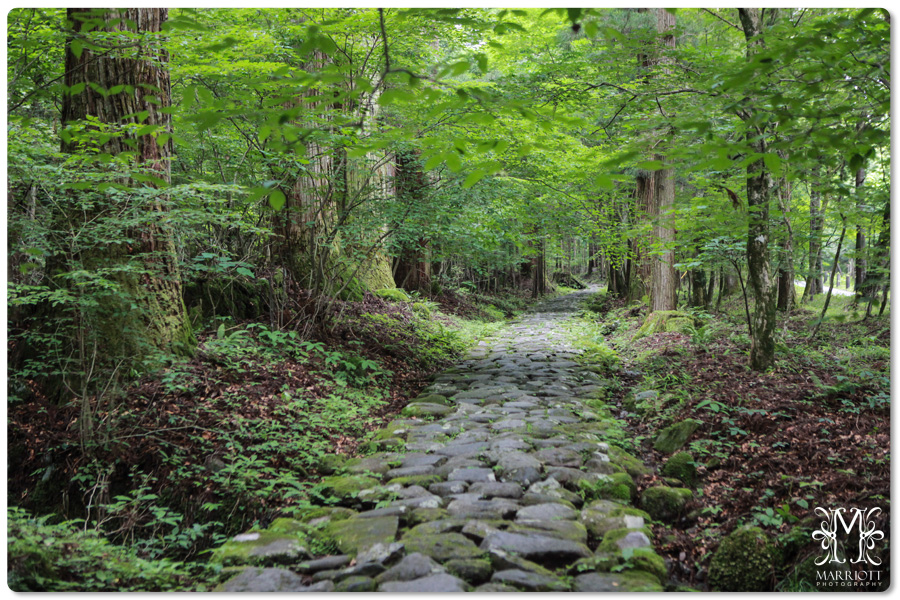 We kept commenting about how incredible this path was, but it was very difficult to walk on, so we jumped back over to the road.  The trees were so thick it was very hard to see the path from the road in most places.  Another 5-10 minutes up the road, we stopped at this bride to take a picture of the river that was running along side us: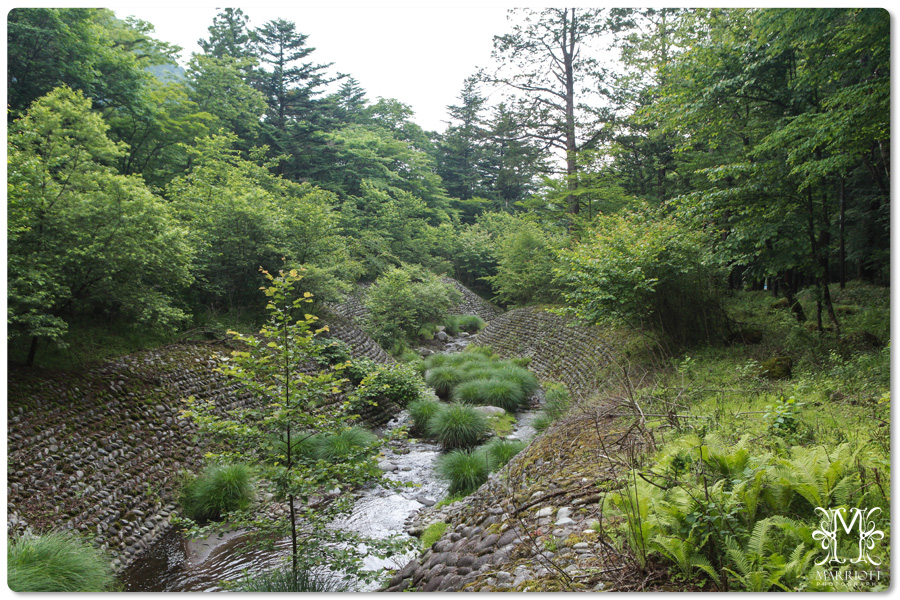 And turning around 180 degrees we had this beautiful view: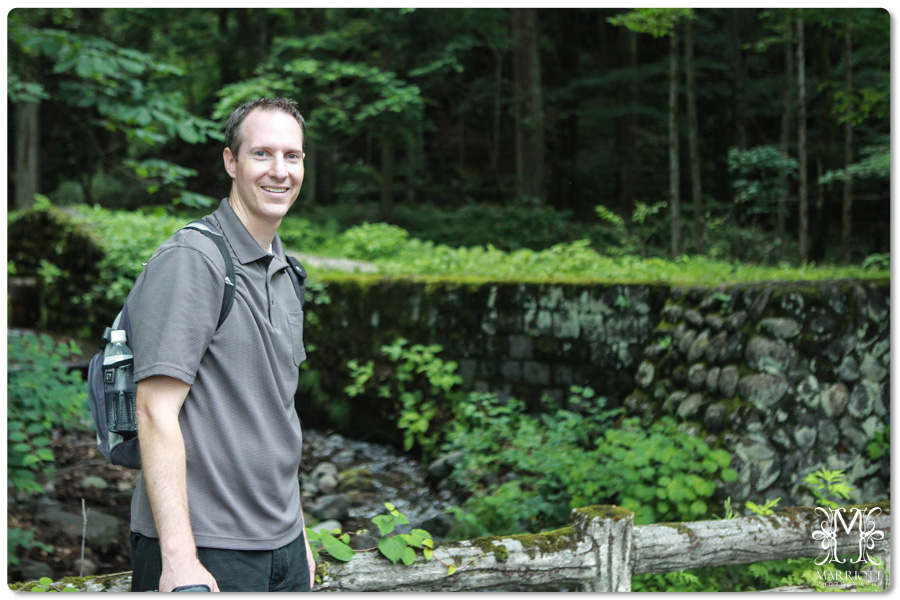 So, we kept hiking.  For a good 30+ minutes more.  Up some STEEP hills and switch-backs.  I was dying and kept thinking this just does not feel right.  There wasn't another soul in site this entire time.  FINALLY, a maintenance car came down and some how we managed to communicate with them and ask where this temple was.  They weren't exactly sure, but thought it was WAY back down the hill!  So sure enough, we turned around and hiked back down and decided to take a little road to see where it led.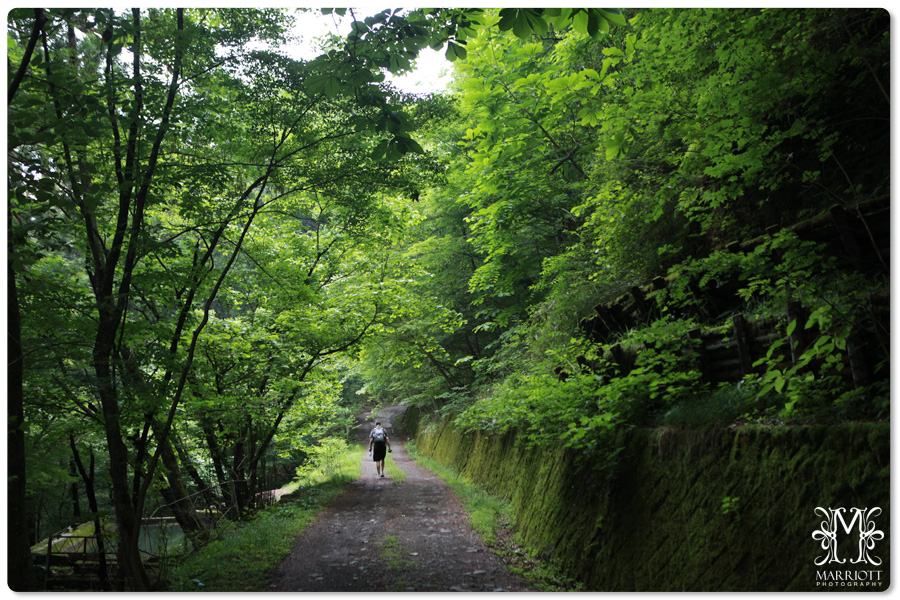 We questioned on the way up if that was the road, but it seemed very odd and not marked.  Sure enough, we stumbled upon this: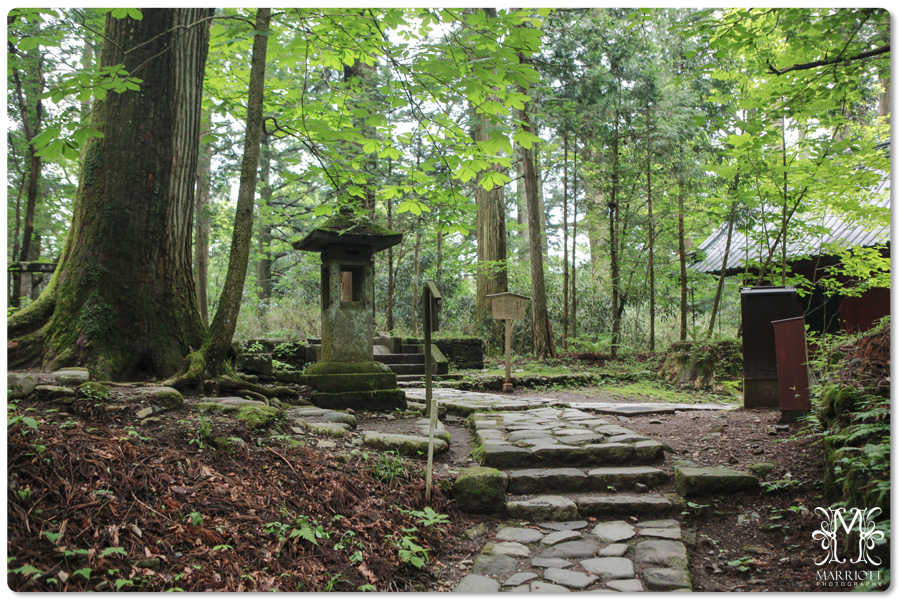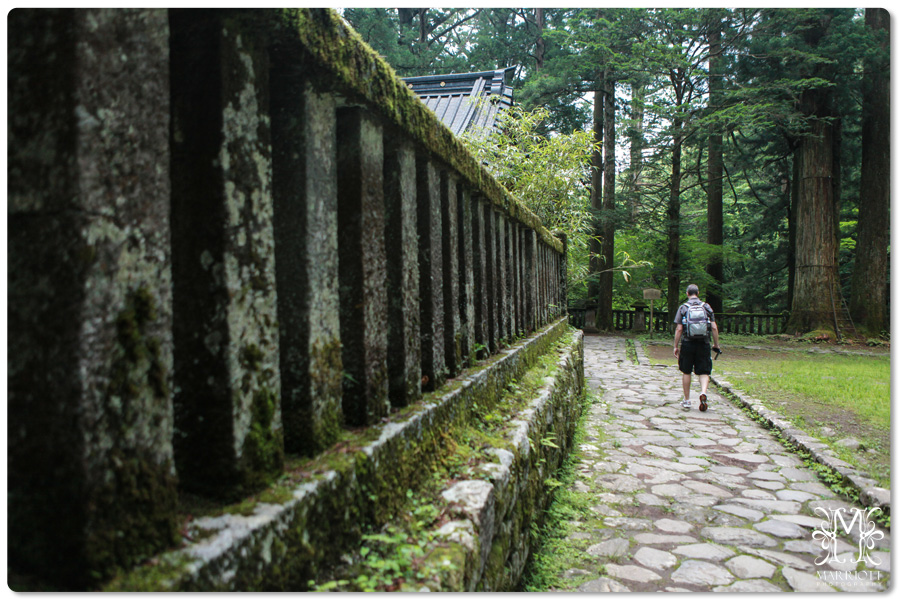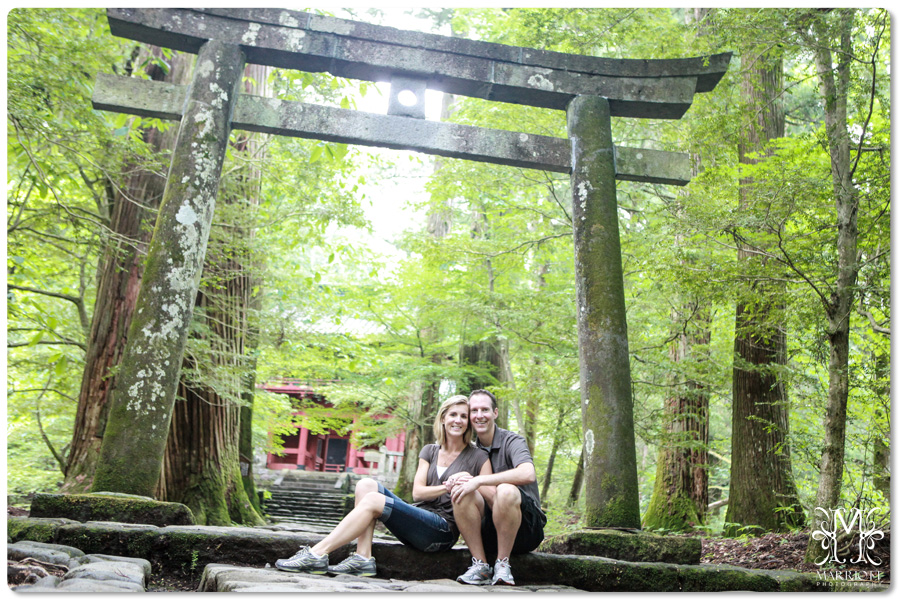 We discovered that we came in from the top or back side of the temple and and as we climbed down these steps: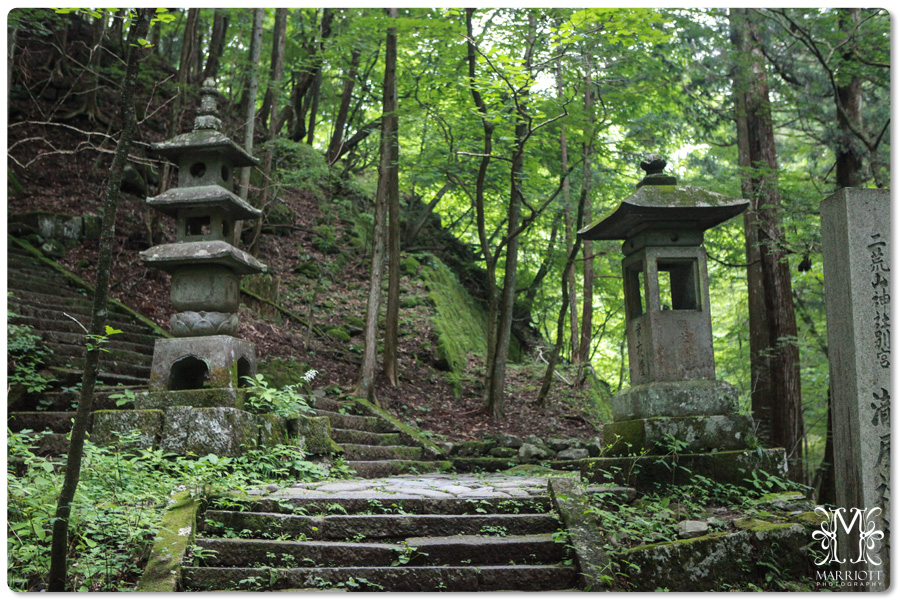 Look what we saw… the bridge we stopped at 45 minutes earlier to take a picture.  The 1 hour hike to the temple was really just about 10-15 minutes!  And if we would have stayed on the gorgeous rock path, we would have walked right up to this temple!  LOL!  We laughed and laughed and enjoyed getting lost in Japan!  (Oh, and the funny thing… as we came back down a car pulled up to let some visitors out to see the temple!  Apparently, you could drive to it, but the walk was way worth it!)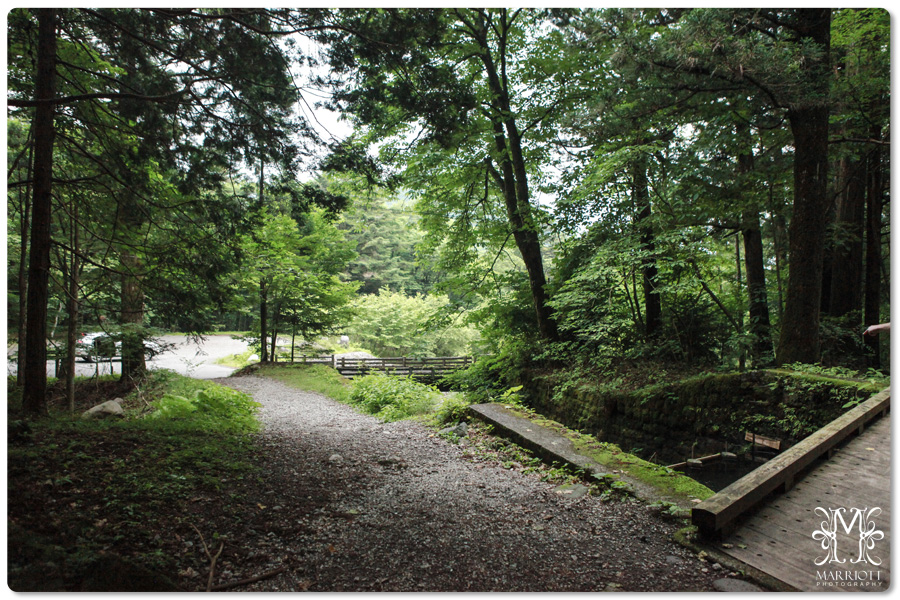 Back in Tokyo, we tried to brave the rain and visit a few places in the city.  We headed over to Meiji Shrine.  It was such a gorgeous walk up through these beautiful wooded paths to this stunning wood structure.  I have never seen rain come down so hard for so long.  It made holding an umbrella and camera difficult.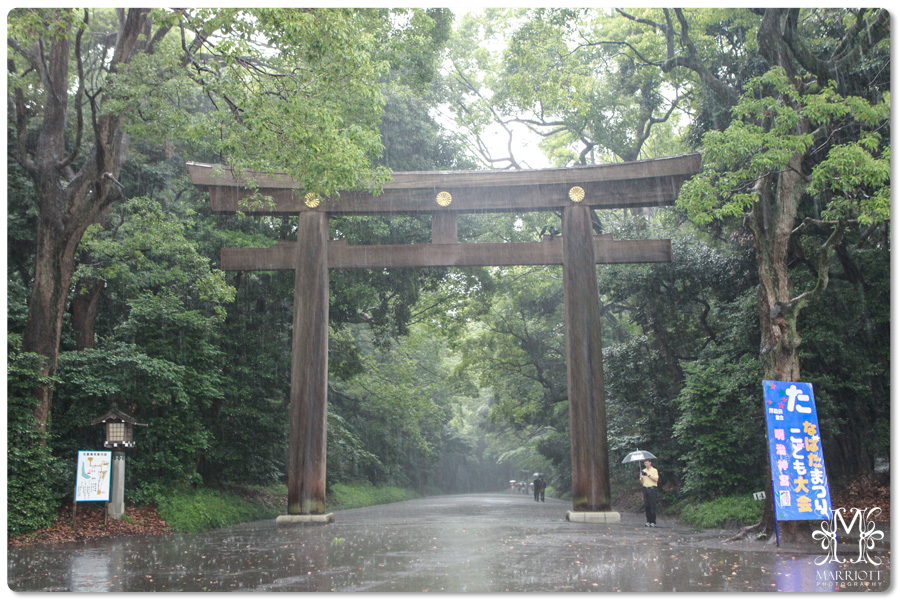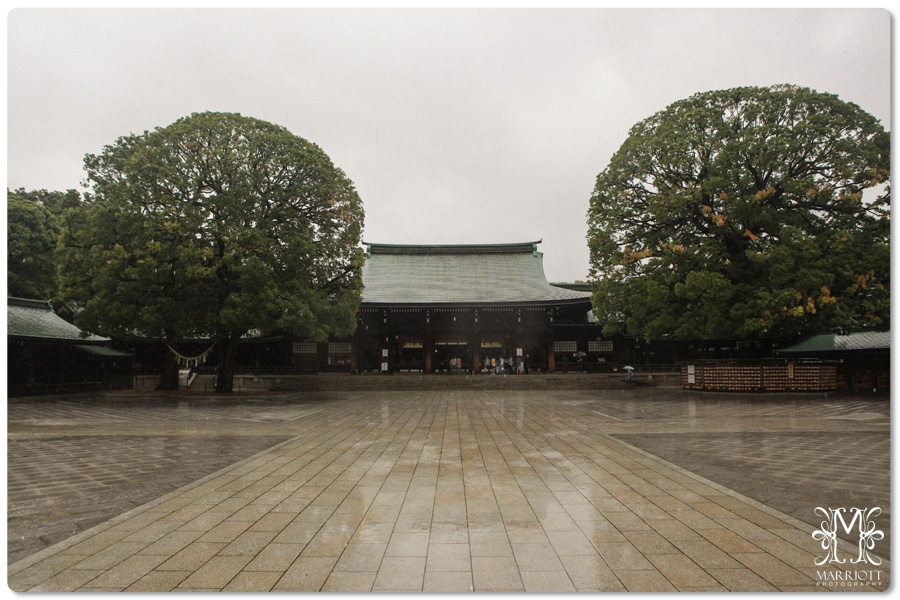 And last but not least, we spent a day out at Hakone, hoping to catch a glimpse of Mt. Fuji as we explored this beautiful mountain and lake town.  The beautiful tall cedar trees were a gorgeous backdrop .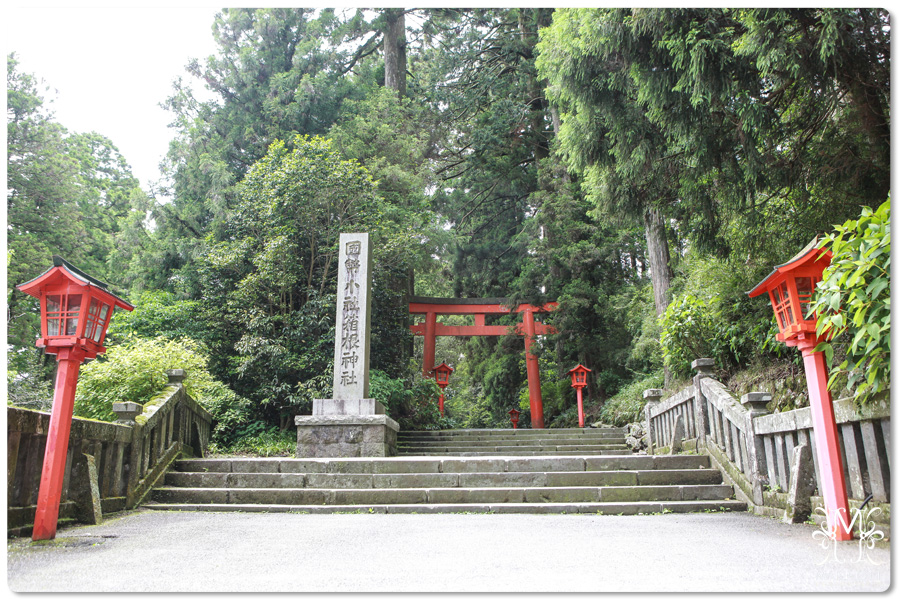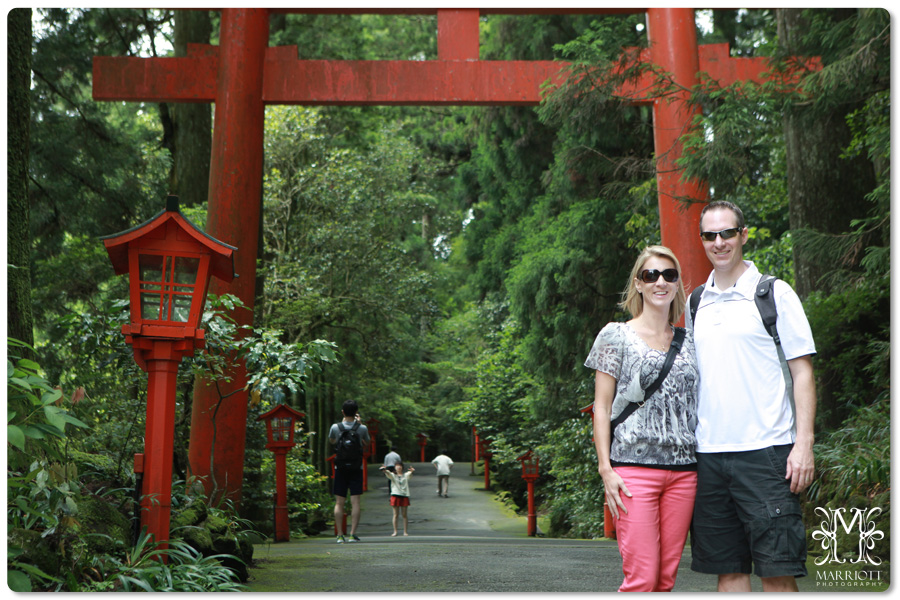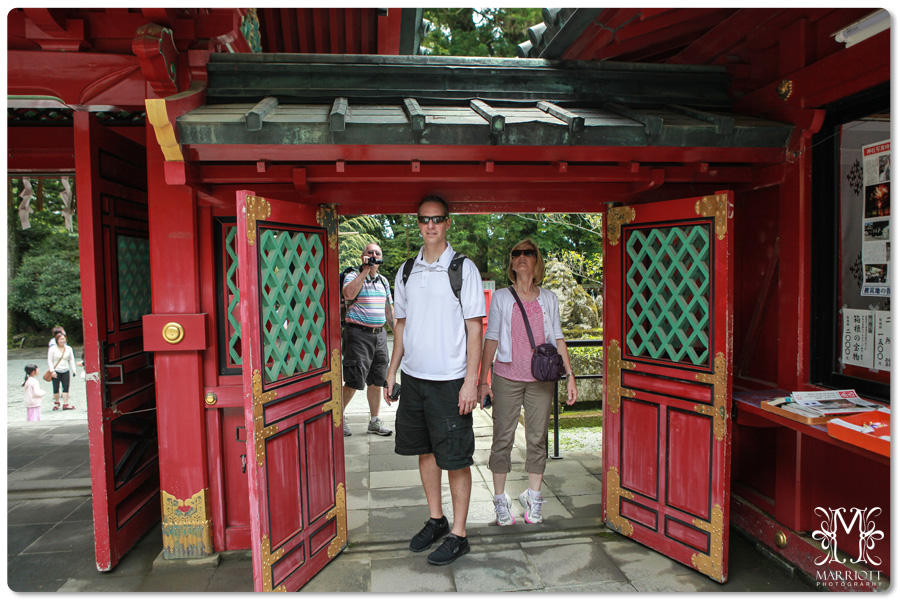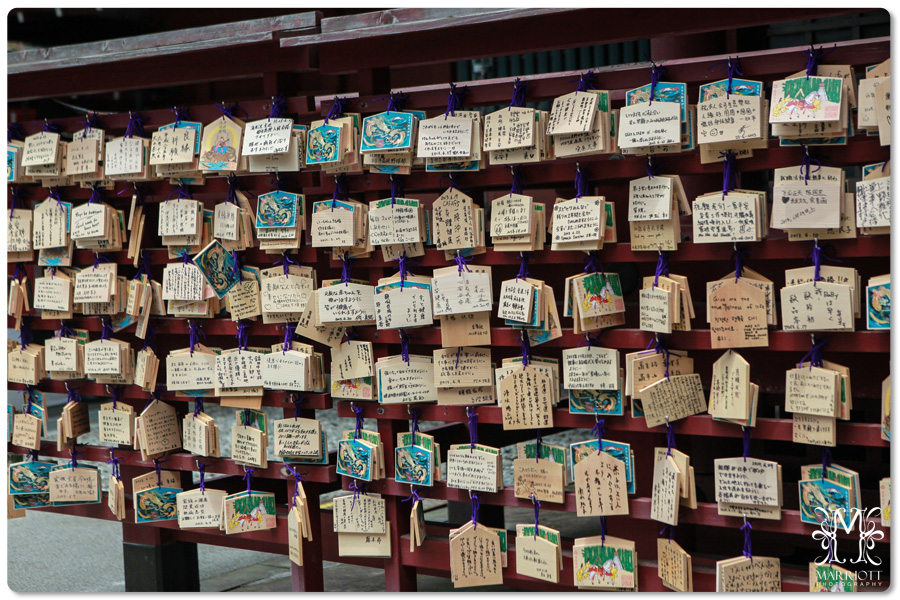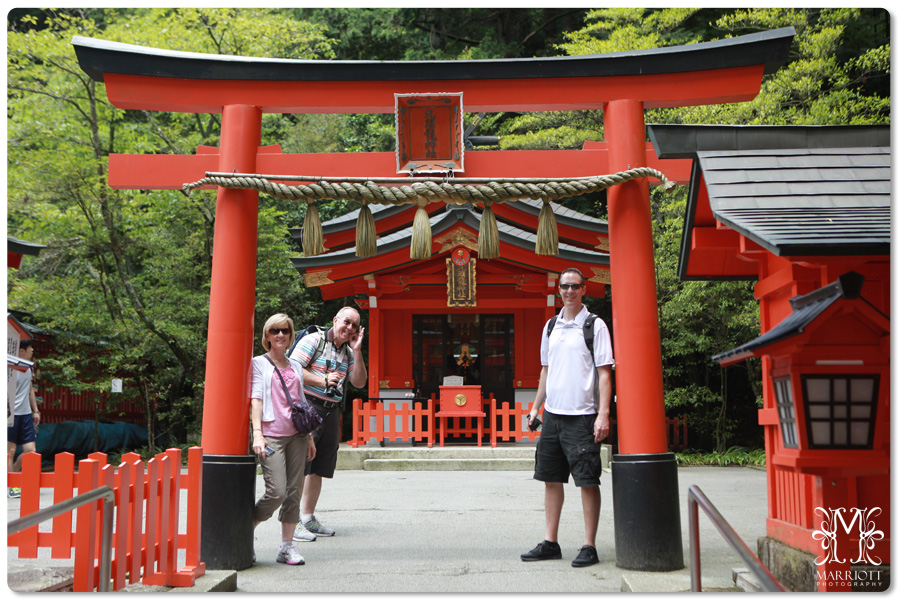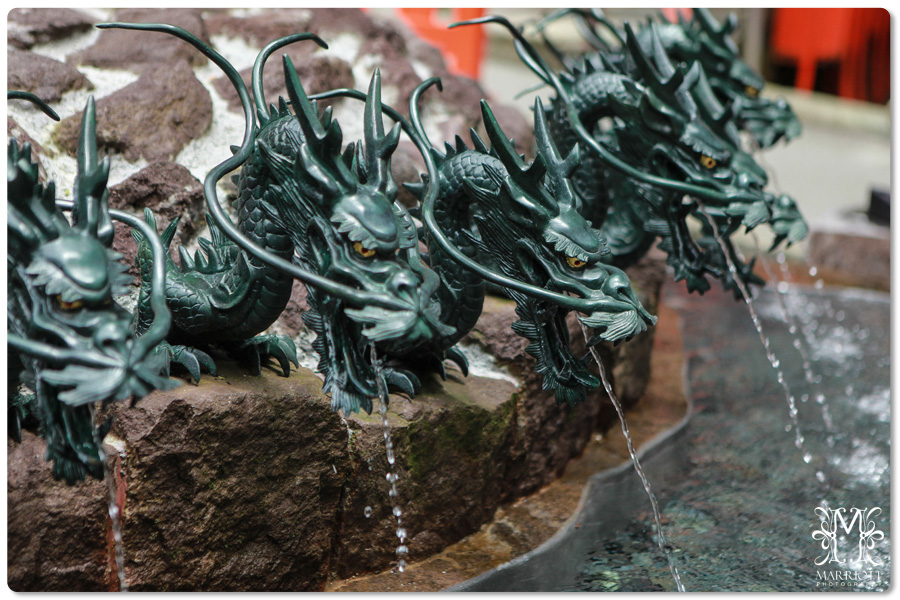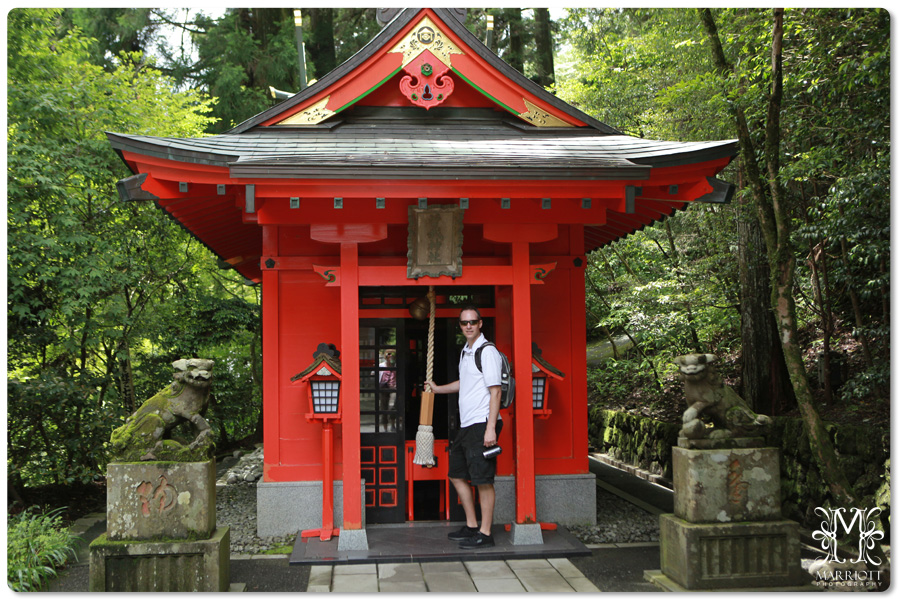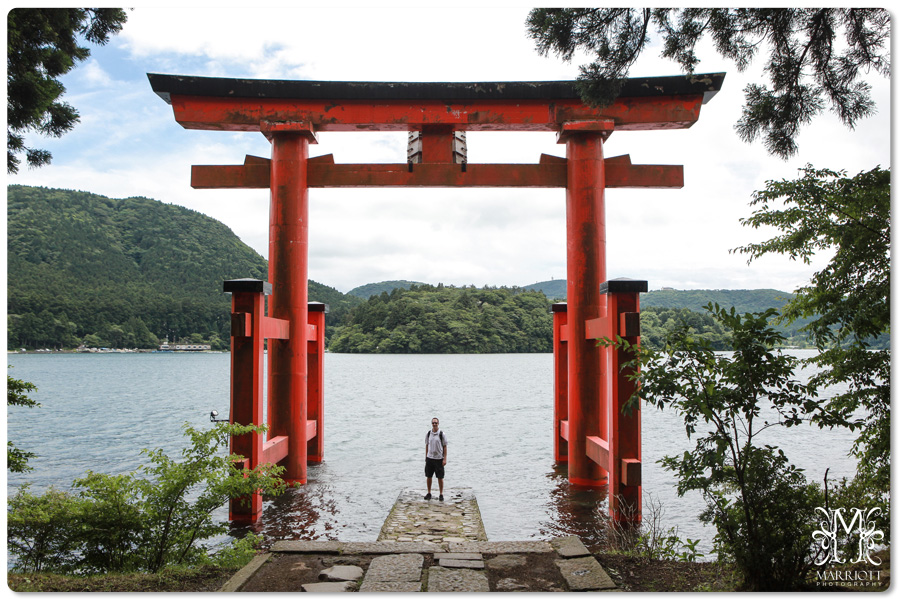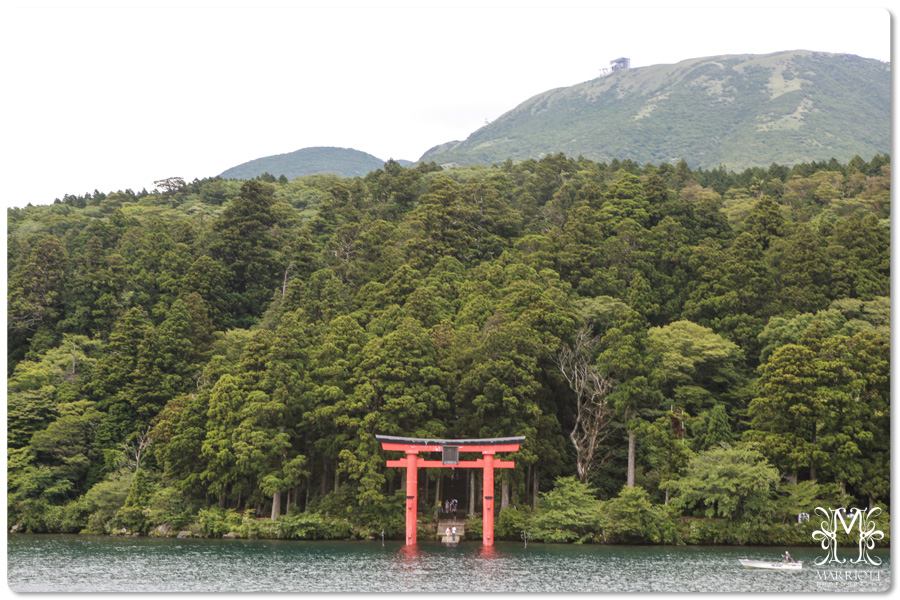 I admit, I wasn't super excited about our trip to Japan.  I have been lucky enough to do a fair amount of traveling, but would love to do a lot more and explore the world! I had quite a few must see spots that were higher on my list than Japan. Mike has been before and LOVED everything about Tokyo and Japan.  So when the opportunity came to visit my aunt and uncle living there, and travel a bit with my parents who were spending most of the month there, we decided to give it a go!
I was so surprised about how much I LOVED it!  We were so lucky to have incredibly cool and perfect weather (2 rain days – and pretty intense rain at that, but with the 118 degrees happening at the same time in Phoenix, we were happy to welcome the rain!).  The country is gorgeous, green, and quaint.  I can only imagine how humid and miserable it could get, but during our trip, the cool air and overcast days really helped make enjoying the lush country enjoyable!
I decided to split up the pictures by types.  These here are some of the gorgeous countryside, parks, and property around the temples.  I took over 400 images of just scenery and would have loved to do a few portrait sessions in these beautiful locations.  I narrowed down the 400 to these few to show the variety of woods, lakes, sea, country, and gardens.
These first few were taken in Kyoto: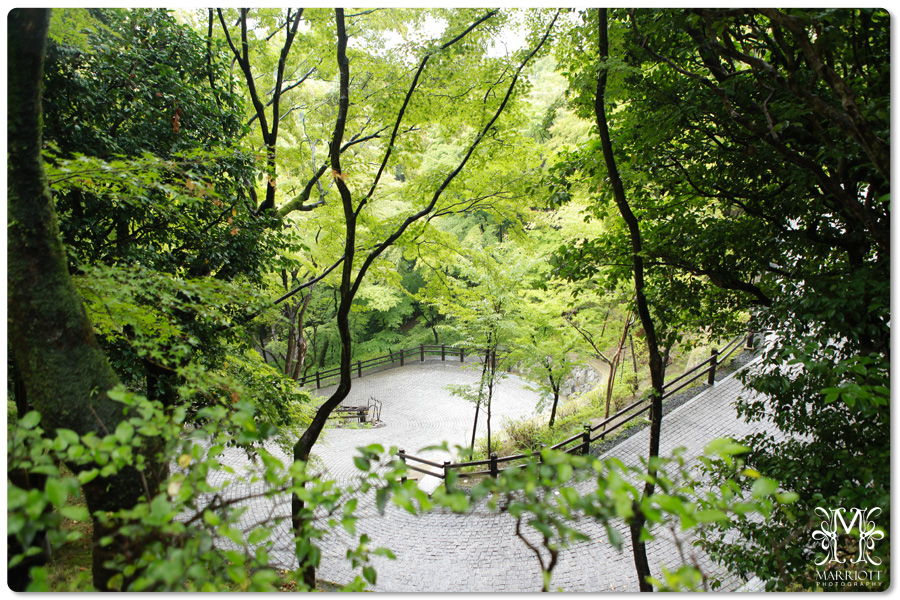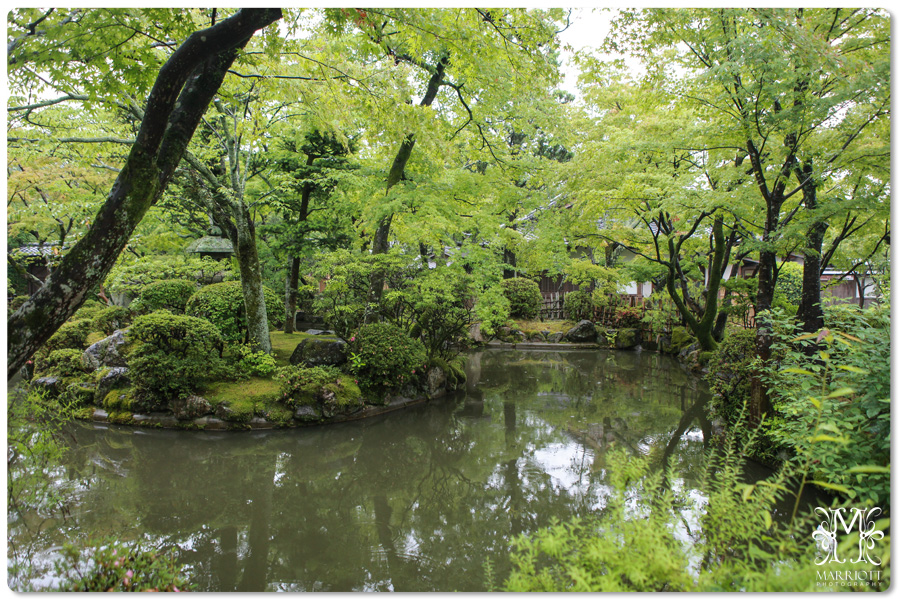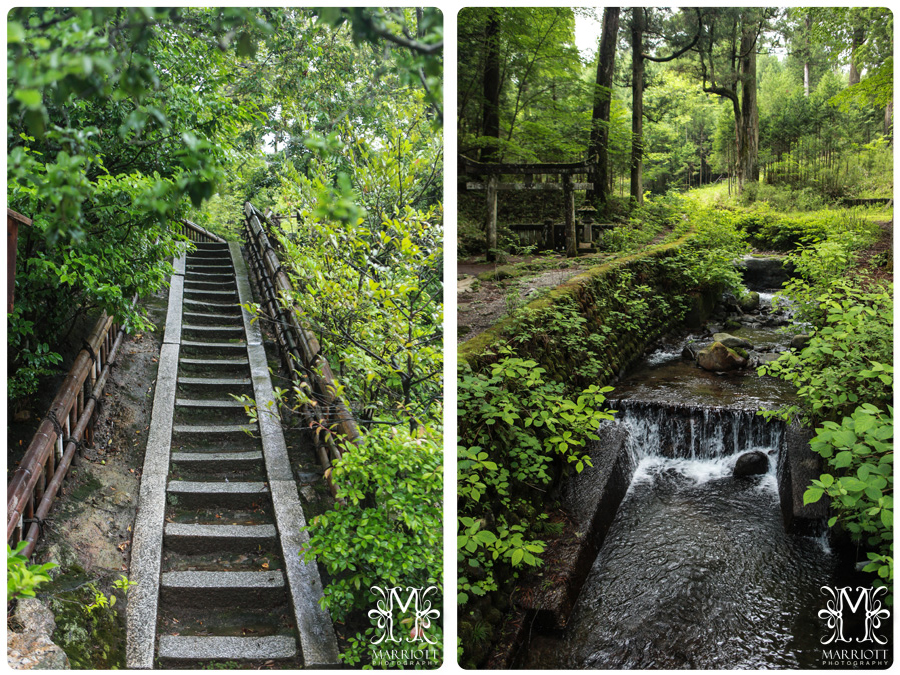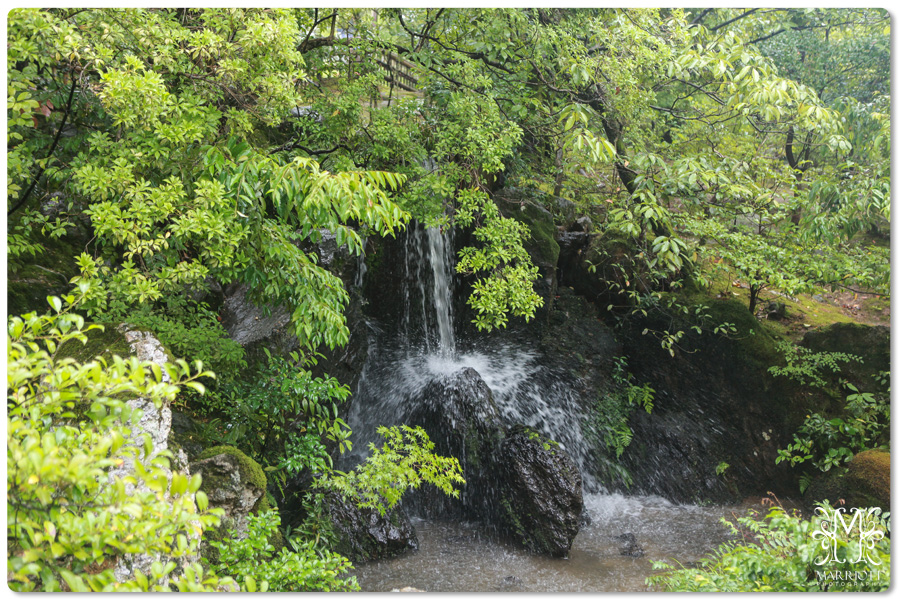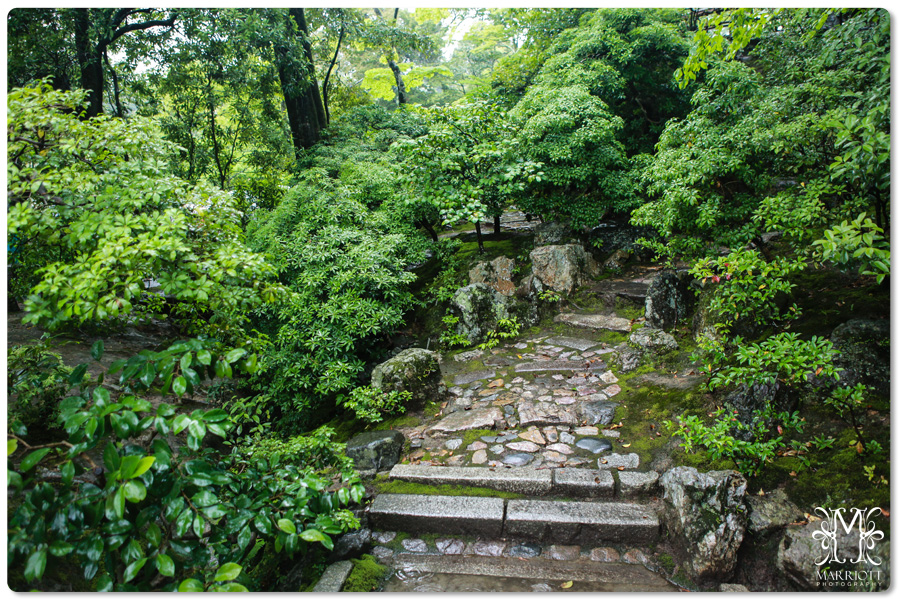 This is a great little park on top of the hill behind my aunt and uncle's in Kobe, Japan.  There were AMAZING views of the city from this playground.  Although, the city itself isn't the prettiest.  I know my kids would have loved climbing the stairs through the trees and sliding down through the forrest!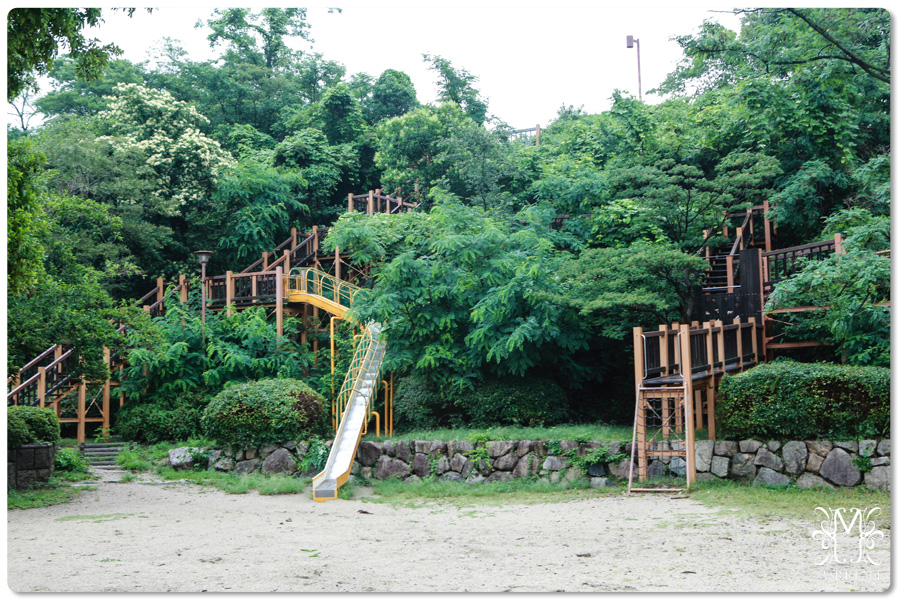 These next few were taken in Osaka, Japan.  I believe Osaka is the second largest city in Japan.  Right smack in the middle of the city is a beautiful castle – Osaka Castle.  Huge property, double moat, gorgeous Japanese castle, and beautiful grounds.  Here are just some of the grounds.  I'll post pictures of the castle itself in another post.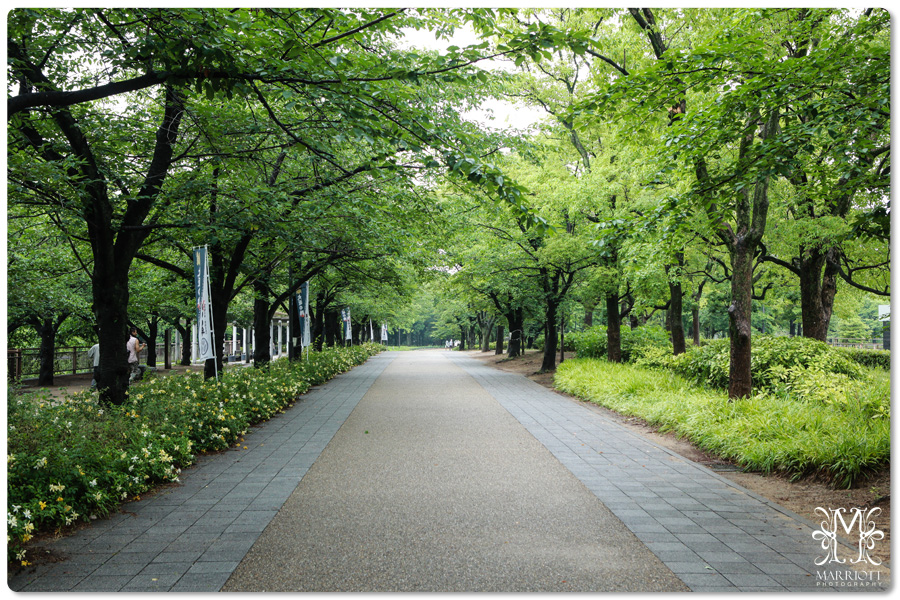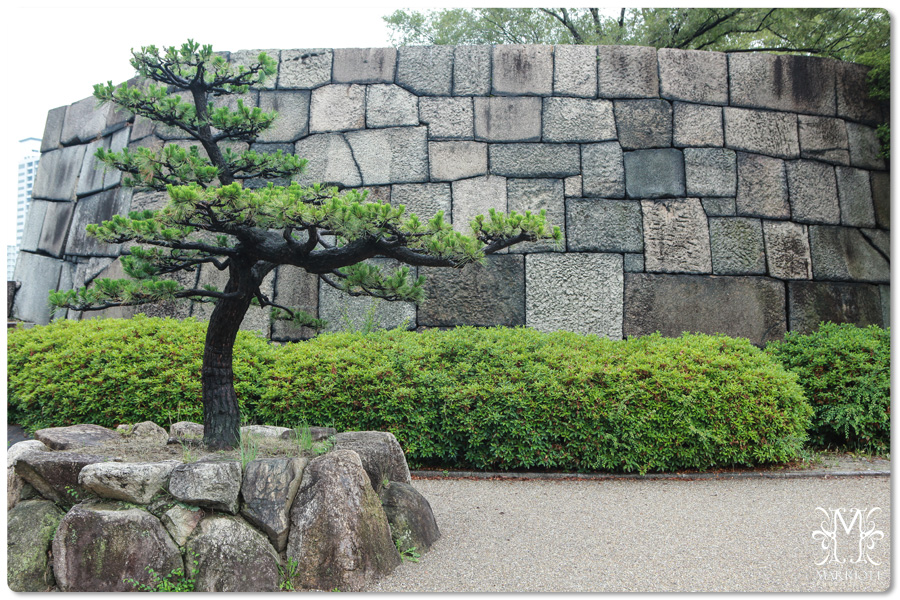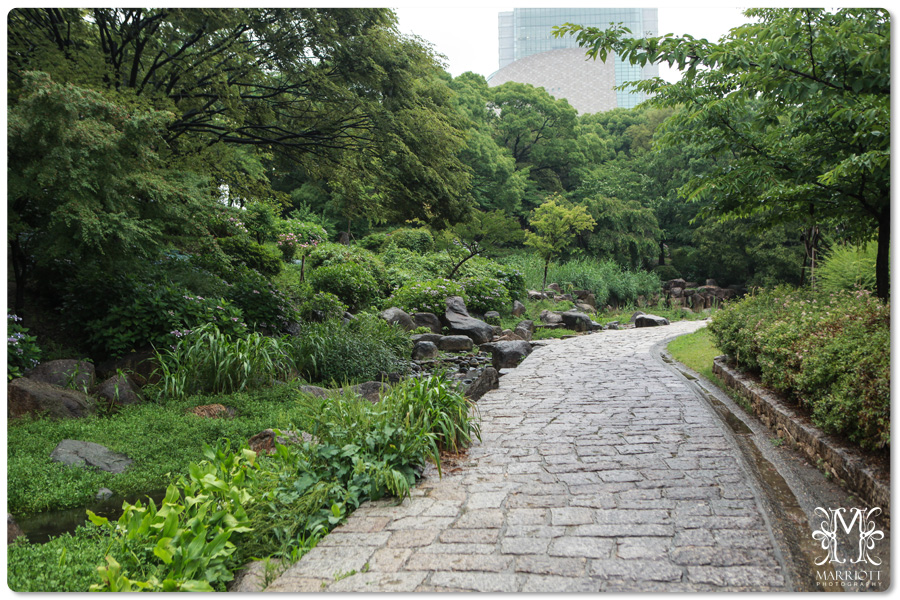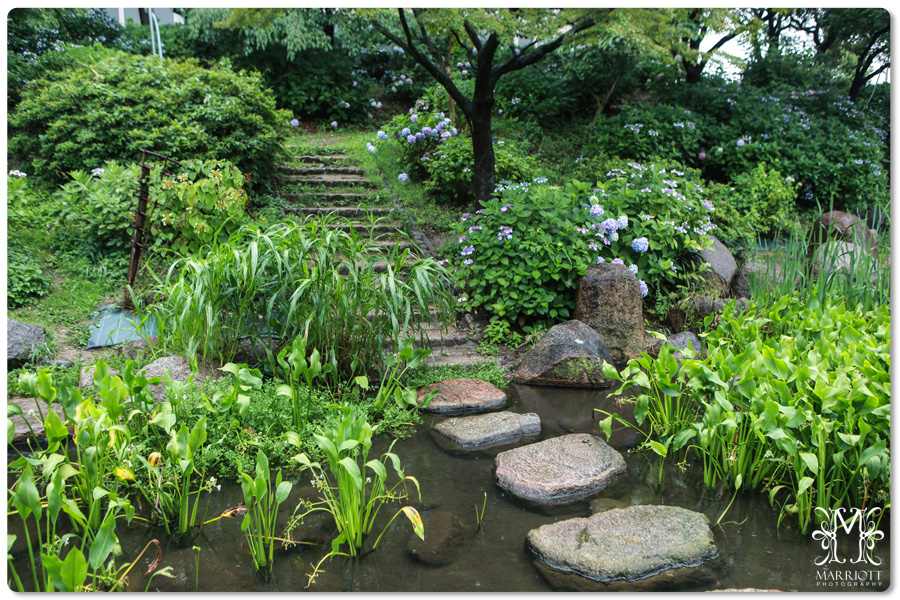 These next few were taken in Nara, Japan.  One of my favorite cities we visited.  It is very unique and different.  Loved the large trees and complex roots.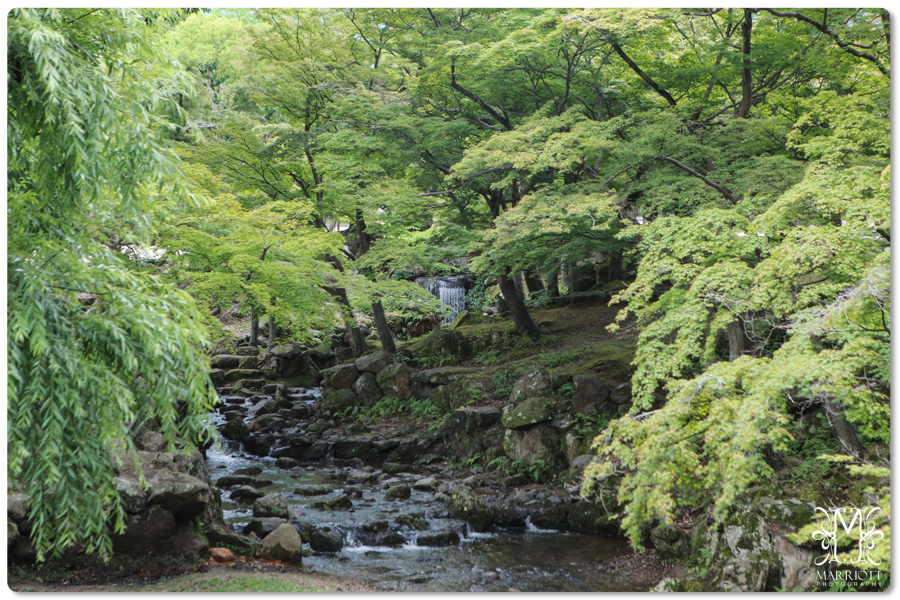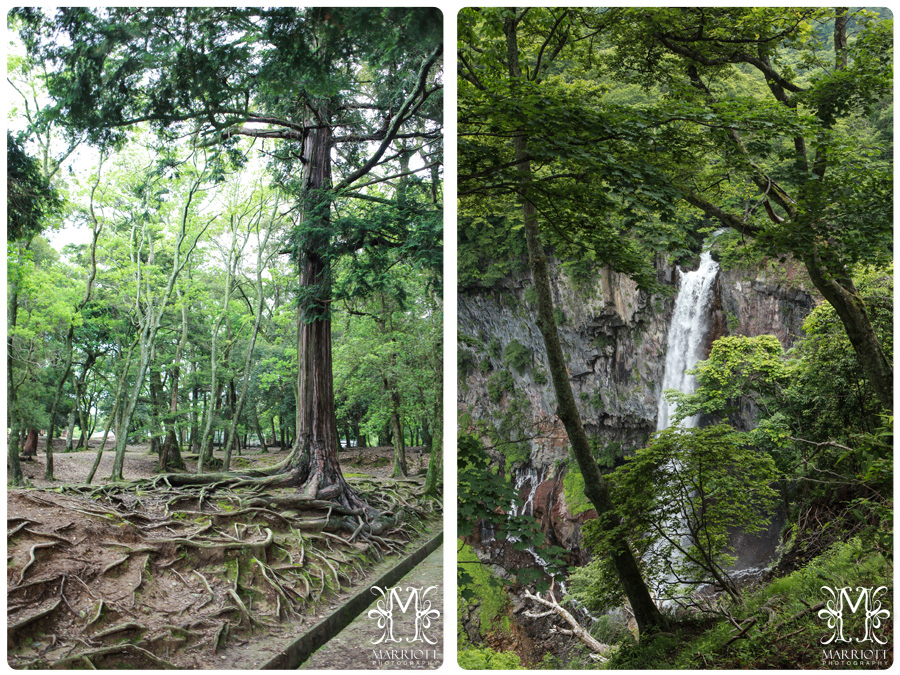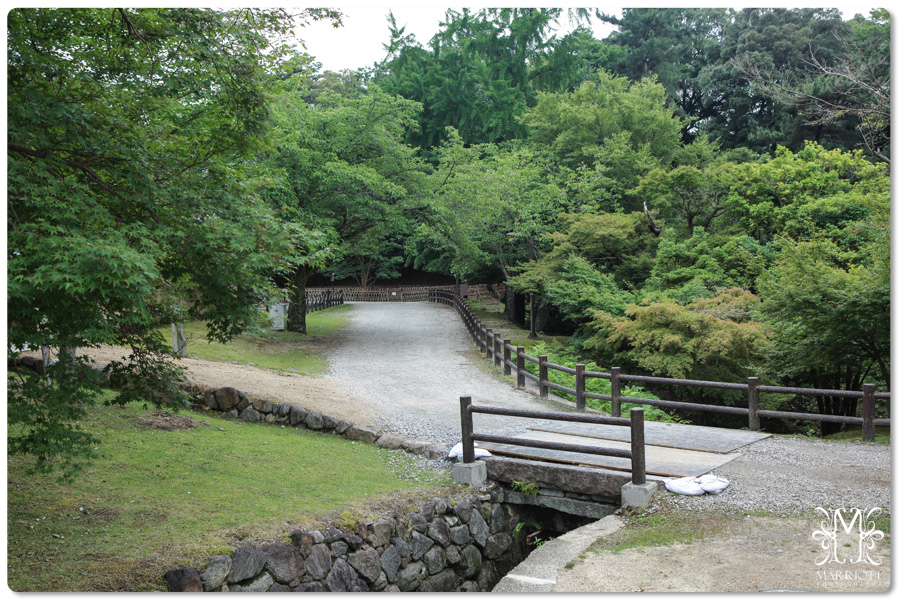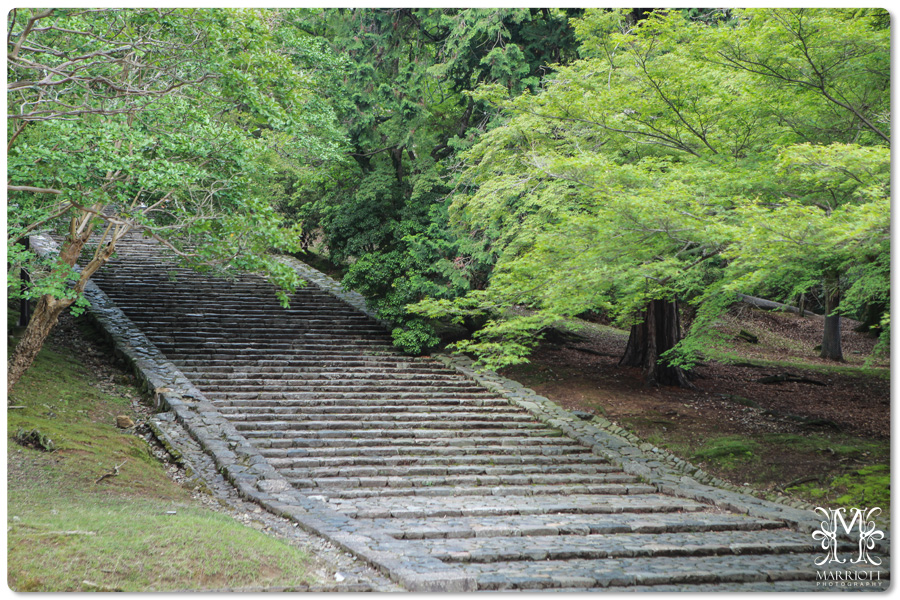 I can't remember where we went this day – but it was about a 2 hour drive from Kobe to a little city along the beach.  I think it was in the Matsuyama District.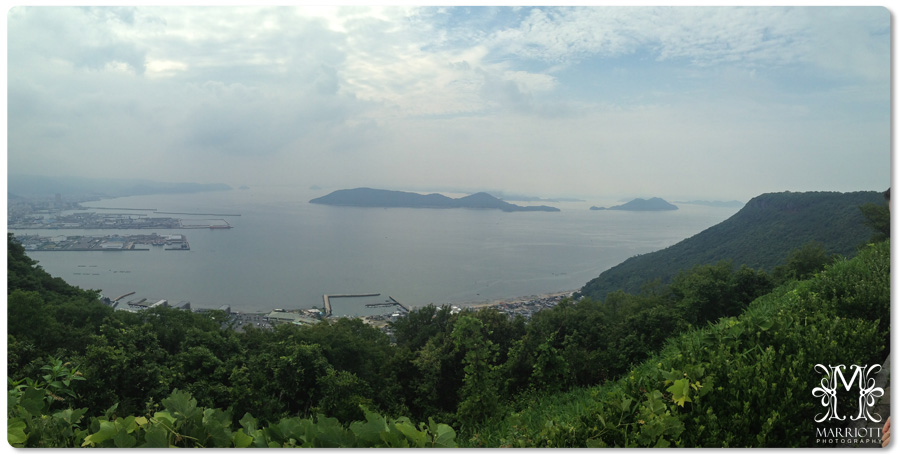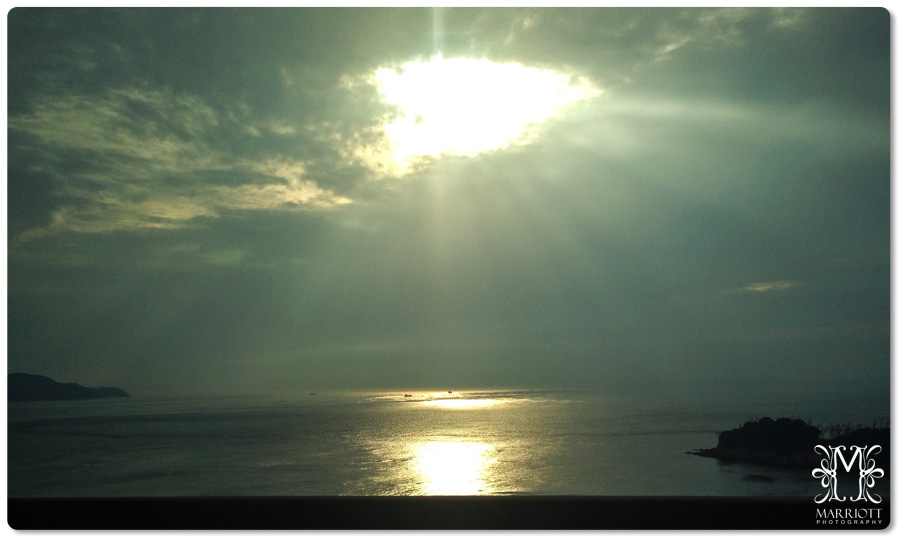 These next few are in Tokyo at various parks.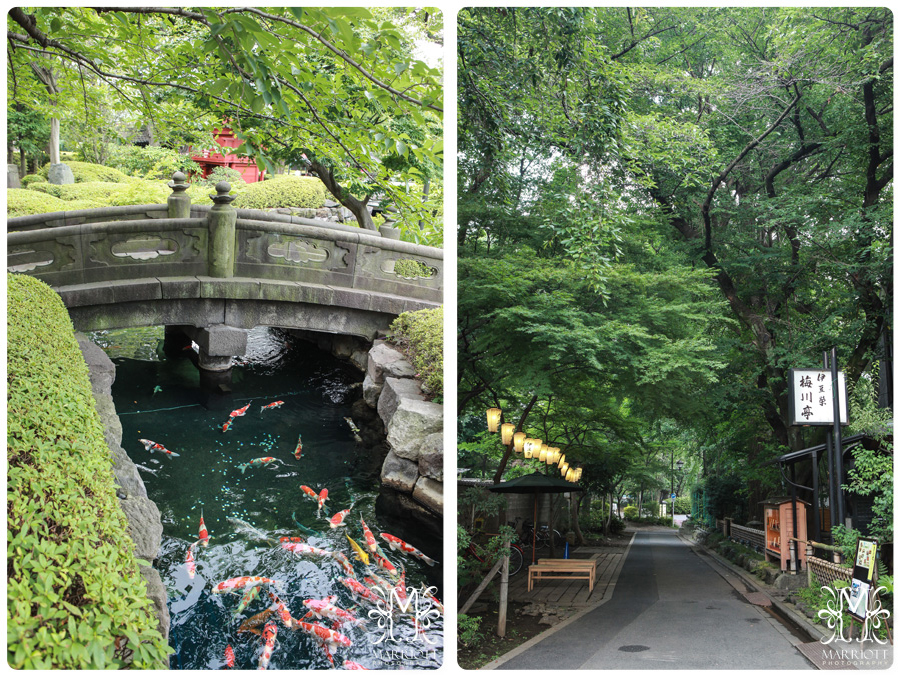 These lily pads were HUGE!  I've never seen so many or ones so big before.  They went on and on forever!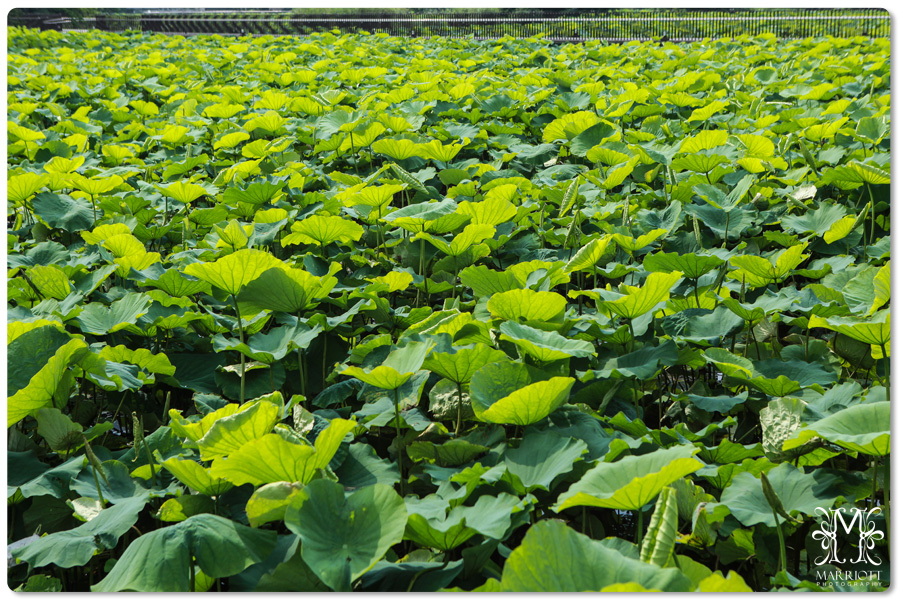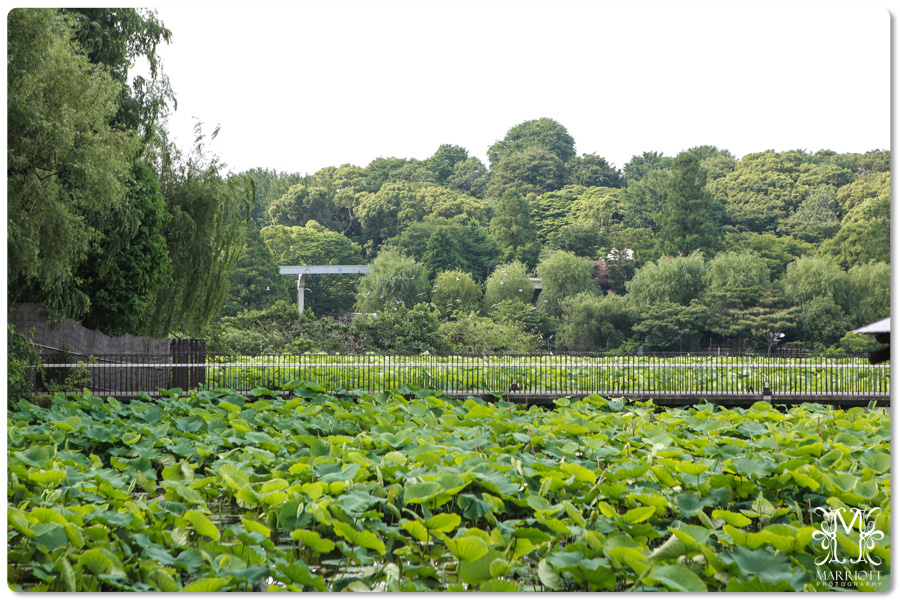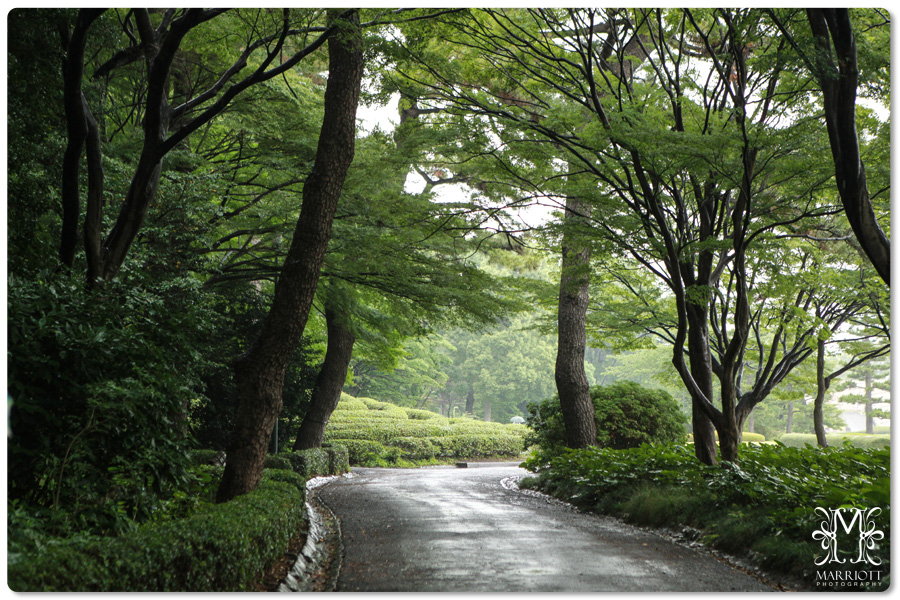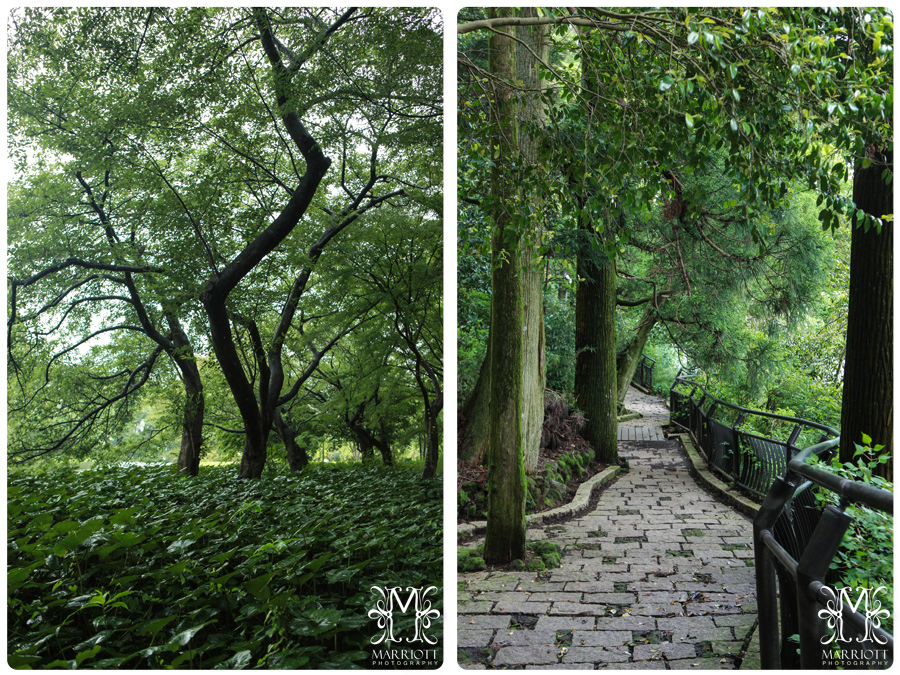 From Tokyo, we did a day trip up to Nikko.  WOW… AMAZING city.  I saw some pictures online and hoped that it was worth the trip up there – and it sure didn't disappoint.  I think Nikko was my favorite as far as beautiful scenery, temples, shrines, and hiking.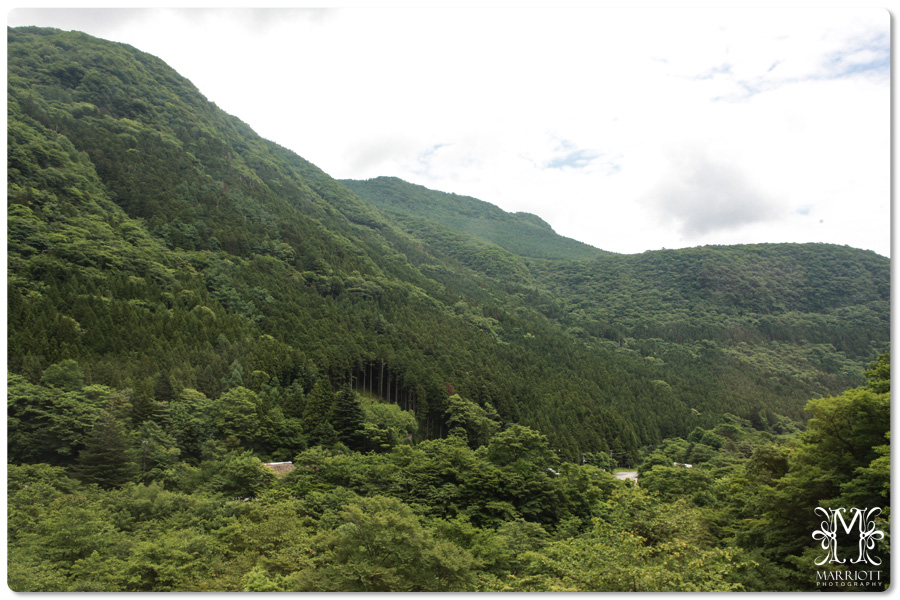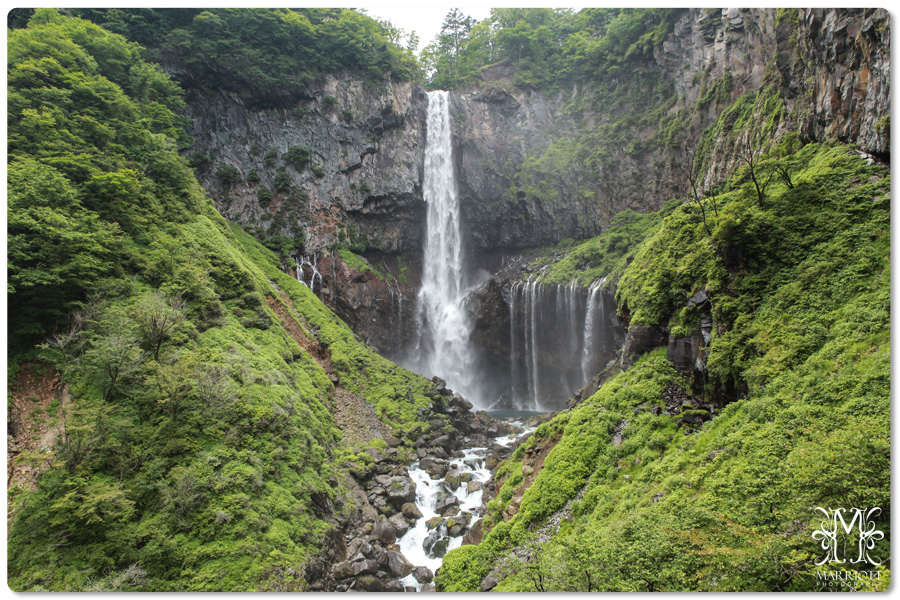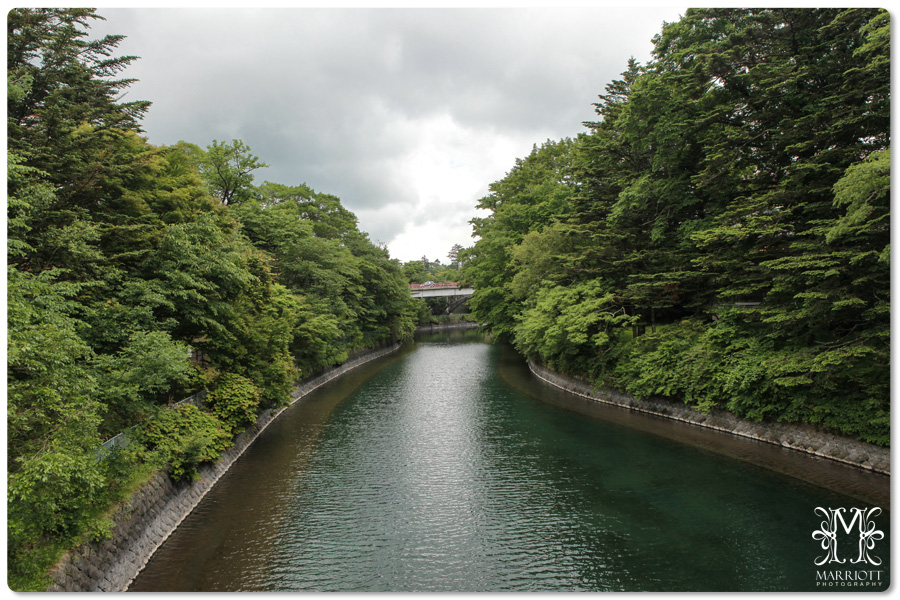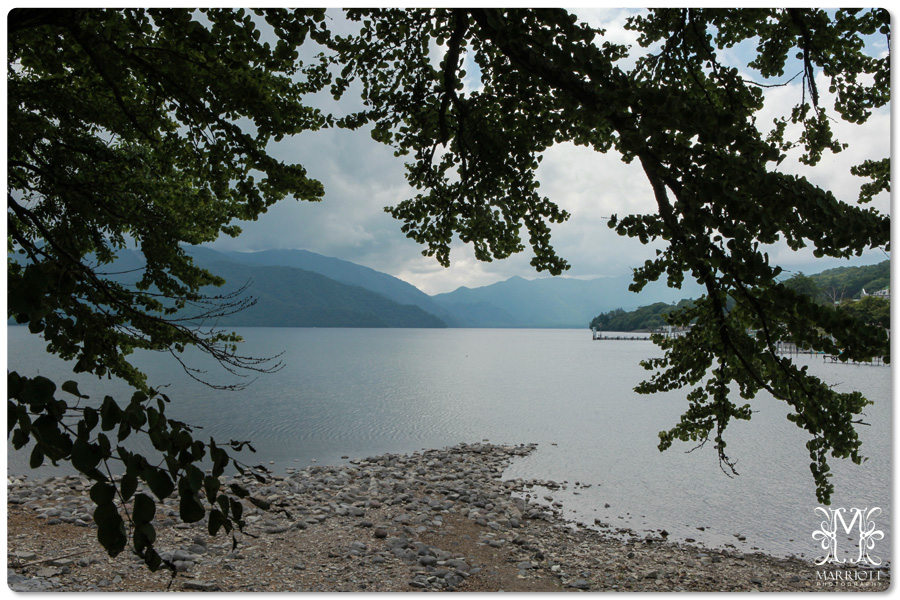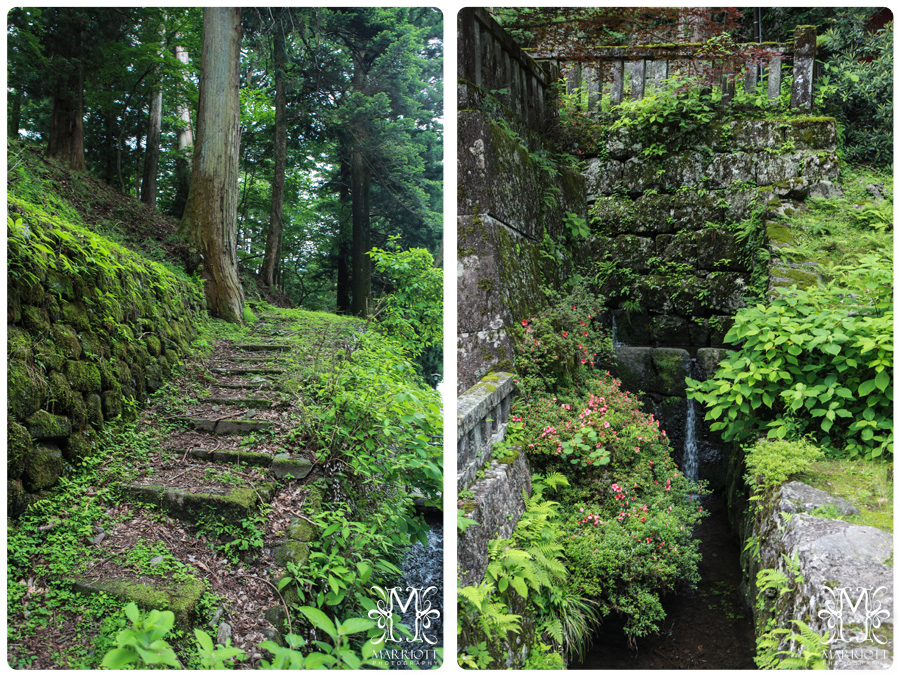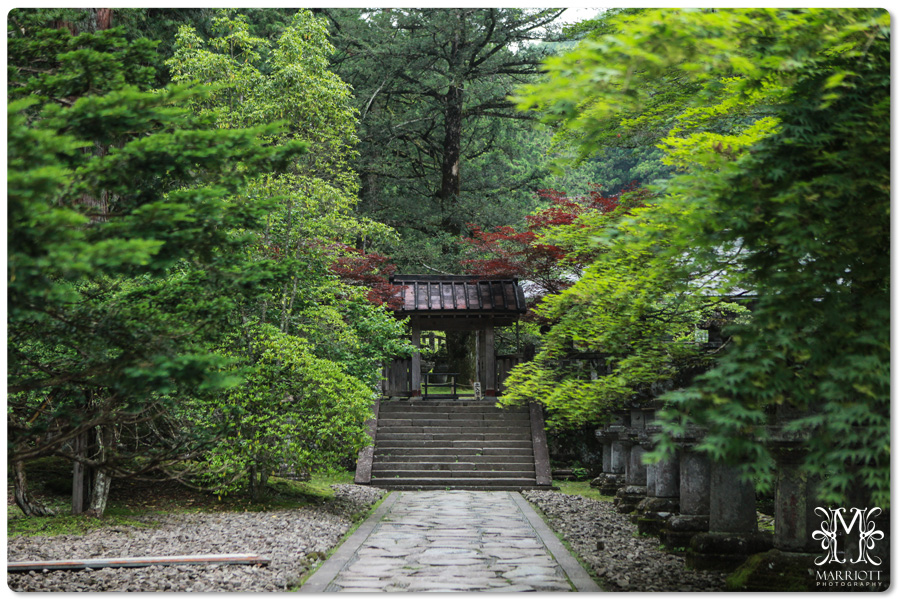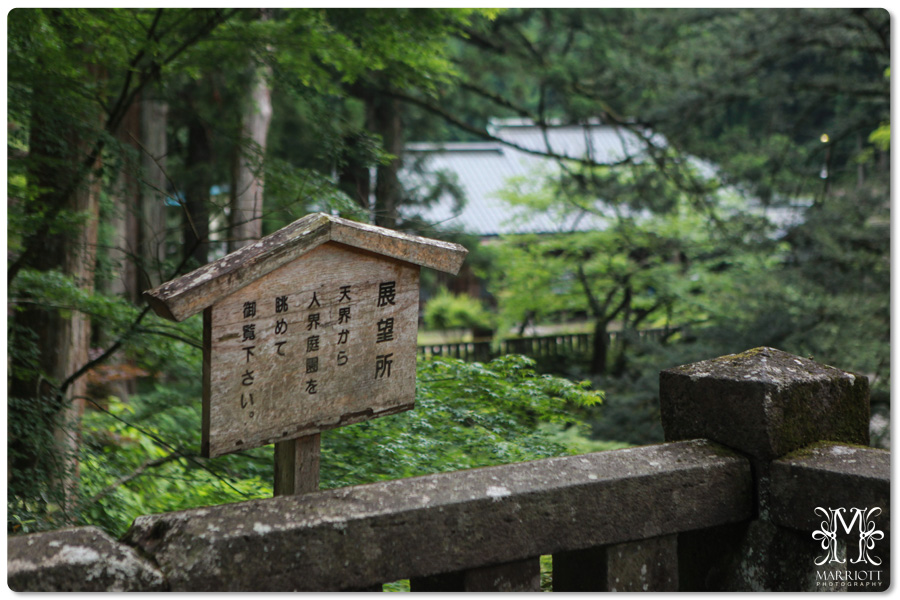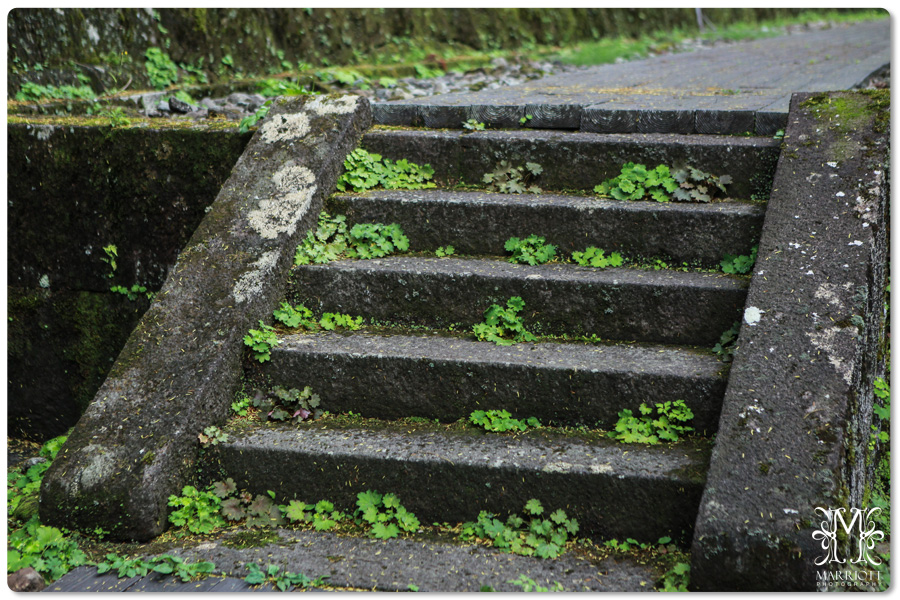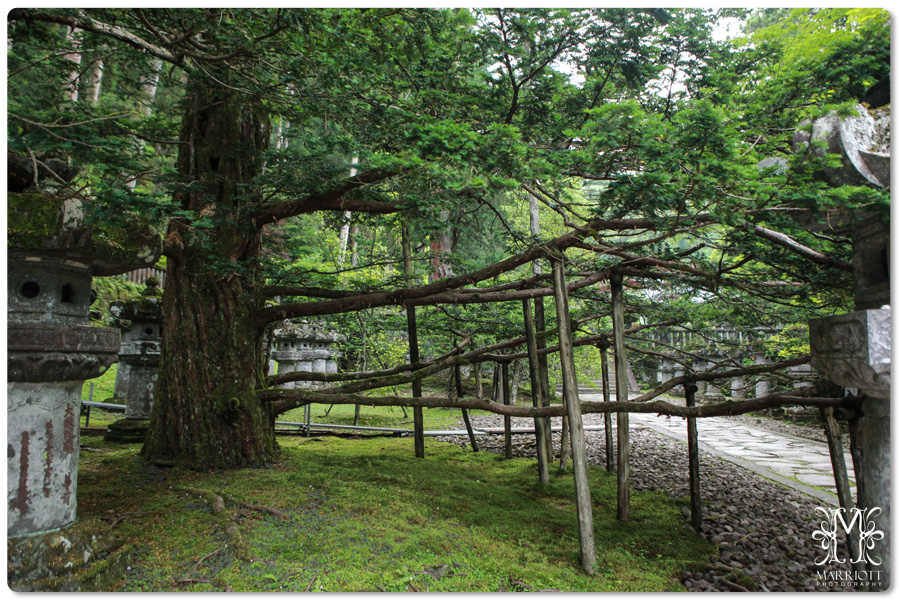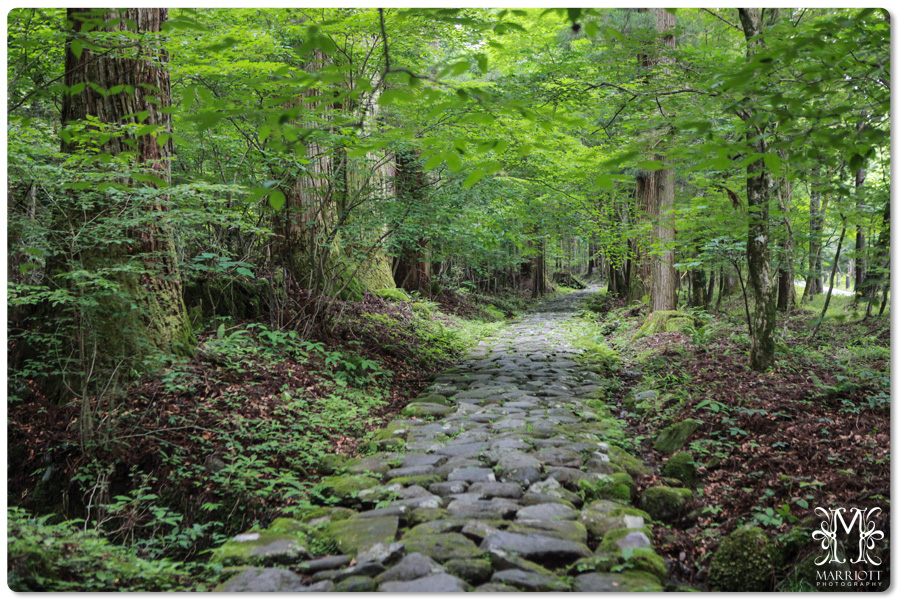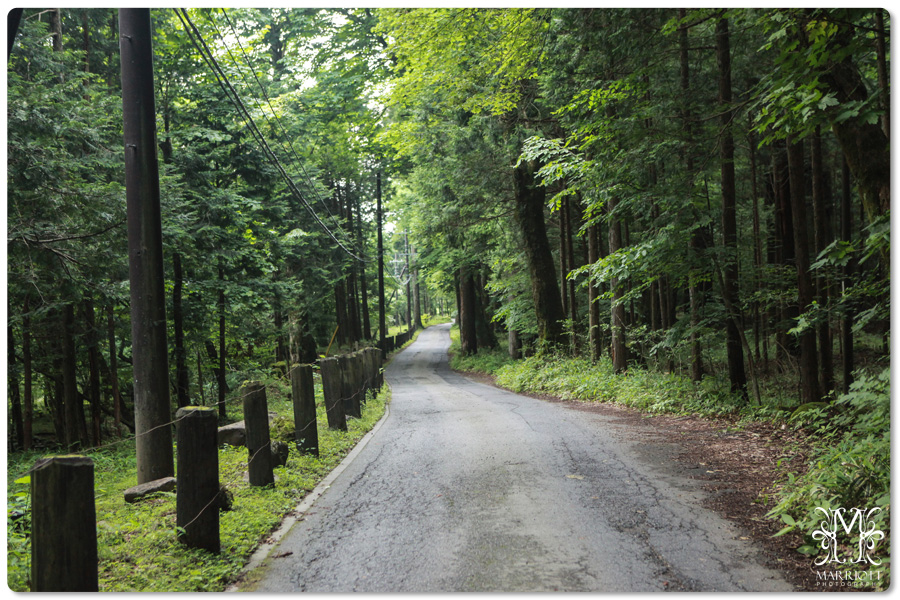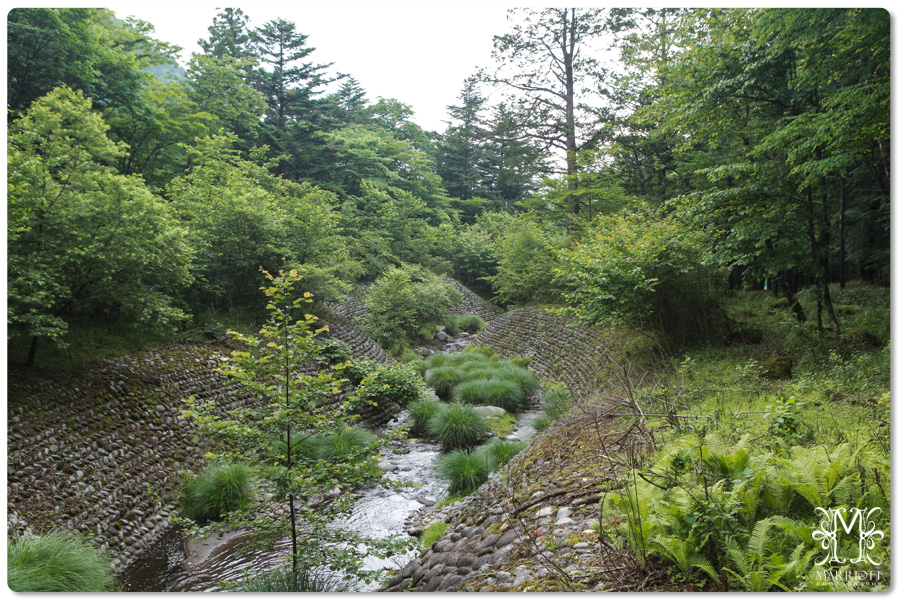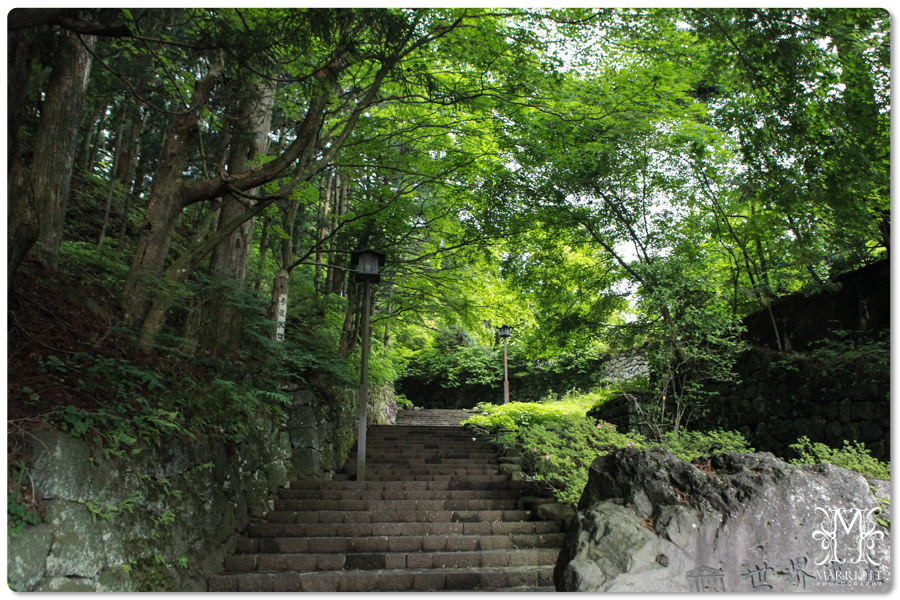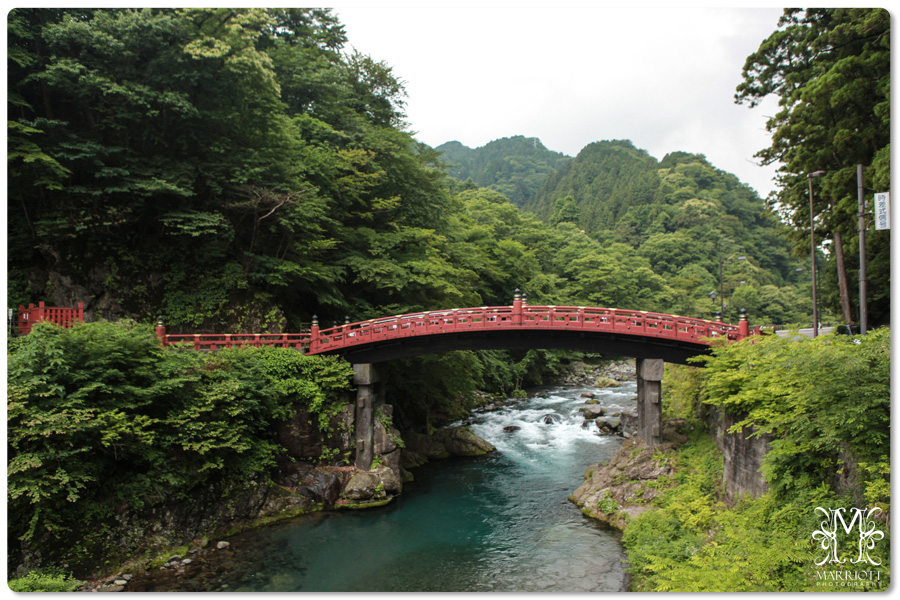 These final few are in Hakone, Japan.  Most days were a overcast, but we woke up to the clearest skies of our whole trip on the day we were hoping to see Mt. Fuji.  In fact, we finally could make out the base from the view at our hotel room.  But, by the time we arrived in Hakone, clouds moved in and hid Mt. Fuji so we were never able to see it.  We had to settle on the beautiful countryside in Hakone.  It was a great day!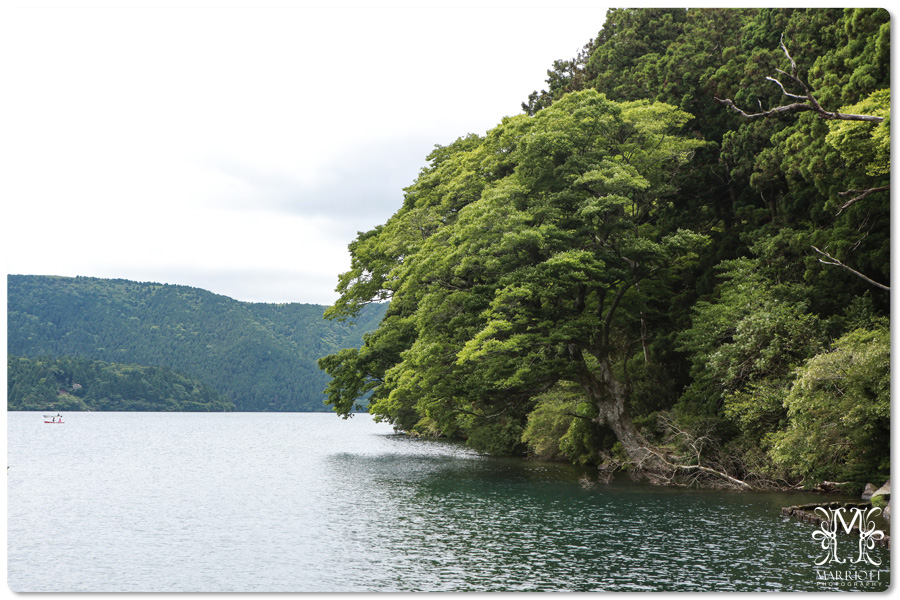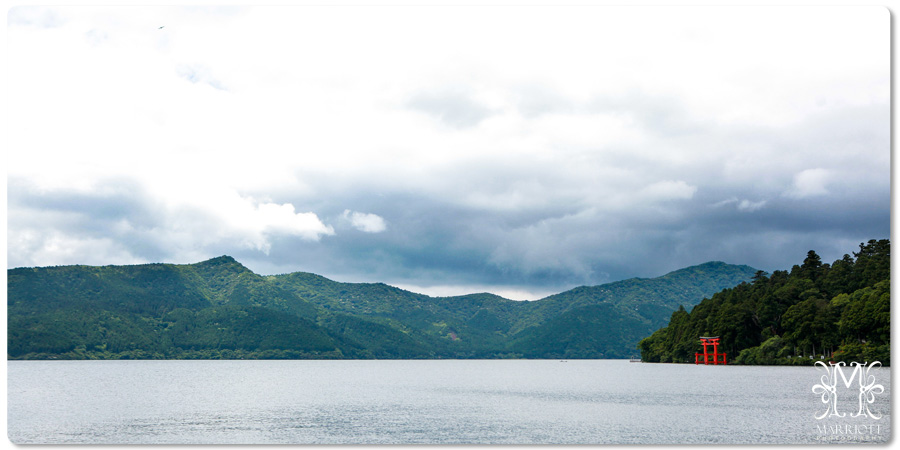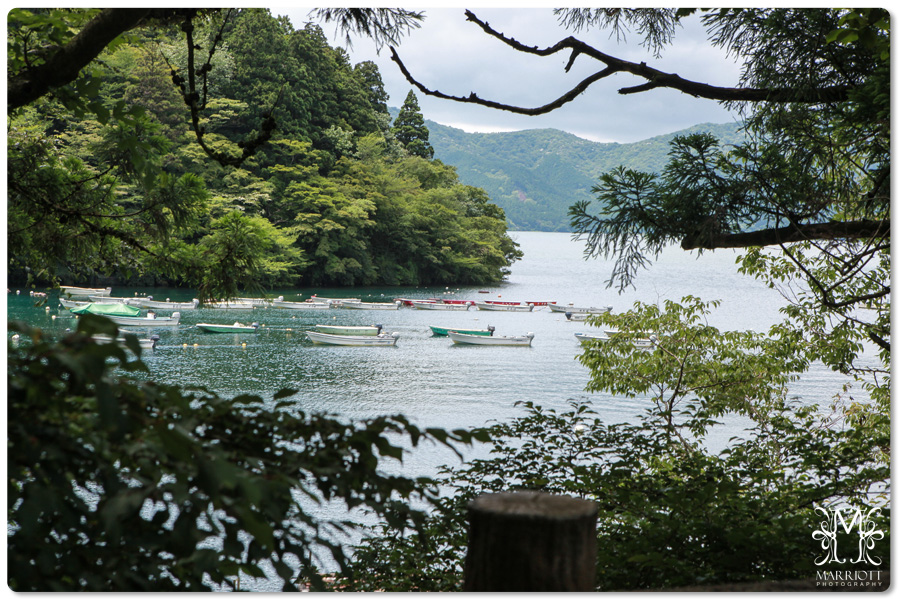 Happy Birthday to my little girl.  It's a bitter-sweet day celebrating my baby's 5th birthday!  I think 5 is the official age where you have to admit that you no longer have a baby around the home anymore.  She's off to kindergarten, quite independent, and all grown up.  Honestly, I am in LOVE with this age and with her sweet personality.  She somehow has each of us wrapped around her little finger. As she aptly put tonight, "Mom, you are the bestest mom in the whole world because you give me lots of hugs and kisses, play with me, and give me everything I want."  Ugh.  She has me figured out already at 5.  We may have some problems in the future!
Kate has the best imagination around.  She loves to make-believe play and role-play.  She loves writing and anything to do with art.  This past year as I tried desperately to sit and read with her, she would say, "Mom, I don't need to learn how to read.  I can make these stories up better in my head!"
She is truly our princess tom-boy who wanted to have a football tea-party (but instead agreed to a fish & mermaid swim party).  She can keep up with her older brothers, wrestle them to the ground, and get them to play dress up and house/dolls with her all day long!
We love her energy, her enthusiasm,  and her kind heart.  She truly is a blessing in our family, and so happy to celebrate this big day with her.  Kate, we love you!
Here's a few pictures from her over-the-top 5th birthday Mermaids & Fish Swim Party.